The first day of the rest of our lives



Official Notices




This week Mother Nature has again reminded us that here in New Zealand we can experience 4 seasons in one week! Excitedly, last week I had put away my winter wardrobe somewhat foolishly, only to pull it back out again early this week. I am not complaining as I know the Summer season has yet to arrive but wow what a contrast! My thinking was somewhat sobered with the news of the devastating fires that are raining down on Eastern and Northern Australia – we are so lucky here in New Zealand.
Life around the village continues to surprise, delight and inspire me – in particular an occasion that I was very fortunate to be a part of - The Care Facility team - Aspire2 Graduation. What a hugely proud moment it was for everyone – Linda Goodwin, the course trainers, myself and more importantly the staff that participated in the training. The Care team have each spent the last while upskilling on Workplace communication. At the end of the course each team member had to make a presentation to the rest of their colleagues, management and Aspire 2 staff, on what they had learned during the course and what had resonated with them. The presentations were a real measure of their hard work over the weeks, their passion and enthusiasm and the confidence that they had gained during this time. What was the most humbling was the support that they gave one another during the presentations – so wonderful to see such team support and comeradery. Congratulations to all involved.
Around the Village
Feeding the birds
With spring comes birds and more birds which is fabulous for plants and pollination however what is not so great is the numerous reports of people feeding the birds. Here at Pinesong there will be no shortage of natural foods for the birds so please could we all refrain from feeding them.
Gymnasium
It is fantastic to see so many people using the gym and pool – such a great way to stay in shape. A small reminder that the coloured three steps inside the gym should not be moved from their position by the wall – these have been set up and placed specifically for residents to allow them to keep safe whilst using them.
We have recently upgraded each of changing room light switches to have two switches on each – the top one for the lights, the bottom for the heater. A concern regarding the changing rooms is the use of talcum powder – we would prefer that in this public space that talcum powder not to be used as there has been a few near misses around slipping on the floors.
Market Day
I am looking forward to the Market Day on the 23rd - the variety of stalls is fantastic both from outside and inside the village also a real opportunity for our very clever residents to show case their talents.
This weekend is all about ME!!!!! I have a full day booked in the city, brunching, Art Gallery and then dinner – thankfully I won't be driving home as after a day of eating and drinking - thank goodness for Uber. As for Zali and Ruby – we are off to see Charlies Angels on Friday night. Good grief how many remakes do they have to do of this 1976 show – no one can do it better than the original version with Kate Jackson, Farrah Fawcett and Jaclyn Smith – gosh am I showing my age??!!
Have a fabulous weekend everyone and a special thanks to the awesome Pinesong staff for being "the best"
Angela King
Village Manager

FIRE EVACUATION WALK THROUGH
Thanks to everyone who has attended the above thus far. The lucky winners were Sharyn Helleur (Waterview), Dianne Meredith (Anchorage) and Ann Ramsden (Peninsula). Our next ones are at "The Point" on 19/11 and at "Harbour" on 21/11 at 10am. Remember that we shall draw a lucky winner.

ROLLER GARAGE DOORS at Entry/Exit Point
We had a couple of issues with these doors coming down, over the last week. We got the technician and have checked all of them and they seem to be functioning perfectly well. As a precaution, please do not enter or exit without pressing the remote, even if you see the doors up. Only one car per click. The only exception is if you see a notice stating that they have been left open for contractors or for maintenance purposes. Gradually
we have also started putting high visibility tapes on the roller doors (work in progress).

SCHEDULED FIRE ALARM TESTING Please be aware that on Thursday 21st November
from between10am—11am the Chubb serviceman will be testing all apartment building fire alarms. This is a routine check and each building alarm will be tested for just a few seconds.
We apologise for any inconvenience.
Thank you Paul Moore Maintenance Manager

FROM THE SALES OFFICE
With an open day each month and appointments each day Karen and I are going full steam ahead to keep up with sales in the village. As most of you would be aware, we have more units to sell at Pinesong than we have had for some years. Buyers have a fine selection of both brand new and refurbished.
We would like to thank all the residents that refer their friends and family to us, you are the greatest advocates for Pinesong and remember the referral fee of $1000 is paid to you and the new resident you refer.
When a unit becomes available in the village we follow a process to start the refurbishment as soon as possible. From that point we prioritise our buyers on our wait-list (first), and following that our data base. I strongly encourage you to refer your friends and family at the earliest possible stage so they will be top of our list for their preferred new home at Pinesong.
Our door is always open and we look forward to seeing you.
Allan and Karen

GARDENING TEAM
Just a quick note to inform you all that our contractors Rahopara, that do weed control on height restriction areas, will be here either this week or next, weather prevailing.
We are in the process of clearing the beach track, so beware if you intend to venture down as there may be debris blocking some parts of the track.
We will also be placing new mulch along Waterview, Anchorage and Peninsula gardens in the weeks to come.
Work is in progress at the Point, with the help of our lovely resident Noelene. A huge thankyou!!! And to all the other residents that put in the work, Much appreciated!!
Irrigation has been turned on for three days a week at this stage and will increase as the days get dryer.
Our lavenders are doing well throughout the village, trying to enhance our bee population!
Our next big project will be the top of the Knoll, with lots of trimming/clearing and planting.
With keeping in mind that Xmas is just around the corner, we will endeavour to keep villa gardens looking lovely as well.
A reminder that Organic waste collection is Monday-Wednesday-Friday afternoon 2.30pm - 3.30pm.
Feel free to fill out a request at reception if you require any assistance.
Wishing you all a lovely weekend.

All the best your gardening team
Simone, David, Jack and Rupert.

METLIFECARE ANNUAL GENERAL MEETING
Pinesong will be on
Wednesday 20th November
1pm – 3.00pm
Seabreeze Lounge.

Should you have any feedback / questions you would like to present for General Business, please do not hesitate to provide these to Angela in advance. This enables our Executive team member/s to have the answers for you on the day of the AGM.

REMINDER TO RESIDENTS
To not park in mobility parks unless they have the correct permit on display.

GYMN
Just a reminder that guests are not permitted to use our gym at any time. This is a RESIDENT ONLY amenity. Guests are only allowed to use our pool if accompanied by a resident at all times. Thank you

PARKING IN FRONT OF RECEPTION
Now we have had our reception garden renovated by wonderful Pinesong residents, could we please refrain from parking on the broad white lines so that everyone coming into the village can enjoy it.
Thanks for your anticipated co-operation.

MOBILE LIBRARY
Please be advised the Mobile Library is here every Monday at the Main Gate from 9am - 10.30am



PLEASE REMIND YOUR FRIENDS AND FAMILIES THAT OUR SPEED LIMIT IS 15KPM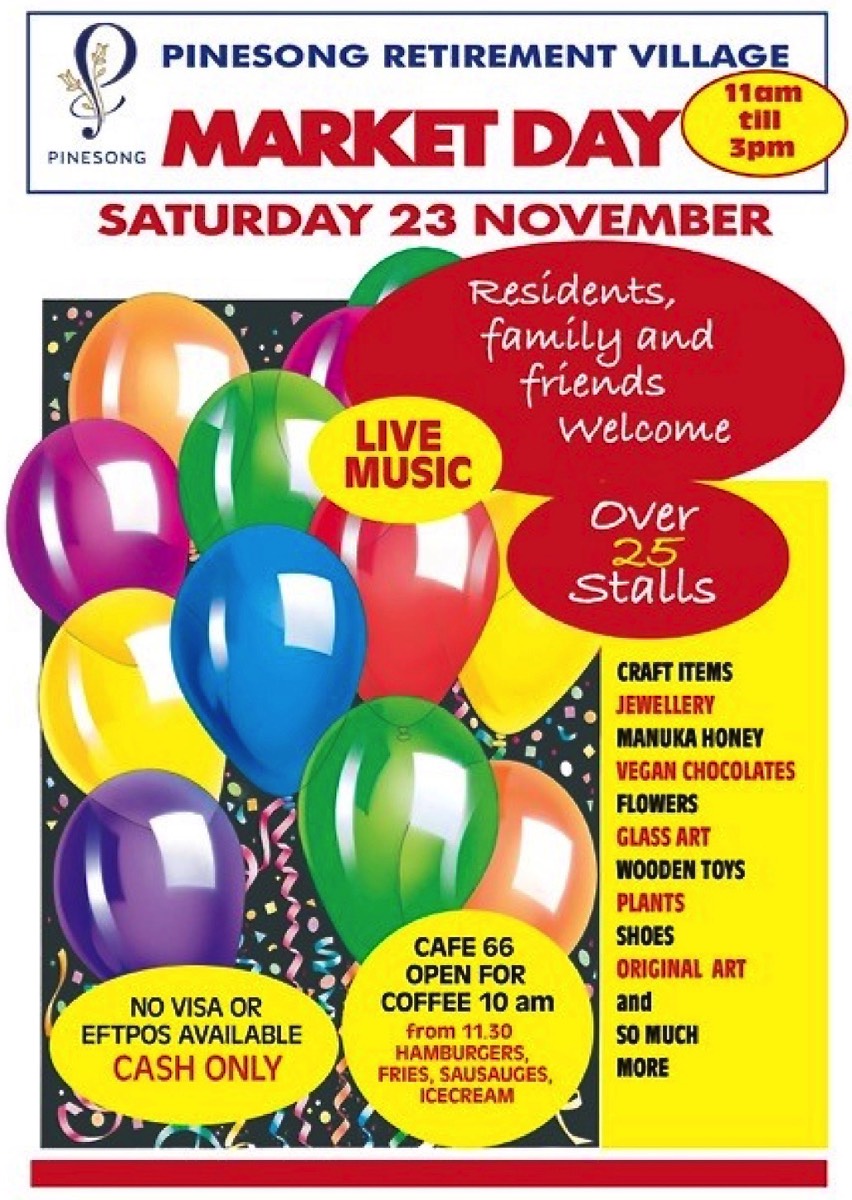 SUNDAY @ 3

Pinesong's Church Services
Where:
Bay View Lounge

When:
Sunday, 24th November at 3.00 pm

Speaker:
Deryck Hunt

Soloist:
Barbara Hunt
I will be speaking on this occasion accompanied by my lovely wife Barbara who will be our soloist. The service will be centring around the Christmas theme, which is always so special. Videos, Solos, Christmas carols and a Christmas message. If you have never been to one of our services, we would love you to come on this special occasion. Afternoon tea to follow. A warm welcome to everyone.
Deryck Hunt 817-3755


RESIDENTS' BARBECUE – 6.15PM SEABREEZE
COST $6
WEDNESDAY, 27
th
November 2019
Tickets will be on sale in SEABREEZE LOUNGE on Tuesday, until 19 November 2019
From 10.30am to 12-noon or UNTIL SOLD OUT


FUN DAY TRIPS

There is one seat left on Brent's van for Saturday 16th November. It is a trip to the beautiful Hamilton Garden and we leave at 8am.

Ring Noelene 8178952. Trish Richards 2 The Point
FROM THE RESIDENTS COMMITTEE

Hello everyone,
Many of you may not be aware of the large number of jigsaw puzzles stored in both the craft room and library. With space at a premium, it has been decided for you to come and look at. Should you decide to take one away please don't return it, it's yours to enjoy. The puzzles have mostly been donated by residents or families and we are very grateful, but there are times when you can have too much of a good thing and the numbers are growing like 'Topsy.' We need to cull! Display from next week.
Pam and Graeme Choat have done a wonderful job of putting together the documentation gathered for our Villages 20th Birthday. This is in scrapbook form and will be put on display once the front cover has been completed (probably in the New Year).
For those new to our community (and not so new) it's handy to know where to go if you have any major concerns about things happening in our village. Angela and Fred our Manager and Assistant Manager have an 'Open Door' policy for you to go and voice your concerns. There are forms held at reception for you to fill in if you have worries about your home and garden. The residents committee is also available to act on your behalf if you ring or email a member. I hope you take note of our Treasurers Report published in the minutes after our monthly meetings. In them you will see in detail where your money is being spent. All of your proposals for spending are thoroughly discussed and acted on.
If you think back to when you first came to the village, the only thing that will come to mind will be the kindness shown to you by more established community members. Let's keep that welcoming spirit going, not only to new villagers but in general. Often people will arrive on their own to dinner or happy hour and it gives you the 'warm fuzzies' when you are asked to join a table or a group for the evening.
Don't forget 'Market Day' 23rd November. Sue Harris (Committee Chairperson)


MELBOURNE CUP DAY 2019.

On behalf of the organising committee for the above event held in the Seabreeze Lounge I would like to thank all those fellow residents and staff who assisted in the running of
the event
, both the race sweepstakes and the fashion parade, and made it such a great success:

Those who kindly manned the bar.
Maintenance staff who completed the lounge setup for us.
Kitchen staff for the great fish and chip meal to complete the day.
The residents committee for their ongoing support.
Not forgetting our sponsors: The Café. The bar committee.

And last but not least, the members of the organising committee without whom this event wouldn't happen:

Margaret and Jean, the fashion parade including organising the judges.
Elsie and Merril, the draw. Ann, runner. Anna and Iona, the raffle basket and ticket sales. Janet and Mary, selling.
Mary, working with me to produce the prize envelopes and distribution to the lucky winners, no small task.

I trust that you all enjoyed the afternoon and evening meal.
Congratulations to those who were successful in the fashion parade.
Congratulations to the winner of the raffle, we hope you enjoy the contents.
Congratulations to those who got a first, second or third place and commiserations to those who didn't, better luck next time when we hope to see you all again.

Geoff Long.
BAR NEWS
New Product

The bar is now stocking a further choice of Lindauer "Bubbles" We have added Rose to the range so try the pink bubbles as a light summer drink.
The Bar Team
MARKET DAY

Saturday 23rd November 11.00am - 3.00pm
Friends and family welcome to come and enjoy the day.
More information to come in the following weeks.

Any resident who has craft work they would like to sell at the Market Day, please register with me by 18th October, so as a table can be allocated for your work.

If you do not register we will be unable to accept your craft work for sale.

Delwyn Battersby Ph. 817 8636


CAKE STALL - Market Day
Are there any residents who would be willing to Bake a Cake or a batch of biscuits to sell at our Market Day on Saturday 23rd November.
'We can't have a Market Day without a cake stall', and 'we can't have a Cake Stall unless our Residents bake'. Let's make it a good one.
If you are able to bake please telephone me.

Delwyn Battersby. Ph. 817 8636
PINESONGSTERS PERFORMANCES
A CHRISTMAS CRACKER

The Pinesongsters' end-of-year concert A CHRISTMAS CRACKER, is packed full of surprises. It will be different from previous years but will have something that will please the whole family.
Remember these dates:
Saturday 30th November 7.30pm
Sunday 1st December 2.30pm

The Saturday performance will be preceded by complimentary drinks; come early and join in the spirit.
Afternoon Tea will be served following the Sunday show; the choir looks forward to seeing you all.
As usual, entry by gold coin donation.

Doug Lilly 817 2199


SALVATION ARMY AUCKLAND CITADEL BAND

Christmas Carol Service
Keep THIS DATE - Sunday 8th December at 2.30 pm in the Seabreeze Lounge.

The visit of the Salvation army band to Pinesong at Christmas time is one of the highlight events on our calendar. Once again we are privileged to have the Auckland Citadel Band come to lead our Carol Service. Come and enjoy hearing the band play and join in singing some of your favourite Christmas Carols. The programme will conclude with afternoon tea.

A gold coin collection will be taken which will go in its entirety to the community work of the Salvation Army.
Deryck Hunt 021 289 1875


QUIZ
PLEASE NOTE IT WILL NOW BE THE 3rd
MONDAY OF EVERY MONTH

Also keep Saturday 7th December free for our grand Christmas Quiz with special prizes funded by the Committee.

Tony and Janet Cross
A DATE TO PUT IN YOUR DIARY …..NOW!
FRIDAY 20 DECEMBER

2.30pm Seabreeze Lounge

Your Christmas shopping will be all done

Your end-of-year get-togethers will be over

Your Christmas cakes & mince pies will be cooked

Your grandchildren's recitals & prize-givings will be a thing of the past……..and you'll be sitting around just waiting for Christmas to arrive!
SO
….. Pinesong's Rainbow Rockers are planning to put on a Christmas Variety Concert for all our residents. We're having fun practising all our items for you, so plan
NOW
to enjoy this afternoon with us.

Judy Nicholls 8169177

WINNER OF THE RWC CHALLENGE

Congratulations to Bob Helleur, who correctly predicted the winner of 44 of the 48 games in the Rugby World Cup, including the eventual winner of the Cup.
Bob holds the title of undisputed Challenge Champ until the next big event – the FIFA World Cup in 2022, or perhaps the America's Cup in 2021.
Congratulations and thanks also to the other villagers who took part. The challenge certainly made the whole tournament interesting.

Earl Irving, 4 Bayview

WEARABLE ARTS CALENDAR - ON SALE NOW

The calendar we have had made of our Wearable Arts Fashion Parade is now on display at Reception.
Please place your orders by Friday 18th October.
Payment - Cash, Eftpos or charge to your account.
Wall Calendar $20.00 each.
Desk Calendar $14.00 each

Delwyn Battersby Ph. 817-8636

TABLE TENNIS Doubles Competition
We are hoping to finish off the year with a Doubles Competition, maybe a Mixed Doubles Comp (if we can get enough men!!). We all enjoy playing doubles - if the laughter is any indication - so if you are interested, please put your names up on the list in the Table Tennis room asap. We need 16 players to make this possible so all welcome! Entries close on the 30th October with the draw being done before play on the following day, Thursday 31st. Don't miss out!

Pam Choat 8174826 Ken Jarvis 8168445
SCRAPBOOKING CRAFT CLASS

Well we only have 2 months to go until the end of year.
This is Friday 1st of November and last one 6th of December. They are held first Friday of the month and will start again in March next year.
All are welcome to come and have a look.

Ph. Tina 817 1940

Nu2U UPDATE
On Wednesday 20th.November,Nu2U will open at 9am and close at 11am.
This is because the AGM will be held that day and we need to vacate the area so that it can be used for seating for that event.
For the remainder of the year our hours will be 10am — noon as usual.

Regards from the NU2U team
Contact person Jean Piper 404 Seabreeze 8179054 or 0211319972 or
pipers@xtra.co.nz
SPRING HAS SPRUNG

Driving into the village from Avonleigh Road I realised just how fortunate we are to have such a dedicated gardening team. Simone and her team have brought the village to life after a rather dreary winter. The spring flowers brighten up our village a give it that welcoming feeling. A big thank you must also go to all the gardening volunteers who are doing such a grand job throughout the village.
Thank you all for giving the rest of us so much pleasure seeing the end results.

Cheers John (Harbour)
CROQUET@PINESONG
CROQUET MALLET LAUNCH
Our new mallets will be welcomed at an afternoon tea next Monday November 11
th
at 3pm at the Fitness Centre. It will be an opportunity to finish the year with a flourish as the Singles Competition is in its last phase and nearly completed.
As usual all players past and present, and hopefully the future, are invited. Please bring a small plate of food to share.
Many thanks to the Residents' Committee for funding these replacements for our nearly 18 year old origi- nals. These have been used just about every week over this time and are rather tired. If anybody has a contact with an organization that could take these still useable mallets please let me know.

Janet Cross. M4 817 6066
THE PINESONG READERS GROUP

What have you been reading lately?
We meet the third Wednesday of each month.
In each other's homes at 2pm.
We have 3 available places for new members.
No set book is required, just the one or two
who you would like to talk about.
If this idea appeals to you, give me a ring.
Margaret Topzand: 817 3893 or 021 213 8256
Email:
hamatopz@inspire.net.nz

Many thanks in anticipation, see you Margaret
BRIDGE CLUB
We would like some more members.
We are a happy little group who play on Saturdays from 1pm till 4pm. We always stop early for the Saturday Quiz.
Please phone Althea, 817 5666 20 Peninsula

TABLE TENNIS SINGLES COMPETITION WINNERS

Congratulations to Jeff Prior, winner, and Pat Crow, runner-up, in our 2019 Singles Competition. You were certainly worthy players to take your place in this final. The competition, as always, produced many close games and gave us all something to strive for. Our group continues to have really great sessions in the Kauri Room on Thursdays and Saturdays. If you wish to join us you will be most welcome.
Pam Choat and Ken Jarvis

FITNESS CENTRE

I sort of try to keep an eye on the equipment in the gym and liaise with maintenance if anything needs to be done.
There is a problem with the display on the
cross trainer
, and we are looking to replace it. I am trying to find suitable machines that would work for all sorts of users here. It may not happen immediately, but it will happen. Now where did I pick that phrase up from? Meanwhile, if you want to reset the timer to zero, turn it off at the wall, wait a few seconds then turn it on again. There are other ways to reset it but they are all a bit more complicated.
The largest
Swiss Ball
has run out of puff! My question is, does anyone use it? Give me a call if you do and I will arrange to get it pumped up.
I am always available to help people who want to use the equipment but feel unsure about trying. Just give me a call and we can arrange a time.

Tony Cross – 8176066

AUDIKA Green Bay

The now Audika Green Bay are offering a
FREE
clinic to check and clean hearing aids.
This service will be the 3
rd
Monday of the month in the Rata room, Ground floor Seabreeze
10.30am – 11.30am.

PLEASE NOTE IT WILL NOW BE THE 3
RD
MONDAY OF EVERY MONTH
GIVE A KID A BLANKET

This charity is asking for bedding again I collected about 60 last year but maybe there are more available. All gratefully received.

Trish Richards 8173758 The Point.

CRIBBAGE

We are looking for new players so please come and join us in Bayview lounge on a Monday afternoon at 2pm. Even if you have not played before you are welcome as tuition will be given.

Daphne Freeman 816 8031


VILLAGE SHOP
Does your four legged friend require a jacket to keep him/her warm on these cold days, then you might like to check out our handmade jackets. Or perhaps a knitted blanket, baby jacket or baby booties may be what you require. We also have aprons, wheatbags, padded coat hangers, scarfs, note pads, knitted dolls etc., and even beautiful floral arrangements that never need watering. Also to go with these gifts, there is a large selection of hand crafted cards.
We are open on Monday, Wednesday and Friday between 10.30am and 12.30pm.
We look forward to seeing you.

Joslyn Tierney Phone 817 5799

MAH-JONG
Have you ever wanted to learn Mah-jong or to pick it up again after some time?
We have 3 sessions of Mah-jong, Wednesday, Thursday and Saturday from 10 to 12 in the Matai Room.
On Thursdays one of the tables is a beginners group and I will be coaching newer and returning players who wish to re-join a group. We have a few people interested so I will working with people on Thursdays, except for the first Thursday of the month which is normally Book Club for me.
We are more social than serious so we play and then normally have lunch together in the café for those who wish to join us.
Whenever you like please come along and see how the games go. Previous experience is NOT required.
We would particularly welcome newer residents and at this early stage of the year it is quite a relaxed time.
If you have questions just call me on 8173726.

Margaret Fidow 43 Manukau
PETANQUE
Would love to see our old players plus new ones.

Come on
men
come along and give it a go also.
We now have a brand new umbrella to keep us in the shade.

We play every Monday starting at 1.50pm till around 2.50pm.

Freda MK24 817 4300

UNWANTED

Hi everyone
If anyone has any unwanted yarn, needles etc.. could you please donate it to Activities on level 2 Seabreeze.

Many regards
Skevi Kourti Activities co-codinator
MOVE with MIRA!!
Come along for a 30 minute workout with Mira. Improve your posture and balance. Build a stronger more flexible you and have fun while you do it!
(NB: Chairs will be used. Seated and standing exercise.)

Thursdays 9.15am in Seabreeze lounge.

See you there!

SCRAPBOOKING

Scrapbooking Craft day 1st Friday of the month.
Scrapbooking is putting photos into albums sorting or framing even if you do on tablet come and join
Us and if you have any other craft you are doing you are welcome to join us
Time 9.30am to 12pm longer if you wish.

Ph Tina on 817 1940
GARDEN CIRCLE
Well how fast this year has gone, we are in to that time of the year where we are busy and never seem to have enough time to take quiet walks but we really should because the village is looking lovely. Something for you to look out for as you walk around the Bush is a native Poor Knights Lily which is in bloom at the moment and is quite rare, you will find it in the little garden opposite the pond with the goldfish and the fountain. As always though there is plenty to do and never enough time or hands to do it all. Our November meeting will be held on the 6th November at 2pm in the Matai Room, come along for a chat and catch-up with what is going on around the village. Love to see you - just sayin'

Aileen Keery - 817 3399
BRIDGE
We are a nice friendly group of players but our numbers are dwindling. If anyone is interested in joining us please phone me. We play on Saturdays from 1-4pm and on quiz days till 3.45pm. We also welcome outsiders to make up our numbers. We will be starting again on Saturday 26
th
January in the Matai Room.

Althea Morley 20 Peninsula – 817-5666

INDOOR BOWLS GROUP
The indoor bowls group meet twice a week in the Seabreeze lounge to play bowls for fun and social interaction.
Wednesday 6.50pm – approx. 8.20pm
Thursday 1.50pm – approx. 2.50pm
Followed by afternoon tea (players each bring a small plate)
We are hoping to attract past and new players (instruction can be given as required).
Who would like to try this activity?
Anyone interested should contact the group convener,
Clive Coleman on 817 1971
for more information.

AQUACISE GROUP:
Our friendly group meets at 9am on Tuesday and Friday mornings for 30 minutes of gentle pool exercises and all are welcome to attend. Always look forward to greeting new faces.

Noel Clark Ph. 8154116
SENIOURNET WEST AUCKLAND
Have moved premises to the RSA, Railside Avenue Henderson; parking available. Handy to train, buses and the Mall. Help and Information days held 2nd and 4th Tuesday of the month from 10.00am to 12 noon.
If you need help with your computer/device or a refresher on something you have forgotten, don't hesitate to call in and see us.
Windows, Apple and Android systems covered.

Phone 837 7600.

KNITTERS NEWS
A wonderful mixture of rugs, jumpers, cardigans, hats and slippers is to be delivered by the time this issue of the 'Press' goes to print. All items being most useful in this cooler weather we are now experiencing.
But there is a big BUT this time. A few weeks ago I attempted to 'pull back' from what I have now done for the past ten years, but it's just not working for me so I have chosen to relinquish my position as 'the wool lady'.
Those of you who may wish to continue knitting can still deliver your donations to the Maternity Ward Reception at Waitakere Hospital and they will pass garments on to where they would be most appreciated, should that be necessary.
Any remaining wools I have, will be donated to the local Hospice as they have their own busy knitting groups who can make good use of any yarns available.

I thank all the willing workers most sincerely for the hard work as well as the quality of the garments you have made for our most worthy cause. Your dedication has been memorable.
Thanks again,

Anne Clarke 021 1128523
SNOOKER AND POOL
Looking for new players of any level to join our group.

Tuesday and Thursday at 2pm
in the Snooker room next to the bar in Seabreeze lounge next to the bar.

Any further information please call

Bill Mules 827 4747

CARD MAKING GROUP
In the craft room. For 2 hours on Thursday mornings 10-12pm.
Also we have greeting cards on sale at the same time.
Come and have a look or join us and make your own, its fun.

Norma Lee


THE BLOKES SHED
This is a facility for use by all capable residents of Pinesong. Ladies this includes you, please feel free to avail yourself of a remarkable DIY area with a wide range of equipment.

To keep us safe, all users of the Blokes Shed are requested to follow our Housekeeping Rules. As displayed on the entrance door.

Only residents of Metlifecare Pinesong may use the amenities in this workshop.

Prior to using the workshop you must have signed an "Authority and Disclaimer Form". These are available at Reception.

To gain access to the "Blokes Shed" only one key is available from reception. You must have already signed an "Authority and Disclaimer Form" .

You are then required to

"personally sign in and sign ou

t

"

for the key each time you visit the shed. Individual keys will not be issued.

If you wish to donate an item, please contact Evan Rudolph (Assistant Manager) or Mark Leaf (Maintenance) in the first instance. Please do not take items directly to the Workshop.

Please be aware that any donated item will become part of the facility and may be stored, used or discarded at any time.

Please respect other users

CLEAN UP THE WORK AREA AFTER USE.
Our "maintenance blokes" have tidied up the shed and it looks much cleaner. Paul is also in the process of putting covers for the fluorescent lights especially in the centre, to prevent the bulbs being knocked down while moving timber, though this might take some time to get the right fit. But I can assure you, its work in progress.
USE OF THE FITNESS CENTRE
Anyone is free to use it or course. Other users just ask you to please leave it as you find it – that means windows closed so they are not left open all night. Makes it cold for Charlie Bish and a few other early risers!

If you need help to use any equipment I am quite prepared to show you how on an "all care but no responsibility" basis! Just give me a call and we will arrange a time.

Tony Cross 817 6066

AA SENIOR DRIVING COURSE

Keep Your Freedom and Independence
Are you a member of the AA? Are you 80 plus?
Did you know that you can book a FREE in-car coaching session? A few days ago I made use of this service and was mightily impressed. An AA driving instructor came to the village, we drove in my car for a whole hour while she observed my driving style. Before we took off she checked the following: 1) vehicle check, 2) cockpit drill, then while driving, 3) communicating and signalling, 4) car control, 5) hazard identification,6.tips, hints and feedback. My correct seating position was also checked. If this is for you: Phone 0800 223 748 or go to: aa.co.nz/senior-driver and make an appointment. My instructor was Shifali Patel. The whole session was well worth the time it took. And pleasant!

Margaret Topzand, 817 3893

TITIRANGI RSA DINNERS
Our amazing dinners include a $20 buffet with roast vegetables or salad with also a Dessert included. We have a courtesy van that runs every hour on the hour on Wednesday, Thursday and Friday which goes directly to your door to pick up anyone willing to join us here at the RSA. They also get dropped back when they are ready to go home. To book for this just make a phone call and let us know how many and what time 817-6415.
We have regular exciting entertainment, comedy nights, open mic nights and fundraisers. Every second Friday we have live music, for example Shane and the Shazam! band Is performing Tomorrow from 8.00pm which is $10 a ticket, and coming up we have a Dire straits tribute band in June. The RSA puts on entertaining Quiz Nights every second Tuesday of the month from 7.30pm and the last Thursday of the month we have a lunchtime quiz at 1.30pm which is always a good laugh. We have many activities available such as a golf, pool, snooker, darts and fishing. Every couple of months The fishing and golf sections go out on day or over night trips, which they all enjoy. We also have 500 club where they meet every Tuesday around 1.00pm.

For pictures of upcoming events you can check out our facebook page
https://www.facebook.com/titirangirsa/?ref=bookmarks
Laura Richardson


Gabrielle Blazer
The Waitakere Suite

Gabrielle (Gay) Blazer lived in West Auckland as a conductor, composer and arranger of original works in various styles, including those inspired by local landmarks such as 'Seagulls over the Manukau' and 'Summer Days at Cornwallis'. Gabrielle was also a brilliant arranger who loved jazz and folk music. After her death in 2017, her wish was fulfilled and the CD of 'The Waitakere Suite' was realized.

Join us during Heritage Month for a presentation by Dora Green (producer of the CD) and Sylvia La Trobe, colleagues and friends of Gay's, who will talk about her life and give the opportunity to hear excerpts of the Suite.

Titirangi Library
Tuesday 29th October
12pm - 1pm

Have you ever thought of River Cruising?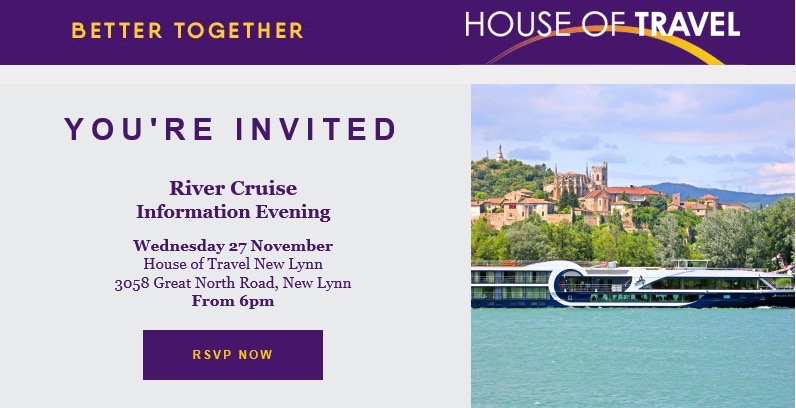 Join us on Wednesday 27
th
November for an informational evening on Avalon Waterways and Monograms Independent Holidays.
RSVP to me today to reserve your spot.

Call Vanessa:

Ph: +64 9 826 2260
.
Email:
vanessan@hot.co.nz
Web:
hotnewlynn.co.nz

Village Care Centre Clinic



COMPLIMENTARY NURSE CLINIC
We have a complimentary nurse clinic on a Tuesday and Friday morning from 10.30am – 11.30am to check your blood pressure and talk through any concerns you may have. We can also provide other services at the clinic such as wound care and injections and a fee is on-charged to cover materials. If your wound is covered by ACC the charge for the dressing is free of charge. If you visit the nurse outside of the clinic hours a registered nurse consult fee will apply, plus cost of materials.
If you have any questions about service costs please ask. Seabreeze Level 2.

For those of you who have either pendant or wrist call bells, could you please make sure that you are wearing them.
Over the past few weeks, we have had residents fall in their apartments and they have either crawled to their phone to contact family, or staff have routinely attended to administer medications or assist the resident with cares and found the person on the floor.
Pendants have been in drawers, on the bedside table or several other places, but have not been with the resident.
The staff are here to assist you in any way they can, but if we do not know you have fallen, then we cannot help.
Linda G

ECARE
Sonja from Ecare is visiting
Monday 9th December at 10am on Level 2
Ecare is a self-monitoring of weight and blood pressure. If you'd like to know how to do it please come

PARKINSONS MEETING
Please be advised the next Parkinson's meeting is on
Wednesday 27th November in the Kauri room at 1pm
Independent Living Services as per flyer.
Family and friends are also welcome

MACULAR DEGENERATION
A few residents have expressed interest in attending this talk at Waitakere Gardens and have asked about transport.
As we are unable to provide transport, we have decided to organise the speaker to come to Pinesong early next year.
Details will follow nearer the time.
Linda - Nurse Manager

PHYSIOTHERAPY
Hi everyone, we would like to take this opportunity to thank both residents and staff for the continued and ongoing support.
We would like you to be aware of the changes to our pricing policy which takes effect on October 1st 2019.

Cost of Treatment: PHYSIOTHERAPY
ACC Initial Assessment & Treatment $40
ACC Follow Up $25
Private Initial $120 / 60mins
Private Follow Up $70 / 30mins
Please note – Cost of treatment may vary if your appointment is short or extra long.

Shivani will be on site Tuesday, Thursday and Friday Between 8am and 2pm.
Exercise Class on Monday's 9.30am for 30mins.

We now have an eftpos machine in the clinic and will no longer be placing charges on account.
Our Physiotherapists are available to chat about consultations & or charges.
For appointments, you can call me on numbers below.

With kind regards,

Mandy Dutton
Office Administrator
Ph: 627 9560
Freephone 0800 229 749

PODIATRIST CLINIC
The 3rd Tuesday of every month.
The next Podiatry visit is 19th November 2019.
This will be in the Beauty therapy room ground floor.
Please contact reception for an appointment.

PINESONG BEAUTY
Please note that my afterhours phone number is now 0272 898338
Thanks Kimberley

HOSPITAL SHUTTLES
St. Johns hospital Shuttle for:

Waitakere
Book 3 days ahead of appointment.
0800 000 606
$10 return

Greenlane hospital
Auckland hospital
North Shore hospital:
Book 3 days in advance.
0800 809 342
9.30-4pm
$6.00 each way

DO YOU WANT TO IMPROVE YOUR BALANCE AND PREVENT FALLS?
Hi everyone, we are looking for 8 people to take part in a strength and balance trail using a electronic device (provided) featuring 6 exercises that have been taught to thousands of people across the Auckland region. Quintin Derham the Tai Chi teacher at Pinesong has developed a programme that is easy to follow and can be practised each day at your home.

A group of people have already used the device and found it really useful for improving balance and easy to follow.

Next Tuesday (21st November) at 9.50am after the Tai Chi class in the main hall Quintin will be meeting people to discuss the programme and get you started.

If you want to improve your balance and stability then here is a wonderful opportunity to get started. If you are interested please contact Quintin on 021 536768 or email quintinderham@gmail.com

PHYSIO – Advanced Rehab
Please note Rachael Andrews has left Advanced Rehab and there will no longer be a physio clinic here at Pinesong on Tuesday or Thursday in our Wellness Clinic.
For an appointment, please contact Shivani who will continue to provide a clinic on Monday, Wednesday and Friday 9am to 3.30pm.
Reception

CHIROPRACTOR
Tim Archer, a registered Chiropractor, has seen me regarding his chiropractor services. Tim is able to come into the village to see residents. Tim uses an activator adjustment instrument to deliver chiropractor adjustments, making it very gentle and comfortable for patients. If you are interested in seeing Tim could you please call me on 817 0653, as I would like to have an idea of resident numbers before we proceed any further.
Leanne MacDonald, Care Services Manager


REFLEXOLOGY
Raewyn Coburn who did her placement at Pinesong last year for her refloxology training is now offering reflexology service for the village residents every Tuesday and Thursdays on level 2 of Seabreeze. Anyone wanting an appointment please contact her directly. Her email address raewyn.auckland@gmail.com, mobile: 0211710807 or home number 8176089.


LABTESTS CLINIC AT PINESONG
Please note Labtests have advised that for all future blood tests every resident must have their doctor; nurse or medical practice ring, fax or email Labtests first to book an appointment if wanting a bloodtest done here at the village.
This is regardless of whether it is done at reception on our clinic days Mon/Wed/Fri at 2.30pm or a home visit, this will be the procedure going forward, sorry no exceptions!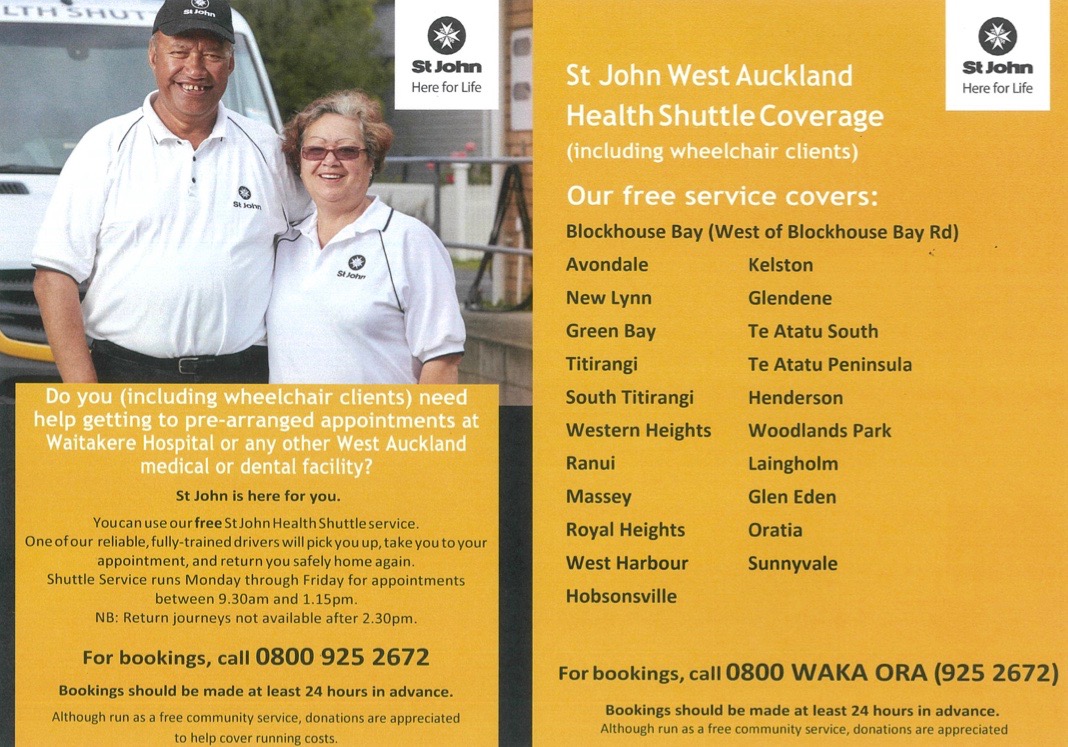 Cafe' 66


Restaurant Notice




Dear Residents,

What an amazing year we are having at Café 66.
Café and restaurant refurbishment having been completed (I love the new cups), new menus, new uniforms, new cash register and of course some new staff as well.
In addition to all this on Monday 4th November we are moving on to our "Summer Menu" including gluten free items and our "ice cream specials" will be back as well.
Christmas, is fast approaching and our festive events/party calendar too is filling up quickly.
Save the below mentioned dates for our village Christmas dinners:

Plated Christmas Dinner on 4

th

December

Buffet Christmas Dinner on 6

th

December

Service Apt/Care Home Dinner on 7

th

December.

Christmas day Traditional Lunch on 25

th

December.
We have noted all your feedback from last year and are working towards creating the festive fayre from 1
st
December.
Our home made Christmas cake will be available from 1
st
December (my mother in law's secret recipe). If you wish to order in advance, contact the café staff- (size and price will be advertised shortly).
Our café will be closed on 25
th
, 26th and 27
th
December, 1st and 2
nd
January though you can order meals from our limited menu during those days.
Starting in New Year we plan to have our "Carvery Dinners" on Wednesday and "Fish-n-Chips", (prepared fresh as per seasonal availability) on Fridays - true Kiwi tradition.

Watch out this space for more foody news!!!!

Orit & team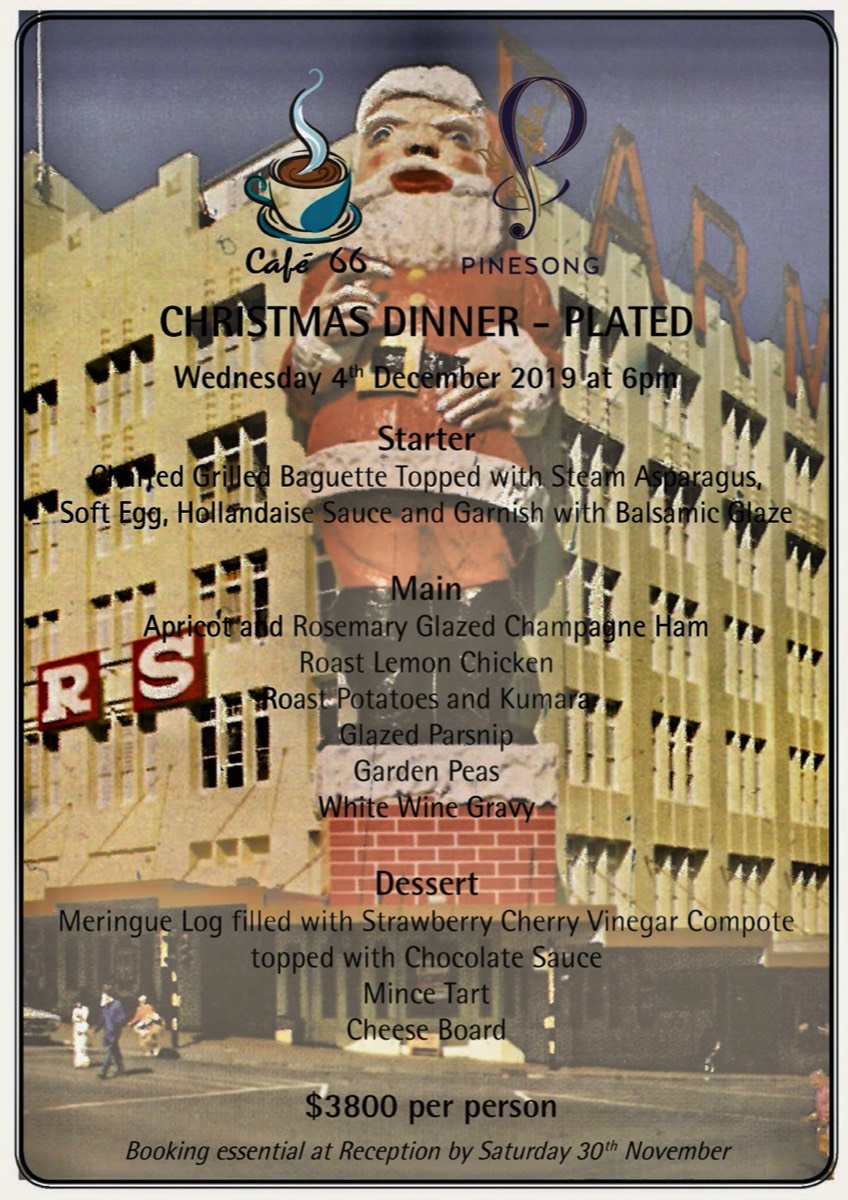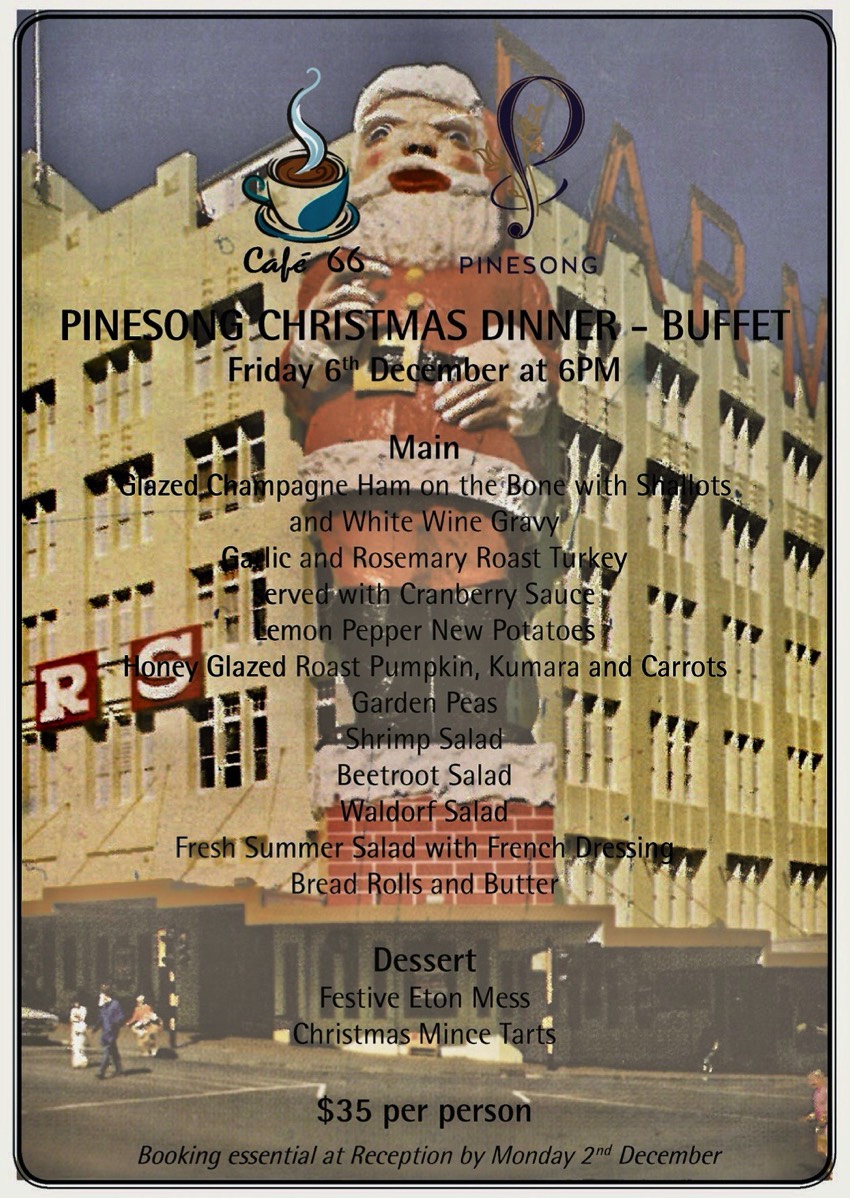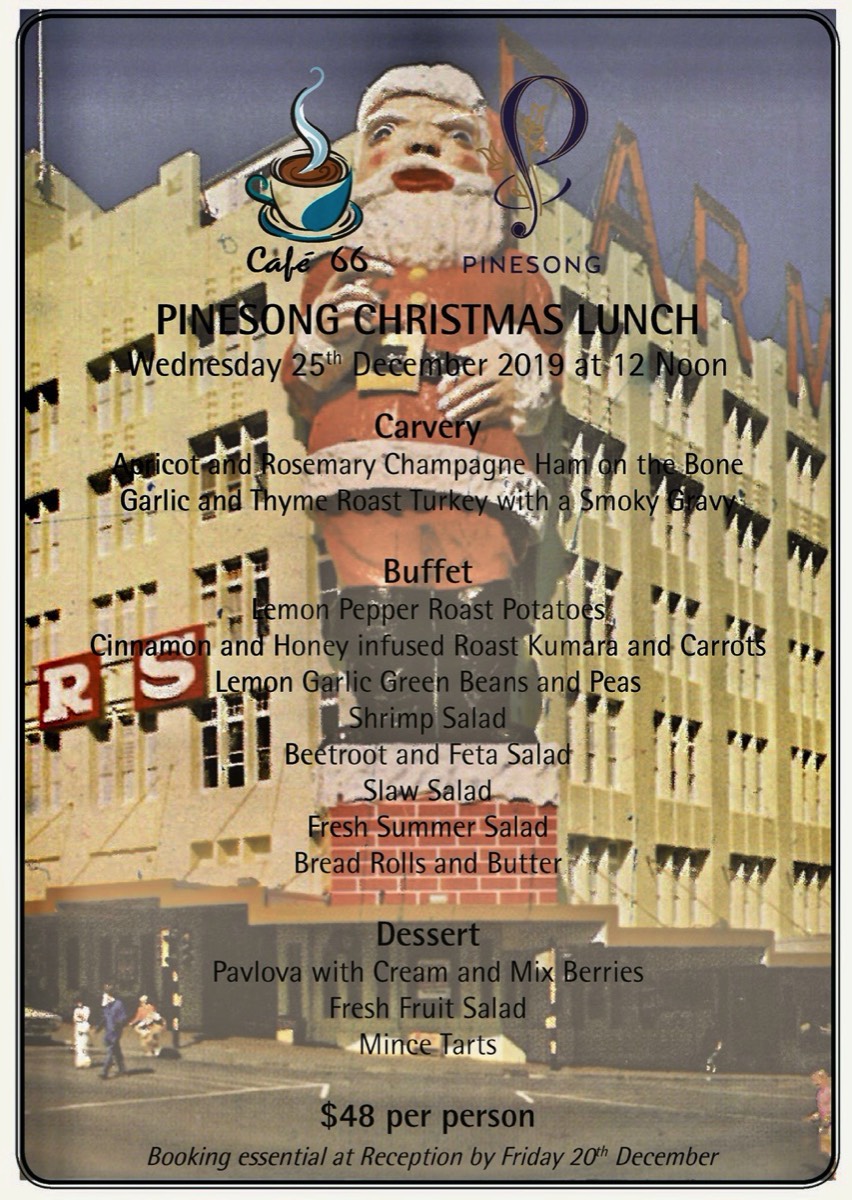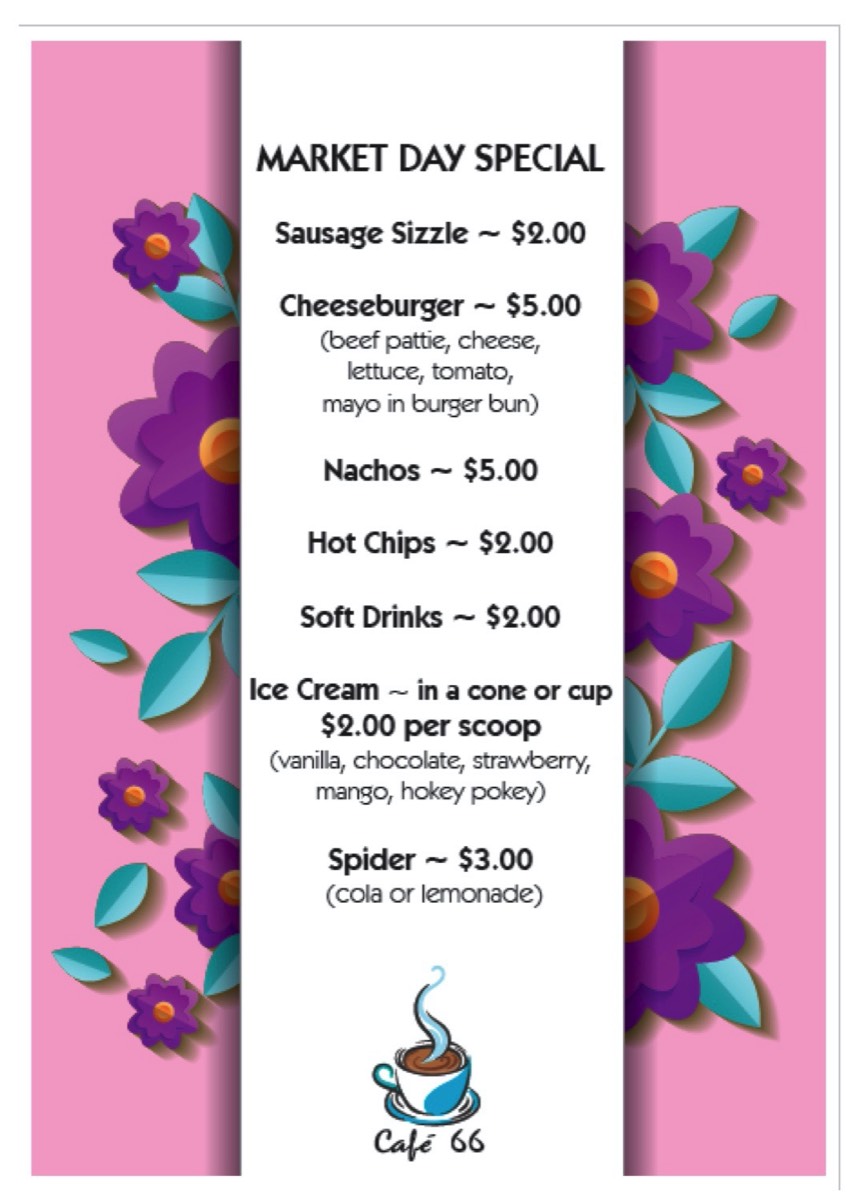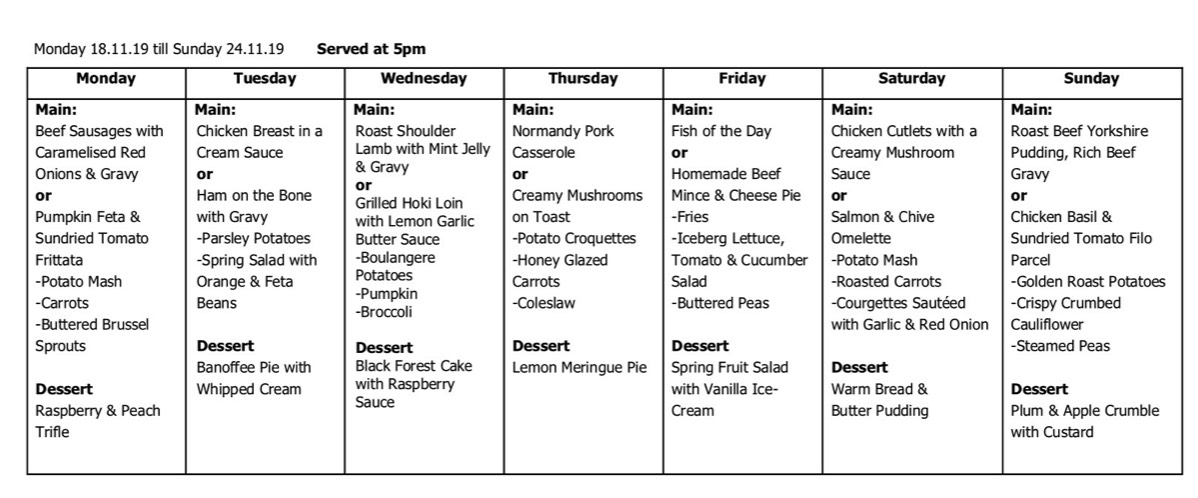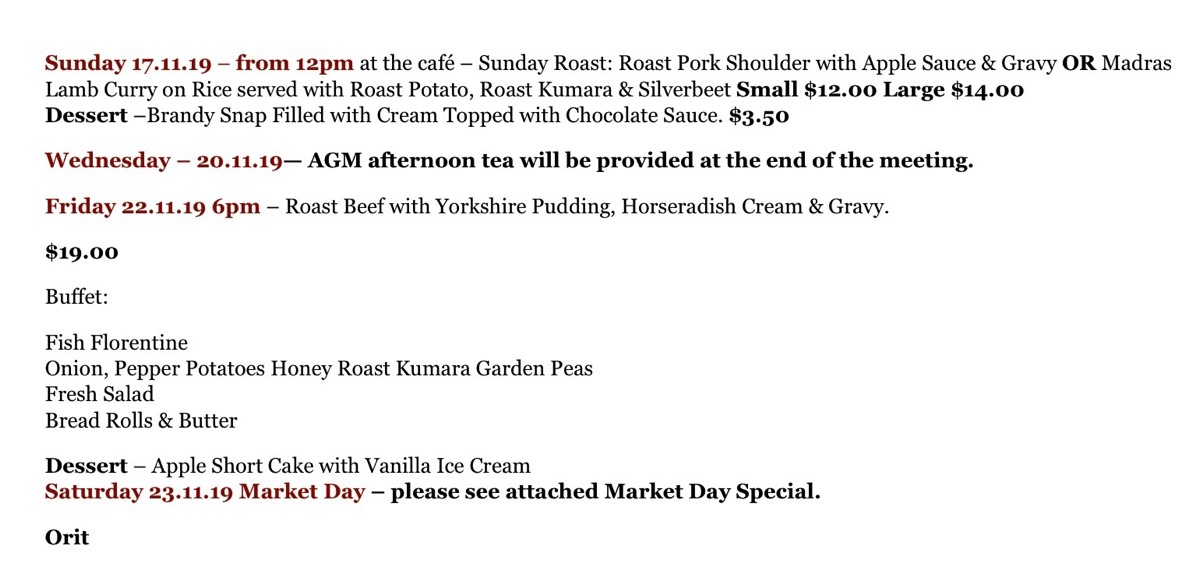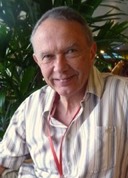 Hi,

As the creator and manager of this website I have endeavored to portray the everyday life and activities of our village from the
residents' perspective.

Your comments and contributions are welcome and to this end I invite you to use the
'Contact Us' page
.

Deryck Hunt