The first day of the rest of our lives

Hello Everyone,

Things are reasonably quiet around the village and its business as usual. Theresa has made it back to the UK and is enjoying catching up with family and friends.

I am presently conducting building evacuation procedures and will be available for residents at the following apartments next week. Harbour Apartments 10am on Monday 29 August, Peninsula Apartments 10am Wednesday 31 August and Waterview and Anchorage Apartments at 10am on Friday 2 September next. Residents have reported concern over dust settling on cars, windows and outdoor furniture over recent weeks. As reported in the News earlier in the week, this is pollen and is affecting the country due to unseasonal weather conditions with clouds of pollen reported travelling considerable distances. We have planned building washes coming up which should deal with a large part of the problem.

Neil and I will be out of the village for most of Friday attending a Health and Safety course. We will be taking calls in the event of any emergency but our on site staff are more than capable of dealing with situations.

I hope you all have a wonderful weekend and I will catch up with you next week.

Evan Rudolf
Assistant Manager



INCREASE IN HERALD PRICES
From Monday 5 September there will be a price increase in the NZ Herald and Herald On Sunday:
Mon-Fri Herald $2.80
Saturday Weekend Herald $3.50
Sunday Herald on Sunday $3.40

RESIDENT VOLUNTEER DRIVERS

Would all resident volunteer van Drivers please renew their driver declarations. These are available at reception and are required to be updated annually.
Evan Rudolph, Assistant Manager


PINESONG WEATHER FORECAST

Geoffrey Hopkins has linked his weather station to the local 'grid' to give an even more accurate forecast. Take a look:-

Click on
PINESONG WEATHER FORECAST
SUNDAY@3
Pinesong's non denominational Church Services
Where: Bay View Lounge
When: Sunday, 28 August at 3pm
Speaker: Sarah Patten
Soloists: Church of the Saviour Singers
It will be great to have Sarah Patten speak to us again at this month's church service. Sarah is the Vicar of the Church of the Saviour in Blockhouse Bay. As in previous visits a choral group will sing to us from their church. Join us also for our much loved hymn singing followed by a good chat over tea/coffee and biscuits. A warm welcome to everyone.
Deryck Hunt, 817 3755


QUIZ
Saturday 3 September at 4pm in Bayview is our next Quiz. Tony and Janet are resting their grey matter(?) so you will be quizzed by:
Mary The Terror Look out for trouble
John Smarty Boots Take him down a peg!
Lady Leanne Sharp as a tack, takes no prisoners
Bring pencil, paper, $2, nibbles/dinkies (if wished) and be ready for a fun afternoon.


NOSTALGIA 2016

The dates for this year's Nostalgia Shows have now been set, and they are Saturday 15th and Sunday 16th October. I will let you know at a later date when the tickets will be on sale.
Bob Helleur 817 8996


FUNDS FROM RESIDENTS' COMMITTEE

The Resident's Committee holds funds which are available for use by sport and hobby groups and also projects that benefit the village as a whole that are not funded by Metlifecare.
Committee funds come from bar profits, fund rising activities and an annual Metlifecare grant of $1,600.
Those groups or individuals who wish to access Committee funds please write to the Secretary.
In all cases the Committee needs full details of the proposed project and also an accurate costing. The Committee meets on the second Tuesday of each month.
Geoff Hopkins, Secretary, 816 8067
geoffhop@ihug.co.nz


SING-A-LONG

Come along for a Sing-a-long around the piano in Seabreeze Lounge.
SATURDAY 27 AUGUST at 3pm
Everyone welcome.
Delywn Battersby, 817 8636


SAVE THE CHILDREN STALL

Thank you all for supporting our stall, we raised $550 for the children. Thank you again
Joan Gascoigne, 817 0492


RESIDENTS' BIRTHDAY AFTERNOON TEA

Monday 29 August, 3pm Café area
To welcome, and celebrate Residents' Birthday for the month of August. Our Speaker for this month will be Kath Webster — her subject relates to the quilting she has done over the past, and to talk about her experiences, and expertise with making these quilts.
Host Joan Gasparich


SLIM AND TRIM

Anyone interested in looking to be Slim and Trim for the Summer? It can be painless, pleasurable and even sociable if you meet with us in the Care Centre on Tuesday, 6 September at 11am to discuss whether we can achieve this. Call Judy or Jean if you can attend. See you there. Judy Jean
817 1050 817 9054


KINDY VISIT?

Earlier this month we were invited to Roskill South Kindergarten. We met with other villages and representatives from the Auckland Kindergarten Association. Pinesong has been paired with Laingholm Kindergarten, to provide intergenerational experiences for our residents here at Pinesong and the toddlers at the kindergarten. Last week Skevi (Activity Coordinator at Pinesong) and two serviced apartment residents visited the kindergarten and had morning tea with them and watched the children perform Olympic activities outside. We hope to invite the kindergarten out to Pinesong within the next month and will invite residents throughout the village to come and see the kindergarten perform. I would also like to hear from any residents in the village who would like to form an on-going relationship with the kindergarten and can spend time on a regular basis visiting the kindy and being involved with the children. Please contact me on 817 0653.
Leanne MacDonald, Care Services Manager


THANK YOU PINESONGSTERS

Two big concerts in four days.! And so much pleasure to others outside our village!
Thank you to all those who made the effort to travel to Orewa and Te Atatu Peninsula recently to share some of the joy we have in making music together and, as an added bonus, of showcasing some of the best that Pinesong has to offer. Our presentations, once again were well received – yes, we have been invited back, in one case for the sixth time in six years. Our choir continues to set a standard that many Auckland retirement villages struggle to reach. This is only achieved through dedication, commitment and constant effort.
Remember, we always welcome new members to our choir.
Doug Lilly, 817 2199


QUOTE...

For everything there is a season, and a time for every matter under heaven:
— Ecclesiastes 3:1


AUCKLAND EMBROIDERERS' GUILD DISPLAY OF EMBROIDERY

We would love to welcome Pinesong residents to the Auckland Embroiderers' Guild Annual Display of Embroidery to be held at the Onehunga Community House, 83 Selwyn Street. The Display is open from 10am to 4pm every day from Friday 28th October to Sunday 6th November. Entry is free, but a gold coin donation would be appreciated
Elizabeth Adams
President, Auckland Embroiderers' Guild

VILLAGE SHOP

The shop is a great asset for the village providing a range of packaged foods and toiletries priced the same as the local New World supermarket. The Residents' Committee would like to see this facility enhanced with a greater range of products and perhaps a small quantity of frozen goods.

The current team are unable to continue their duties and we seek a new person or persons to take over the shop and develop it further. Any resident who has an interest in this activity please contact: Committee Secretary Geoff Hopkins, Villa 408, ph 816 8067,
email
geoffhop@ihug.co.nz

BLOKES SHED

This is a facility for use by all capable residents of Pinesong. Ladies this includes you, please feel free to avail yourself of a remarkable DIY area with a wide range of equipment.
To keep us safe, all users of the Blokes Shed are requested to follow our Housekeeping Rules. As displayed on the entrance door.
Only residents of Metlifecare Pinesong may use the amenities in this workshop.
Prior to using the workshop you must have signed an "Authority and Disclaimer Form". These are available at Reception.
To gain access to the "Blokes Shed" only one key is available from Reception. You must have already signed an "Authority and Disclaimer Form" . You are then required to "personally sign in and sign out" for the key each time you visit the shed. Individual keys will not be issued.
If you have not yet used the Blokes Shed, please contact Evan Rudolph, Assistant Manager, who will orientate you to the workshop and the safety guidelines
If you wish to donate an item, please contact Evan Rudolph or Mark Leaf (Maintenance) in the first instance. Please do not take items directly to the Blokes Shed.
Please be aware that any donated item will become part of the facility and may be stored, used or discarded at any time.
Please respect other users:
CLEAN UP THE WORK AREA AFTER USE

SHAVER SHARPENING AND REPAIRS

Sharpen & Repair Co do a good job and will pick up and return the same day! They were well-known at Pitt St for decades, but now are based at 216 Dominion Rd.
Ph 379 2005, website:
sharpenandrepair.co.nz
TABLE TENNIS DOUBLES COMPETITION

Now is the time to put your name down for this fun competition. The draw is to be on Thursday 18 August at 2pm.
We welcome newcomers at any time whether you are beginners or experts. Come along on a Thursday afternoon or a Saturday morning and have a go. Bats and balls are available. Lois, 817 2199
AQUASIZE

The relining of the pool and spas is now complete and they are ready for use. However the air conditioning and heating of the complex is still some weeks away so it will be a bit cold! As I am away for two weeks and after discussion with others in the group it was decided that aquasize classes would recommence at 9am on Tuesday 16 August. All welcome and look forward to seeing you there.
Noel Clark, 815 4116


NEW LYNN RSA - 'VILLAGE SPECIAL'

Join for $15 until the end of year
Courtesy Van pick up and drop off $2 each
for full van of nine people
Need to know more on applying for your Membership Card, Members cash draw Thursday/Friday nights, Meat Raffles etc?
Give New Lynn RSA a call on 827 3411 then 4 to speak to Dale, Club Manager. Or call: Ray Warren 817 5500


PINESONG KNITTERS

Recently the Pinesong Residents were treated to a multi - coloured and varied sample of some of the work done by those who still enjoy putting their skills to good use. Many of the yarns involved in this project are donated to the group by new residents who bring them into the Village thinking that 'one day' they will make themselves a garment, then find that they have many other activities to enjoy while assimilating into their life here. Then too, we also have ladies here who happy source their own wools and simply leave bags of knitting at Reception to be collected by our co-ordinator who passes on all these wonderful garments on to the Well Foundation at Waitakere Hospital. 'Well' then distribute the garments, rugs etc. to all D.H.B.s as well as Plunket Societies north of Auckland, wherever the need is greatest.
This display was a first; suggested by one of our eager beavers as a way of saying 'thank you' to all those who contribute in any way to this cause and it proved to be very successful. Thanks, also to all those who took the time to come and talk to us and to learn of all we do, especially to the people who took the opportunity to donate goods and materials after viewing our wares. The response was very positive and quite overwhelming.

Anne Clarke, Coordinator, 817 8408
See photograph on the page'RECENTLY'
$10 BUS TO APO CONCERTS

Just reminding residents that the Friends of the Auckland Philharmonia Orchestra subsidise a bus going to the APO concerts at the Town Hall. The cost is $10 return. The bus leaves from Pinesong and drops us off right at the Town Hall then picks us up from there after the concert and brings us back home. All for $10 – cheaper than driving and parking! There are two more concerts this month – on Thursday 21 July Love and Loss at 8pm and Friday 29 July Otello – Opera in Concert, starring Simon O'Neill at 7.30pm. There will be buses going to both concerts. If you are interested in joining us please give me a call and I can give you more details.
Liane Hume, 817-0476


PATCHWORK AND QUILTING

We are recommencing the Patchwork Group in the Craft Room on Tuesday afternoons at 1.15pm until 3.15pm. If you are interested in joining us you are very welcome.


CROQUET@PINESONG
Not having been trained in Underwater Croquet the Finals of the Eileen Malim Drawn Pairs was postponed twice this week. Things have improved and the game was played with only a light shower hanging around. The game was won by Lorna Stewart and Janet Cross – that's me – against probably the favourites in the competition. Audrey Crowe and Maryann Spackman had won their semi-final in such a way that we were surprised to even take one hoop off them to start with. The finals score was 7/2.
The draw for the Lorna Stewart Triples Trophy is up on the board so good luck to all players who have entered. There are some good games ahead.
Janet Cross, 817 6066


SCRAPBOOKING/CREATIVE MEMORIES

We are now meeting in the bigger Craft Room — a great asset to our village. We meet every fortnight, the next being Friday 10th June.
Stay as little or as long as you want between 9 and 3. This is a great way to get your photos and memories in order. Your family will love the results. For further information phone:
Lois, 817 2199


HELP NEEDED

WESTERN SPRINGS TRANSIT CAMP 1940s

I am writing a novel involving a family living in the Western Springs Transit Camp around the mid 1940s. How they lived, interacted with each other, and conditions in the camp forms part of their story.
National Library have provided photos and a report written by C. J. Melton. Lisa Truttman has given me a copy of her research. What I need is an account of life in the camp so as to not misrepresent the conditions. Your privacy will be respected and if published you will be acknowledged if wished.
If anyone can assist with information I would love to have a conversation and a cup of tea.
Rae Hilhorst, 817 8082, hilhorstrae@hotmailcom

MANUKAU GARDEN AREA

After creating a garden area outside Manukau Apartment Building over 15 plus years, I am going to have to remove most or all of it to make way for the 'new' Manukau building. If any resident has a surplus of medium to large pots or plant troughs I would be most grateful to receive them. I plan to put as many plants as possible in containers so I can re-plant a new garden elsewhere (somewhere?) at a later date.
Please phone and I will be happy to collect any of the above at a time which suits us both.
Jocelyn Cartwright, 815 4127, 14 Manukau Apts


PINESONG SHOP

We have a small shop in the village, run by residents to provide
non-perishable goods to save you going out to the supermarket
for just one or two items.
Items such as cleaning products, dry goods, cereals, biscuits, toiletries and batteries are available.
There is also a supply of craft items, cards etc. made by residents and suitable as gifts.
The shop is open from 10am to 12 noon on Mondays, Wednesdays and Fridays.
Fresh milk is available from the café


COFFEE CORNER
The Pinesong Café
1st Floor, Seabreeze Building
Open: Monday –Sunday
This week we would like to talk about a Café which is very close to our heart and very accessible. The Pinesong Café is situated on the 1st Floor of Pinesong Resort.
The coffee is excellent (two café staff have recently won barista awards) and the choice of food for morning tea is wide and varied. Naveen (our chef) has been producing some new and delicious types of scones, muffins, slices and crepes. Occasionally he offers a "special" coffee and muffin or scones at a reduced price. Bring your friends and family along to enjoy this excellent facility or just pop in and catch up with fellow residents.
Watch this space for some new lunch surprises! See you then!

Jean Piper and Mary Lovelock

817 9054 817 9552


HOME COOKING
RUMTOPF
This is a really wonderful combination of fresh fruits, sugar and rum, brandy or vodka which you marinate in a jar until the sugar has dissolved and the flavours have permeated the chosen spirit to make a delicious alcoholic syrup. It should be started now and will be ready for Christmas.
For every 1lb (500g) fruit you will need 8oz (250g) caster sugar and enough rum or other alcohol to cover the mixture.
The idea is that you start with the first fruits of the season and then work your way thorough strawberries, raspberries, red and blackcurrants, loganberries, cherries, peaches and apricots. Avoid melons and apples.
Prepare the fruits as for eating – pick over, hull, stone or de-stalk. Toss the fruits in the right amount of sugar and leave to stand for about 1-2 hours to draw the juices, then tip them into a Rumtopf jar or a wide necked jar with a lid – it must be deep enough so the fruit can be layered. Add sufficient spirit to submerge the fruit (press cling wrap on to the surface to keep the fruit under the alcohol), then cover the jar.
As you build up the layers of sugared fruit, always submerge them with your chosen spirit. After adding the last batch of fruit, store for at least a month before using, to give it lots of time to absorb the flavour.
To use: Spoon over ice cream; use to soak the sponge base of a trifle. They syrup can be served as an after dinner liqueur or added to a glass of white wine.
Note: you can use just one fruit if you like, for example strawberries, with sugar and rum.
Janet

E NEWS + +

OUTDOOR BOWLS
Good morning everyone. Although not very welcome it seems at last that we might be starting to feel the effects of the autumn season with temperatures dropping a little over the last 2-3 days.
Last Saturday the Social Committee of the Outdoor Bowls Group organised a fun afternoon comprising games of Indoor Bowls, Table Tennis and Pool. About 30 members and partners participated in the games with the most popular activity understandably being Indoor Bowls. The Pool Table proved to be second favourite and the table tennis tables understandably being the least popular due to the faster pace of the game. Those of us who played table tennis needed the bar open much earlier to help the recuperation process. Those who participated in the games seemed to enjoy the activities they took part in.
A Happy Hour followed the sports activities and my thanks go to Nola Maurice, Mike Barber and Lil Gosling who manned the bar and looked after the needs of a thirsty group of people. I would also like to thank again the three lovely ladies of the Social Committee who along with a little help from yours truly, arranged the sporting activities and the fine meal prepared by Naveen and his staff from the Pinesong Café. To my knowledge everyone who attended thought it was a wonderful meal. Many thanks to Naveen and his team. Many thanks also to our Village Manager Theresa and her husband Rick for attending the entire afternoon and evening activities. Theresa and Rick were among the first to arrive for the sports activities and I have it on good authority that they both enjoyed the games and the meal afterwards.
Finally I would like to acknowledge and thank my helpers on the bowling green, Dave Annan (Wednesday) and John Horder (Saturday), who do a wonderful job organising the draw for bowls while I am off site still trying to learn how to play golf. You may wonder why I still try to play this frustrating game, but there is a little story behind it which hopefully will keep me going back for another 12 months.
Many thanks also go to Bill Mules who puts the mats and jacks out on a Wednesday and Saturday morning thus helping Dave and John. I was only made aware of Bill's involvement a few weeks ago and therefore I wish to acknowledge his support.
You may all rest easy now for a while as I do not plan to prepare anything for the Pinesong Press during the winter months unless something unforeseen occurs which warrants attention.
Don't forget that Outdoor Bowls continue over the winter months and we always welcome new members regardless of the season. There are a few sets of bowls in the shed for anyone to use if you do not have your own. So come along and join us any time you fancy.

John Crow, Convenor, 817 7568


POWLEY FROZEN MEALS

To order your frozen meals phone 627-0700. There will be a $6 delivery charge which will be delivered direct to your door.
Powley Frozen Meals, ph 627-0700


VILLAGE CARE CENTRE CLINIC
Level 2 Seabreeze Care Centre
Did you know that you can access a wide range of care and support services directly through our team at Pinesong?

Did you know that many of these support services can be funded through the District Health Board?

If you feel you may require personal support services, either short term or long term, please come and talk to us. Leanne MacDonald (Care Services Manager) is here to help! We can work with your GP practice to organise an assessment through the DHB for funded services, such as personal cares, showering support or medication management. Personal care support is not means tested, and is based purely on an individual's need.

Leanne and Celerina are also registered with ACC to provide nursing treatments, such as wound dressings if you have had a fall. There is no surcharge, so no cost to you. If you have an accident, please let us know so we can help with your recovery.

Did you know that on level 2 Seabreeze, we have a number of Suites available for residents to use, for services such as respite, re-cooperation or a short term stay if you are unwell and cannot care for yourself?
If you have a stay in hospital, and are ready for discharge, but not quite ready to go home, talk to us about staying in one of our care suites on level 2 Seabreeze where you will receive 24 hour care.

Details and costs of our full range of private services are available through reception, or on level 2 Seabreeze. We are always available to talk to you about how we can help now and in the future.
Leanne MacDonald
Care Services Manager

EXERCISE FOR HEALTH

Starting an exercise regime in your 70s or 80s may sound unusual. But for a growing number of older people it could help them hold on to their independence for longer, and reduce the pressure on families, carers and the health and social care system.
"There is a lot of evidence that physical activity and exercise are valuable however old you are, and that frail, older people gain the most benefit," says Louise McGregor, vice-chair of the UK Agile professional network for physiotherapists working with older people. "You are really never too old. We now have a lot more people who live into their 100s and they can still benefit from the right type of exercise."
Prescribing more activity for older people is part of a more proactive approach by physiotherapists to prevent a loss of mobility and independence.
But first, says McGregor, we need to challenge some of the beliefs about ageing among older people, their carers and even some health professionals: "When people start to slow down, it's not necessarily a part of normal ageing.
"We have to dispel the myth that nothing is reversible, when actually for many people problems of balance and muscle weakness can be addressed even when you're in your 90s."
The impact of a carefully tailored physiotherapy regime can be significant, in some cases, according to McGregor, a relatively small input can "transform lives".
Physiotherapy-led prevention services, such as strength and balance building exercise classes can make a real difference.
If you would like to see your Advanced Rehab onsite physiotherapist or join one of the physio-led onsite exercise classes, please see your nurse manager or receptionist for details.
Anouschka De Gourley

PINESONG'S BEAUTY THERAPY
With Kimberley Vautier
Internationally qualified and trained since 1987

Ph 6649 or 817-1800, or 817-3606 after hours. Hours: Wed, Thur 9am-5pm

My Pinesong answer phone is only cleared on the days that I am at Pinesong. Please call the after hours number outside these times to ensure a prompt response.


TREATMENT LIST
Express Mani/Pedi ½ hr $29
Nail and cuticle care and dead skin
removal.
Great for those who find their feet seem
a little further away than they used to.
Waxing
½ Leg wax $25
Full Leg wax $42
Bikini line $17
Underarm $17
Forearm $24
Lip and/or chin $14
Eye treatments
Lash tint $23
Lash and Brow tint $27
Brow shape (pluck or wax) $14
Lash and Brow tint and shape $29
Brow tint and shape $18

Facials 1 hr $58
Inclusive of a double cleanse, brow shape, exfoliation, facial, neck and shoulder massage, mask, moisturise and eye cream. A wonderful treat and your skin will love you for it.
Massage ¾ hr $43
Relaxing back and neck massage.1 hr $56
Manicures ¾ hr $38
Nail and cuticle care, hand and arm massage and polish. Keep your hands and nails in top condition.
File and polish $19
For a special treat.
Pedicares ¾ hr $43
Soak in a pedi spa, exfoliation, nail and cuticle care, dead skin removal, foot massage and polish. Don't forget your feet need some TLC too.

REFLEXOLOGY
Raewyn Coburn who did her placement at Pinesong last year for her refloxology training is now offering reflexology service for the village residents every Tuesday and Thursdays on level 2 of Seabreeze. Anyone wanting an appointment please contact her directly. Her email address raewyn.auckland@gmail.com, mobile: 0211710807 or home number 8176089.


LAB TESTS
Labtests Time Change
Labtests will be here at 2.30pm every Monday, Wednesday and Friday.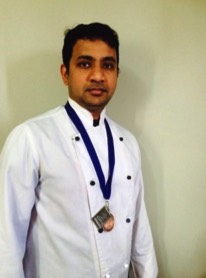 Silver Award for Naveen



Last weekend, the kitchen team took part in the Senior Lifestyles section at the NZ Chefs' National Competitions. Sham was awarded a Merit Certificate in the Open Duck Category, Naveen was awarded a Bronze Medal in the Open Pork Category and Raj was awarded a Merit Certificate in the Barista Championship. We are very proud of their achievements and the hard work they have all put into competing. Well done to all of you!

At the recent Senior Lifestyle Cuisine competition Naveen won the Silver award.
A fine effort!




Cafe & Restaurant

Sunday 28 August 12.15pm
Roast pork with roast potato and vegetables $13.00

Wednesday 31 August 6,15pm
Crunchy coated chicken with fresh tomato sauce and baked potato and vegetables.
Dessert Tiramisu $16.50

Friday 2 September 6.15pm
Lamb cutlets with baked potato and vegetables
OR
Baked fresh salmon with baked potato and vegetables
Dessert peach tart with ice cream $17.50

Restaurant Notice

Ordering a meal: Bookings are essential for Wednesday and Friday at 6.15pm. Meals should be booked at Reception before 1pm the day it is required. Meals outside of bookings are at the Kitchen Manager's discretion.
Please order through Cafe for delivery or collection. Pick-up $12, dessert $2.50; delivery $2. Residents may collect these takeaway meals at 5pm from the Cafe.
Wednesday, Friday and Sunday dinners served seated in the Restaurant as usual.

Many thanks, Naveen


Congratulations to our kitchen staff

AT THE AUCKLAND REGIONAL COMPETITIONS HELD RECENTLY
RAJ – Kitchen Team, was awarded Silver Medal in the
Barista Championship

NAVEEN – Senior Barista Championship, was awarded Bronze Medal

Next month Pinesong Kitchen are entering the New Zealand National Barista Championship


Weekly Dinner Menu 29th August - 4th September
Pick-up $12, dessert $2.50; delivery $2. Residents may collect these takeaway meals at 5pm from the Cafe.
Wednesday, Friday and Sunday dinners served seated in the Restaurant as usual.


MEAL DELIVERY SERVICE

Could you please arrange with Staff or Caregiver for the plates to be returned to the Restaurant kitchen. Thank you.

Information regarding the Café

Dinner is available every Wednesday and Friday in the restaurant at 6.15pm
(please order at reception)
Apart from once a month when there is the residents BBQ
We also have a Monthly Function once a month (will be advertised in Pinesong Press)

A variety of frozen dinners are available for collection at $8 (pls see café for availability)

Residents may also order a dinner from our weekly menu shown above.
These are either to be collected from the café around 5pm or we can deliver for a $2 charge

Sunday lunch only has to be booked if you have a large number of guests

Any queries please contact reception




Hi,

As the creator and manager of this website I have endeavored to portray the everyday life and activities of our village from the
residents' perspective.

Your comments and contributions are welcome and to this end I invite you to use the
'Contact Us' page
.

Deryck Hunt