The first day of the rest of our lives


Hello everyone,

I hope you managed to get some sleep during the storm on Saturday night… one of my dogs decided to count the lighting strikes by barking at each one… we we're all very tired the next day. Ken is organising remedial work on several trees through out the village with Tree Scape, and this will be completed as soon as possible.
Thank you to everyone for coming to the Annual General Meeting on Tuesday. Over the next few months, I am organising 'coffee mornings' with residents, and these will start in December. The aim of these mornings is to spend some time with you, giving you an update on what's happening around the village, and finding out if there are any issues or suggestions you may have. Invitations will be sent out well in advance, and I look forward to seeing you if you can make it.
The maintenance on The Point cliff vegetation is in progress, and then the boys from Land Stability will complete their final work at the cliff base. The painters are busy in the Terrace and Conlon Lane, and the TV cabling work is completed.

Many of you will have noticed that Chris is away at the moment. In his absence, the bus trips to the local shops and mall are being covered by Katrina and the maintenance boys. As from next week (30 November) please be advised that the trial we have had for the bus to go to Blockhouse Bay will be changed. We have found that it is too difficult and impacts on shopping time if the bus goes to more than one venue on one trip, so we plan to make the 2nd trip on Monday afternoons (leaving at 2pm) to Blockhouse Bay only. The earlier trip on Monday will be Green Bay only. The bus will continue to go to Lynn Mall on a Wednesday and Green Bay on a Friday.

I hope you all have a lovely weekend,

Theresa Henson
Village Manager

ST ANDREW'S DAY MONDAY 30TH NOVEMBER

Sing a long and Flag Raising
Please join us at 8.45am to celebrate St Andrew's Day with some national songs and flag raising at 9am.
Look forward to seeing you there!


RESIDENTS' BIRTHDAY AFTERNOON TEA

MONDAY 30 NOVEMBER
3pm Café area
To welcome, and celebrate Residents' Birthday for the month of November. Speaker this month will be Deryck Hunt on his experiences in the Middle East.
This will be our final Birthday Tea for 2015 and we will commence again in January 2016. Hosts for this month will be:
Audrey Baldwin and Anna Long

THE PINESONGSTERS
Will present their Christmas Concerts

SEABREEZE LOUNGE
SATURDAY 6 & SUNDAY 7 DECEMBER
COMMENCING AT 2.30pm $2
The universal language, the language of love, music has always been a central focus in our lives. "The Music's Always There" is the thread that runs through this year's Pinesongster Christmas Concerts.
Our choir begins with John Rutter's The Music's Always There With You. This is followed by a medley of numbers from Rodgers and Hammerstein's long time hit musical South Pacific which has arguably more hits than any other musical show. This was first staged on Broadway in 1949
and later made into the most successful film of the year.
Christmas is heralded with favourite carols and a few surprises from the choir. This is a concert that brings back memories and will leave you humming when you leave.
At interval you are invited to join The Pinesongsters for Devonshire Teas and Coffees in the Cafeteria.
Family and visitors are most cordially invited to this village showcase event.
Bring a Friend and help us celebrate the Christmas Season.
Doug Lilly ph 817 2199

CHRISTMAS CAROL SERVICE WITH THE SALVATION ARMY AUCKLAND CITADEL BAND

Seabreeze Lounge
on Sunday 13 December at 3pm
The visit of the Salvation Army Band to Pinesong at Christmas time is one of the highlight events on our calendar. Once again we are privileged to have the Auckland Citadel Band come to lead our Carol Service. Come and enjoy hearing the band play and join in singing some of your favourite Christmas Carols. The programme will conclude with afternoon tea.
A gold coin collection will be taken which will go in its entirety to the community work of the Salvation Army.
Deryck Hunt ph 817 3755


OPERA APPRECIATION
The next meeting of our group will
be held on Friday 27 November at 10am in the Matai Room. We will be watching Carmen by Bizet Part 2. As this is the last meeting of the year
you are invited to bring a plate and stay for lunch.
Kate Methven, 817 9804

CHRISTMAS POSTING
Rest of world Wed 2 Dec $2.50

S. Pacific, US,
UK & Europe Fri 4 Dec $2.50
Australia Wed 9 Dec $2.00
Local Fri 18 Dec $0.80


CHRISTMAS HAMPER RAFFLE

On the table opposite the bar you will find a box. This is for the Christmas Raffle. We invite you to make a contribution to the hamper and this will entitle you to a free ticket. (Please No Second-Hand Or Past Expiry Date Products).
However if you want a ticket and don't wish to put something in the box you may purchase a ticket for $2 each. The money from the sale of the tickets will be used to purchase more goodies for the hamper.
This will close on Tuesday 15 December
We hope that we can get enough goodies to make up several prizes. The raffle will be drawn on Friday 18 December at Happy Hour. (Don't forget to put your name and Villa or Apartment number on the ticket butt. A phone number will be very helpful also.
If anyone has any queries, please phone:
Nola, 817-6442 or Fay on 817-0687


CHRISTMAS CARDS

Now for sale in the room behind reception.
Joan Gascoigne 817 0492
IT'S SANTA PARADE TIME AGAIN, SOON ….

Pinesong have been invited to take part in this year's parade…
Would you like to be our driver for the morning?
Would you like to sit in the Pinesong Bus and take part in the parade?
If you are interested, please let Reception know by Friday 27 November. If we have enough people interested, we will definitely take part, so do let us know!
Date: SATURDAY December 5th 2015
Time: 9.30am – 12.30pm approx
PARADE STARTS: 10.45am SHARP


WOODEN TOY SALE

Seabreeze Bar / Lounge area
Thursday 3 December
10 – 1pm
Come along and have a look at a
Wide range of wooden children's toys
for Christmas
Cash / eftpos and visa available

LOCAL CLUBS SEEK NEW MEMBERS
1

New Lynn Friendship Club 3063 Great North Rd, New Lynn (Opposite New Lynn Police Station, behind Casey's Suit Hire).
Indoor games : bowls : pool : trips : lunches : movies
Friendship and company. Tues & Thurs 9 to noon
Ph 827 3412 Tue & Thur 9-12noon

2

Pinnacle Country Music Club Avondale Community Hall, 99 Rosebank Rd.
Country music : entertainment : trips : raffles : afternoon teas. Alternate Sundays 1.30-4.30pm.
Ph Doug 828 4639


TABLE TENNIS

All table tennis players please note that we have had to postpone the Doubles Championship until next year. Monday, Thursday and Saturday games will carry on as usual. Lois/Mary


BLOCKHOUSE BAY PHARMACY

GIFT STALL

Friday, 27 November 10.30am-1.30pm
Seabreeze Lounge
Selling CHRISTMAS GIFTS
and complimentary Gift Wrapping


FAREWELL TO FLIES AND MOZZIES

It's that time of the year again and Dave our Bugman of 10 years is coming to us again on Saturday 19 & Sunday 20 December to spray our homes in time for Christmas.
For bookings or further information contact:
Majorie Ikiua, ph 815 5279

RAMBLERS BUS TRIP
Zealong Tea Estate & Willow Glen Café
Amazing even for a dyed in the wool Kiwi male. Yes we left sharp at 8:00am and wended our way to Gordonton. Our driver Keith added to the trip with an explanation of the various road works in the Waikato area, they are huge. We were met on arrival at Zealong and the various visual aspects of the estate explained to us as we continued on the bus to their presentation room. We received an excellent presentation, coupled with, a tea ceremony demonstration and sampling of the five teas they produced. Then on the bus heading back to Gordonton for a leisurely lunch at the Willow Glen Café originally designed by the late Eion Scarrow of "Dig This" one of NZ's television greats. A spacious airy café with good food and the free added option of delightful gardens to wander through. Back on board, then a comfort stop at Pokeno and home about 4:30pm. Thank you Ray and Lorraine for yet another interesting and relaxing day. For photos visit
the page
'RECENTLY'
For information on our destinations visit:
Zealong Tea Estate :
zealong.com
and Willow Glen Cafe:
www.willowglen
Mike Hogben Villa 404, ph 817 1464
GARDENING CIRLCE
As the weeks fly by the busy season is coming very quickly and we are hoping to have the Herb Planter boxes up and running so we can have fresh mint for our Christmas dinner. The volunteers are doing their thing in the different areas and a tap is going to be installed by the garden shed which will make watering in the middle of the bush a lot easier.
Lil Gosling has kindly donated The Garden Circle two really lovely books which can be borrowed when available. They are The Contained Garden and Palmer's Manual of Trees, Shrubs and Climbers. Just give me a ring and I can drop them off. I will take them to the meeting.
A reminder for all who are interested we have our monthly Garden Circle meeting at 10am on Tuesday 17th down by the fireplace in the Seabreeze Lounge. New residents are always welcome, don't think you have to be a gardener or even have a garden as we all have ideas and it's just nice to have a chat for an hour. See you on Tuesday and have a great weekend.
Aileen Keery Villa 108, 817 3399

WALKING GROUP - OCTOBER
Kakamatua Inlet and Huia Point. We drove through Titirangi Village to Huia passing Laingholm, Parau and Armour Bay, also Cornwallis. Walking the fairly steep track at Kakamatua then back to Huia where the walkers enjoyed refreshments at the Huia Cafe.
A very small group drove to Cornwall Park. We walked from the Observatory to the Olive Grove and through to see the beautiful pink cherry blossom trees. Wisteria covered an archway and bluebells and some late daffodils bloomed under the Twin Oaks Drive. New fresh green leaves and lambs told us
Spring
was indeed here. A long drive to Western Springs where we climbed the steep track to West View and Old Mill Road showed us how fit we were. A track down hill from the Bullock Track took us down to a Reserve by the Western Springs Stadium. From there we walked past Motat to the delightful area of Western Springs Reserve.
Parking at the end of Jervois Road, Herene Bay we walked along Marine Parade, Argyle Street to a track to Salisbury Reserve. We admired the view of the harbour and the beautiful old homes along the way. We cut down through the West End Tennis Club and walked around Cox's Bay Reserve where our driver had parked the Pinesong bus for us.
Our final walk for October was to Williamson Ave, Grey Lynn where we walked around Grey Lynn Park and up and down some of the surrounding streets of Grey Lynn. Here a different style of housing, once working class, now much sort after smaller houses are still surviving.
Jocelyn Cartwright 815 4127
VILLAGE SHOP CRAFT FAIR

Our Christmas Craft Fair this year will be held on Wednesday 25th November from 10am until 1pm, in the usual spot in the Seabreeze Lounge. As always, 10 per cent of any sales goes towards our Resident Committee funds. Any residents who wish to sell craft items are very welcome to do so at this time. Just let us know before the Fair so that we can have a space available for you.
Fay Heywood 8170687 and Pam Choat 8174826


FISH HELPING SURF CLUBS
Speedy Sprat
by Linda Elliott, $20 for Surf Life Saving NZ

A children's book about the adventures of Speedy the Sprat and his exciting journey from our Manukau Harbour to visit rellies in Papamoa has just been published. All proceeds will go to Surf Life Saving Clubs of New Zealand, printing costs have been covered by a sponsor. The author Linda Elliott is a niece of a Pinesong resident.
Young children will enjoy having this story read to them, perhaps with one day's travel at a time. Older children who can read it for themselves, are also sure to like it.
Enquires to speedysprat@outlook.co.nz.
An order for the books is being prepared and if you wish to buy a book contact:
Fay Heywood 4309 or 817 0687


COFFEE CORNER
East West Organics
D/34 Portage Rd
New Lynn
This is an organic café situated in Portage Road with its own parking space and ample parking facilities.
As indicated most of the food offered here is organic and therefore more highly priced than the norm. As you enter there is an area with gifts and even some garments for sale and then you pass another area where there is a vast array of organic foodstuffs. Coffee is good, but ask for it to be hot. Food is quite dear but the salads are delicious and very healthy!!!! I bought one and had it for dinner that night. Some different types of bread also available. Slightly different from our usual café but worth a visit.
Jean 817 9054; and Mary 817 9551


KNITTERS NEWS

First of all I have to say how impressed I have been with the quality and the number of rugs which have been delivered to the Waitakere Hospital in the last month! All up, there were in excess of 20 which is a truly grand effort for a small group of dedicated workers. On top of that a friend and I have taken numbers of pairs of wee mittens as well as jumpers, singlets and hats. Last week I managed to meet Angela, who is our representative from the Well Foundation and she was telling me about the garments she also gives to Plunket Nurses for their charges as well as all the District Health Boards which she distributes our wares to.
Just now, she says they are "short of everything" so you can all be creative with your ideas as their supplies and running very low at present. Should you require more wool I have a reasonable supply at the moment, but will be away next week so please contact me after 6th October if your 'wool' is running low. Many thanks for all your hard work.
Anne Clarke ph 817 8408


TAI CHI

I shall be back to Tai Chi on Tuesday 13 October for the Quintin Derham class. I shall also be returning to the Wednesday class on October 14 from 9am to 9.45am for members who have attended previously. New members very welcome and the first session is free.
Eileen Malim, Villa 401 The Terrace


ZUMBA TIME CHANGES

Zumba Gold classes are changing times from 1.15pm to 9.15-10.15am every Friday. It's a fantastic way to keep fit, have a laugh and keep your toes warm !!! Come along and watch if you like - first class is FREE !!. Love to see more chaps at my classes — any chance you might get your dancing shoes on??? Valerie White


HOME COOKING
This is an occasional column and contributions welcome, especially cooking for one or two persons.
From Home Economics Corner – School Newsletter 1983. Low calorie cooking
CORN FRITTERS for 2
2 slices of bread, 60g cheese
finely crumbled 2 eggs
1 small onion grated Pinch of baking powder
1 cup corn Salt and pepper
Combine all ingredients.
Drop by tablespoon on to a non-stick or lightly greased frying pan. Brown on each side.
Serve with hot vegetables or salad.
Healthier? Replace 1 egg with 2tbs milk and 1tbs flour.
Less healthy? Serve with bacon.
Very unhealthy? Slosh on the maple syrup and enjoy!
Janet

E NEWS + +

OUTDOOR BOWLS
Good morning everyone. I hope you have all had a good week although I understand the weather has not been very good while I have been away. Just to let you know that I had brilliant weather for the whole ten days I was in Melbourne. The only problem was I was inside working the whole time. However I must say it is good to be home again.
I will be doing a draw for our Christmas bowls tournament this coming Saturday and will put the teams on the notice board by today Friday 27 November. At the moment I have 27 players and therefore I need 3 more players to make up 10 teams to play triples. Please let me know as soon as possible on Friday morning if you can help out. Remember we will be playing three games of 3 ends with a maximum of 6 points per end. We should be finished the games by a little after 11.00am. Please report to the bowling green by the usual time of 9.20am to ensure that we start on time at 9.30am. Skips will be given a card with the names of their team and provision to record wins/losses, ends won and points for/against. I urge skips to make sure you record each result accurately as I have to say that a good number of the cards were a mess after the last tournament.
The response to the Thursday Twilight bowls has been very disappointing to say the least. After we had eight players on the first night, only three players turned up on each of the following nights. If I have a similar result this week (last night) Twilight bowls will not continue. Perhaps we may try again after Christmas as we did last year.
A more pleasing result is that we will have 50 bowlers and partners attending our Christmas function this Saturday evening. Just a reminder that there will be a happy hour at the bar in the Seabreeze Lounge between 5.00pm and 6.00pm. Please support the bar and our happy volunteers running it for us namely Lil Gosling and Mike Barber. Dinner will be served in the Cafeteria at 6.15pm. Trophies and prizes will be presented to the winners and runners up of the Senior and Junior Singles during the happy hour.
I hope you all have a great tournament and dinner this coming Saturday.

John Crow, Convenor, 817 7568

VILLAGE SHOP
We have a small shop in the village, run by residents to provide
non-perishable goods to save you going out to the supermarket
for just one or two items.
Items such as cleaning products, dry goods, cereals, biscuits, toiletries and batteries are available.
There is also a supply of craft items, cards etc. made by residents and suitable as gifts.
The shop is open from 10am to 12 noon on Mondays, Wednesdays and Fridays.
Fresh milk is available from the café


PINESONG SHOP
The Pinesong shop has just received a small stock of Christmas cards for sale at $5.00 each. More stock is expected shortly. These cards are beautifully made your own residents and all are unique.
Also there are two Pt Chevalier souvenir tea towels made of pure linen remaining in stock at just $10.00 each.
Pat Crow

POWLEY FROZEN MEALS

To order your frozen meals phone 627-0700. There will be a $6 delivery charge which will be delivered direct to your door.
Powley Frozen Meals, ph 627-0700


VILLAGE CARE CENTRE CLINIC

Level 2 Seabreeze Care Centre
We have had several requests from residents to have a selected time for the Centre Clinic for consultations, blood pressure monitoring and wound dressings.
Monday through to Friday 10.30am- 11.30am and again 1.30- 2.30pm we will be available for consultation.
Weekends by arrangement – just phone and arrange a time.
Any queries don't hesitate to call us,

Regards Leanne & team
Leanne MacDonald

Care Services Manager


At Pinesong we have an activity programme that the Serviced Apartment residents enjoy each week day. There are sessions from gentle exercises, through to arts/crafts, sing-a-longs and outings. If you are a resident out in the village or are caring for a loved one who is unable to go out into the community for socialisation and you would like to partake in activities again, please feel free to phone me regarding session times and costs.
Currently I am looking at alternative activities for the programme at Pinesong. Many of my Serviced Apartment residents talk about Probus and interested in other activities, hobbies and experiences. So if you are a resident out in the village who has a special interest, hobbies, or have been on an interesting holiday and able to share that with others, please contact Skevi our Activity Coordinator in the Care Centre.

Leanne MacDonald

Care Services Manager


PHYSIOTHERAPY
Monthly Physio Tip
Wondering why your neck is sore all the time?
Looking down can add up to 60 pounds of pressure on your spine, depending on the angle. That's according to a new study from spinal surgeon Dr. Kenneth Hansraj and published in Surgical Technology International. People spend two to four hours per day on average with their heads tilted downward in activities like texting and reading, the study said. Over the course of a year, that time adds up to 700 to 1,400 hours of excess stress on the cervical spine. Over time, this causes a hunched-forward position and increases the risk of spinal wear and tear. It's "nearly impossible to avoid the technologies that cause these issues," Dr. Hansraj wrote in the report. But people can take preventative steps by looking at their phones while maintaining good posture, defined as having one's ears aligned with their shoulders.
If you have an injury or ache and would like to make an appointment with your onsite Advanced Rehab Physiotherapist, please contact your Nurse Manager
Anouschka De Gourley, Advanced Rehab


REFLEXOLOGY
Raewyn Coburn who did her placement at Pinesong last year for her refloxology training is now offering reflexology service for the village residents every Tuesday and Thursdays on level 2 of Seabreeze. Anyone wanting an appointment please contact her directly. Her email address raewyn.auckland@gmail.com, mobile: 0211710807 or home number 8176089.


LAB TESTS
Labtests Time Change
Labtests will be here at 2.30pm every Monday, Wednesday and Friday.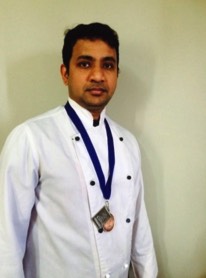 Silver Award for Naveen




At the recent Senior Lifestyle Cuisine competition Naveen won the Silver award.
A fine effort!



Cafe & Restaurant


Sunday 29 November 12.15pm
Roast lamb with roast potato and vegetables $13.00

Wednesday 2 December 6.15pm
Tiger prawn curry with rice pappadums.
Plated dessert $16.50

Friday 4 December 6.15pm
Char grilled chicken with roast potato and steam vegetables
OR
Pan fried snapper with roast potato and steam vegetables.
Plated dessert $17.50


Christmas Dinner Dates and prices


WEDNESDAY 16 DECEMBER
3 course Dinner, no entertainment $25.00
With Background Music

Entree
Shrimp Cocktail
~~~
Mains
Honey glazed Ham on bone
Cranberry Stuffed Turkey
Orange and Pineapple gravy
Roast Garlic Potatoes
Roast Kumara and Pumpkin
Steam fresh Vegetables
~~~
Dessert
Christmas Log
Pavlova with fresh fruit and cream, Fresh fruit salad
Ice Cream

٭
THURSDAY 17 DECEMBER
3 course Menu, with live entertainment $30.00

Entree
Shrimp Cocktail
~~~
Mains
Honey glazed Ham on bone
Cranberry Stuffed Turkey
Orange and Pineapple gravy
Roast Garlic Potatoes
Roast Kumara and Pumpkin
Steam fresh Vegetables
~~~
Dessert
Christmas Log
Pavlova with fresh fruit, and cream, Fresh fruit salad
Ice Cream

٭
FRIDAY 18 DECEMBER
Christmas Buffet with live entertainment $30.00

Shrimp Cocktail
Potato, Bacon, Ham Salad
Greek FetaSalad
Mushroom and Red Onion Salad, Coleslaw
~~~
Roast Stuffed Cranberry Turkey
Glazed Champagne Ham
Roast Garlic Potato
Roast Kumara and Pumpkin
Fresh Mix Steam Vegetables
~~~
Christmas Pudding, hot Apple Crumble with vanilla Custard
Fruit Salad
Ice Cream
Pavlova with fresh cream and Fruit

٭
CHRISTMAS DAY
Christmas Lunch 2 course, AT 12.30 PM, no entertainment $30.00

Entree
Stuffed Turkey with scalloped potato and vegetable medley
~~~
Or
Baked fresh Salmon with scallops and vegetable medley
~~~
Dessert
Apple crumble
with hot Custard and vanilla ice cream
Christmas pudding and Pavolva



Restaurant Notice



Please note that for the Wednesday and Friday night dinners the cut off time for bookings
will be 12pm on Wednesday for Wednesday night dinner (6.15pm)
and 12pm on Friday for Friday night dinner (6.15pm).

Many thanks, Naveen


Cafe and Restaurant Prices

Soup of the day: $6.50
Special of the day café lunch: $11
Fish of the day café lunch: $12
Sunday Roast of the day: $13.50
Frozen meals: $8.50

Milk
1 ltr: $2.60
2ltr: $4.60
Calci trim 1ltr: $2.80


Weekly Dinner Menu 30th November - 6th December

Pick-up $12, dessert $2.50; delivery $2. Residents may collect these takeaway meals at 5pm from the Cafe.

Wednesday, Friday and Sunday dinners served seated in the Restaurant as usual


MEAL DELIVERY SERVICE

Could you please arrange with Staff or Caregiver for the plates to be returned to the Restaurant kitchen. Thank you.

Information regarding the Café

Dinner is available every Wednesday and Friday in the restaurant at 6.15pm
(please order at reception)
Apart from once a month when there is the residents BBQ
We also have a Monthly Function once a month (will be advertised in Pinesong Press)

A variety of frozen dinners are available for collection at $8 (pls see café for availability)

Residents may also order a dinner from our weekly menu shown above.
These are either to be collected from the café around 5pm or we can deliver for a $2 charge

Sunday lunch only has to be booked if you have a large number of guests

Any queries please contact reception




Hi,

As the creator and manager of this website I have endeavored to portray the everyday life and activities of our village from the
residents' perspective.

Your comments and contributions are welcome and to this end I invite you to use the
'Contact Us' page
.

Deryck Hunt