The first day of the rest of our lives

OFFICIAL NOTICES

Hello everyone,


Yesterday, we had a planned evacuation drill for Seabreeze and Bayview. A number of our team were 'posted' throughout the building as observers and helpers. The alarm was triggered as if it were a real event, isolated to one area of the building, and this is why the alarm did not sound in all areas. My apologies that this was different to the last time we held a drill. It was great to see so many residents taking part in this practise; thank you for your time and patience. Overall, the drill went very well, and following our de-brief, we will be:

Looking into buying a number of emergency blankets, that can be stored just inside the lounge doors, for residents who may feel the cold very quickly.

Ensure all staff know how to use the bull horn.

Ensure we ask every resident who checks in with the Warden "is your apartment now empty?". Please help us with this by telling the warden if you are not asked this.
We also need your help for future drills -

Please do not re-enter a building if the alarm is still sounding.

If you are worried about managing the stairs, please stay in your apartment…in the event of a real fire, the Fire Brigade will be advised you may be in your apartment and will come and check on you.
We complete this round of Fire Training today (Friday 28) with a short discussion on Fire Procedures for our villa and townhouse residents in the Matai Room at 2pm. Evan Rudolph will be taking this session.
Once again, thank you to everyone who took part in this week's drill.
On Monday, Jay Bigham joins our gardening team, and will be working Monday to Friday along side Ken and Pat. Jay has run his own Gardening Business
for the past three years, and is also a qualified baker! Please do say hello when you see him next week.
We continue to advertise for a full time chef to join the kitchen team but unfortunately, we have not had a high response to our advertisement as yet.
I would like to thank Leanne (Care Services Manager) who has done a fantastic job of organising a Fitness Class for staff for the next 6 weeks…we are also running "The Biggest Loser" competition, to get us all back into shape after the winter months.

TELEPHONE SCAMS

Yesterday, I was informed by a resident about a worrying phone call she had received; the called advised they were from Telecom and that the resident's internet needed to be 'turned off" for a month. The caller then asked for the resident's bank details. When the resident refused to give them, her call was transferred to the 'supervisor' who again asked for bank details and asked that she turn her computer on. Again, the resident refused. This is a really good reminder never to give out any bank account information, and if you are ever asked to punch your bank account PIN number into your phone keypad, please don't do this, as a scammer can access the numbers you have keyed. A scammer may also be able to remotely access your computer, if you have logged on for them while on the phone. If you have any doubts about the validity of the call, just put the phone down. In this case, the caller didn't even get the name of the company right…Telecom is now known as Spark!
This Saturday, I am going paintballing with my husband and son (so still no painting!). I have never done this before, and keep being told how painful it is if you get hit, so if you see me covered in bruises and hobbling around next week, you know why!
I hope you all have a lovely weekend, and I'll see you next week,


Theresa Henson
Village Manager


COMPLAINT PROCEDURE

Residents wishing to make a complaint or wanting to have information on any village related issue are encouraged to use the Resident feedback forms which can be found on top of the cabinet in the area behind Reception. The Receptionists are happy to assist in pointing out their location.
Completing these forms are important so that Management can investigate on your behalf and give you accurate feedback. Often we are told that someone has complained of an issue in the village that bothers them by a second party. It is impossible to get back to the original complainant without knowing who to contact. This can give the concerned resident the impression that nothing has been done about the issue causing them further concern. If it is a matter of maintenance or grounds please use the appropriate forms at reception. Thank you for your anticipated co-operation.
Evan Rudolph, Assistant Manager


ANNUAL SPRINKLER SYSTEM CHECKS

They will be on site for two days and will be accompanied by a staff member and should take less than a minute to check each apartment. As only a percentage of dwellings need to be inspected, if you are not home we can move on to another. We apologise for any inconvenience caused.
Neil Forrest, Maintenance Supervisor


STAFF GET PHYSICAL!

Those who know me, know that I am into physical fitness and attend a boot-camp physical session at the Green Bay Community Centre. Staff here have raised their interest, so to improve staff's fitness, weight and well-being I have organised two sessions per week for staff to attend outside of their working hours of work. So if you see a few red faces walking around the village on a Tuesday and Friday afternoon, you will know what they have been up too!!
Leanne MacDonald, Care Services Manager





NOSTALGIA 2015 SHOWS
Saturday 12 and
Sunday 13 September
For all new residents to Pinesong,
Nostalgia 2015 is a
variety show produced and performed by Pinesong residents and staff.

Come along and see what goes on!

Tickets will be on sale from Monday 31 August each day until Friday 4 September. Ticket sales will be in Reception foyer from 10am to 12 noon at a cost of $2 each. Family and friends are welcome to attend the shows. The bar will be open from 6pm to 7.15pm.
Bob Helleur 817 8996

CROQUET@PINESONG
Two corrections and apologies. Eileen Malim and Iona Manaton won the last Drawn Pairs final from Val Eade and Sheena McCormack (not Shona – my fault.) Now we are into the second Drawn Pairs completion of the year for the Eileen Malim Trophy. The draw has taken place and is being circulated so that all is ready to go as soon as the Singles final has been played. We have 26 players entered with another four of the usual people having a rest from match play for a month or two.
Janet Cross, 1 Manukau, 817 6066


ZUMBA TIME CHANGES

Zumba Gold classes are changing times from 1.15pm to 9.15-10.15am every Friday. It's a fantastic way to keep fit, have a laugh and keep your toes warm !!! Come along and watch if you like - first class is FREE !!. Love to see more chaps at my classes — any chance you might get your dancing shoes on??? Valerie White


PRIDE 'N JOY

Thursday, 10 September 10.30am-1.30pm
Seabreeze Lounge
Selling ladies and men's quality clothing and Arcopedico shoes, jewellery.


LOUISE LEISUREWEAR

Will be here at Pinesong
Thursday 17 September, Seabreeze Lounge from 10am
with a selection of ladies and menswear


RESIDENTS' BIRTHDAY AFTERNOON TEA

Monday 31 August, 3pm Café area
To welcome, and celebrate Residents' Birthday for the month of August. Guest Speaker this month Lisa Talbot, from the National Foundation for the Deaf, the name of this company is Cap' Tel Telephone Demonstration. She will be giving a telephone demonstration on usage of all aspects, and equipment that are available to people that are hard of hearing.
Hosts Audrey Baldwin & Joan Gasparich


OPERA APPRECIATION

The next meeting of the Opera Group will be held on Friday 28 August at 10am in the Matai Room. This time the opera is Hansel and Gretel by Engelbert Humperdinck. All welcome. For further information call:
Kate Methven 817 9804


SALE IN AID OF HOSPICE

Fabulous vintage and unusual and modern fabrics, buttons, patterns and trims ideal for Quilters and Crafters. Also great Café with delicious coffee savouries and sweet treats.
Saturday 5th September 9 to 12.30pm St Columbia Centre, 40 Vermont Street Ponsonby. Why not car pool and grab a bargain for a very worthy cause.
Lil Gosling


'
STARS WANTED'

Countdown Domino Stars. My grandchildren would love to receive the Dominos if you have no use for them. Will collect.
Ph Vel Fleming 816 8384


TABLE TENNIS NEWS

Following lunch together yesterday, the Table Tennis Singles Championship awards were presented by John Horder, Chairperson of the Residents' Committee.
The men's champion was Roger Aylott and the women's champion was Shirley Thomson who was the overall winner following a hard fought battle.
We give our thanks to Ken and Barbara Jarvis for the donation of a table tennis trophy for this event.
Lois, Table Tennis Coordinator

TE NEWS + +

COFFEE CORNER
Little Sisters Café
91 Central Park Drive, Henderson
Open 7 days
A must to visit just to see the fantastic selection of food both on the menu and in the cabinet - scones, donuts, muffins and meringues, the coffee is very good also (remember to ask for coffee to be hot).
Décor is homely, and staff are very attentive. Can be a bit noisy because it is a popular venue. Not suitable for a large group. Parking is tricky.
Jean Piper and Mary Lovelock
817 9054 817 9552

DAFFODIL DAY
Cancer Society are looking for street collectors to help on Daffodil day 28th August. New Lynn, Glen Eden, Kelston area. Call Gina ph 308 0494.
Thank you. Allan Kay

BRIDGE PLAYERS WANTED

Is there anyone out there who enjoys a social game of Bridge, if so we would be delighted to hear from you. We play on Saturday afternoons from 1-4pm, in the Matai room which is situated in Seabreeze apartment block, first floor. For further information you could ring:
Riet Bergers 816 8441, or Pat Crow on 817 7568


PETANQUE

We have been talking about changing the time for Petanque to 2pm especially during the winter months as it gets so cold around 3.30pm to 4pm. So from Monday 22nd June, Petanque will start at 2pm. This last Monday was too cold and raining for play but we had a big turnout the Monday previous which ended up going on a bit later. So hopefully bringing the time an hour earlier we will not feel so cold towards the end of the games. Look forward to seeing you all.
Aileen Keery 8917 3399


OUTDOOR BOWLS
Hello everyone. I hope your week has been a good one.
Thankfully the bowling green seems to be settling down a bit and bowlers are gradually getting their bowls a little bit closer to the kitty.
I am pleased to notify that the Tournament which was to have been held to celebrate the official opening of the new green will be held on Wednesday 9 September (weather permitting) and will now double as the opening of the 2015/2016 bowling season. The same conditions as printed on the original team sheet will apply. The tournament will start at 9.30am and should finish by 12.30pm. The bowls will be followed by a prize giving and lucky number draws at the bar at 12.45pm, followed by lunch at the fireplace end of the Lounge around 1.30pm. There will also be a raffle for a Laundry Basket full of goodies from The Warehouse along with two further draws for minor prizes. Tickets for the raffle ($2 each or 3 for $5) will be sold at the Bar. If the weather prevents play on the day the Tournament will be postponed until Wednesday 16 September.
The revised draw for the tournament and an acceptance note for the lunch will be delivered to your letterbox early next week and must be returned to my letterbox (6 Waterview) or to Reception no later than Wednesday 2 September. Players and partners are invited to attend the lunch and the cost will be $10 per head, the same as the lunch on the day of the Official Opening. Anyone whose name appears in the draw who is not available on 9 September, should let me know as soon as possible so that I can arrange for one of the reserves to play in the tournament.
Finally, I would like to pay a small tribute to the late Dacia Killip who sadly passed away early last Saturday morning. Most of the bowlers will know that Dacia left Pinesong earlier this year to reside in a Rest Home to see out her remaining time in this wonderful land. I had sent Dacia an invitation to attend the lunch to celebrate the opening of the new bowling green which she gracefully declined as she would have had to rely on the Rest Home to transport her to Pinesong and also because Dacia felt that she might not be able to cope with the function and a large gathering of people. A week before the original date of the Official Opening I received a telephone call from Dacia outlining the reasons for declining the invitation and to wish everyone involved a successful and enjoyable day. Words cannot describe how touched I was at receiving the call from Dacia and the sincerity that accompanied her words. The mere fact that Dacia who was terminally ill had taken the trouble to phone, left me in awe of this lady who will be sadly missed by all of the Pinesong bowlers that had the privilege of being associated with her.
John Crow, Convenor, 817 7568

GARDEN CIRCLE

We had a small group attend our monthly get-together on Tuesday but as always it was good to share ideas and to just have a chat about the gardens and what is going on around Pinesong.
A few of us will be going to the Oval on Wednesday to clear out the last of the plants and to remove the bark ready for the Garden team to come in and prepare for the planting. Ken talked to us about the plants he had to go in and we were all happy and can see that when this area is finished should brighten it all up and make a huge difference. When Ken and the team have finished the preparation and are ready for planting he is going to let me know and I will see if there are any residents and gardeners who would like to work with us to plant and enjoy each others company. Of course this will all be weather permitting and wont be for a couple of weeks.
The other area we discussed was the Vegie plots and we thought we could make that our next project to look at as everybody had quite a few ideas on developing some larger plots and making the area a place to visit and who knows if we could generate enough vegies and perhaps some Citrus trees we could share the bounty. No harm in dreaming.
I am looking to see if any residents would be interested in going to the Waitakere Orchid Show, held at Kelson Community Centre on Friday 28 & Saturday 29 August. If there are a few people interested we could see about going as a group and getting the bus to take us. The entry is free but if we are going as a group would need to know numbers and days of interest. But either way it would be lovely to see this Orchid display and this is to let you know that this is happening. Ring me if you would be interested in going with others and we can see how it develops. Aileen Keery, 817 3399

VILLAGE SHOP
We have a small shop in the village, run by residents to
provide non-perishable goods to save you going out to the supermarket for just one or two items.

Items such as cleaning products, dry goods, cereals, biscuits, toiletries
and batteries are available.

There is also a supply of craft items, cards etc. made by residents
and suitable as gifts.

The shop is open from 10.00 am to 12pm on Mondays, Wednesdays and Fridays.

Fresh milk is available from the café.

MOBILE LIBRARY BUS TIMES

The service will now operate fortnightly from 12 January. As 26 January is Auckland Anniversary there will be no library.
Titirangi Library Hours:
Mon, Tues Wed 9am-5.30pm
Thursday 9am-8pm
Friday 9am-5.30pm
Saturday 10am-4.00pm

Closed Public Holidays


POWLEY FROZEN MEALS

To order your frozen meals phone 627-0700. There will be a $6 delivery charge which will be delivered direct to your door.
Powley Frozen Meals, ph 627-0700


VILLAGE CARE CENTRE CLINIC

Level 2 Seabreeze Care Centre
We have had several requests from residents to have a selected time for the Centre Clinic for consultations, blood pressure monitoring and wound dressings.
Monday through to Friday 10.30am- 11.30am and again 1.30- 2.30pm we will be available for consultation.
Weekends by arrangement – just phone and arrange a time.
Any queries don't hesitate to call us,

Regards Leanne & team
Leanne MacDonald

Care Services Manager


At Pinesong we have an activity programme that the Serviced Apartment residents enjoy each week day. There are sessions from gentle exercises, through to arts/crafts, sing-a-longs and outings. If you are a resident out in the village or are caring for a loved one who is unable to go out into the community for socialisation and you would like to partake in activities again, please feel free to phone me regarding session times and costs.
Currently I am looking at alternative activities for the programme at Pinesong. Many of my Serviced Apartment residents talk about Probus and interested in other activities, hobbies and experiences. So if you are a resident out in the village who has a special interest, hobbies, or have been on an interesting holiday and able to share that with others, please contact Skevi our Activity Coordinator in the Care Centre.

Leanne MacDonald

Care Services Manager


ACUPUNCTURIST COMES TO PINESONG

We are excited to let you know about Advanced Rehab's new team member Acupuncturist Ella Ji. She is vastly experienced in Acupuncture and holds a PHD, Masters and Bachelor's Degree in Acupuncture. She has effectively treated a vast range of conditions and health concerns utilising acupuncture, cupping, herbal prescription and lifestyle/diet advice. These concerns include lower back pain, neck/shoulder pain, knee pain/ weakness, anxiety, fatigue and insomnia.
Acupuncturist Ella Ji will be at Pinesong on Fridays from 1-5pm beginning Friday 12 June. If you would like to book an appointment with her, please call 0800 229 749.
Anouschka de Gourley, Advanced Rehab

BEAUTY THERAPY

With Kimberley Vautier
Internationally qualified and trained since 1987

Ph 6649 or 817-0649, or 817-3606 after hours. Hours: Wed, Thur 9am-5pm

My Pinesong answer phone is only cleared on the days that I am at Pinesong. Please call the after hours number outside these times to ensure a prompt response.
PHYSIOTHERAPY
Physio Tip of the month - Back Pain
Over 80% of New Zealanders will experience some form of back pain in their life time. If you're one of them, then you'll know what a struggle it can be. Back pain can impact on your work, sleeping patterns and your general ability to keep moving and enjoy life.
For minor back pain the sooner you get back to being active the better – gone are the days where bed rest for weeks was recommended. In fact, research clearly demonstrates that staying active can help reduce your pain and shorten recovery time in most cases.
Your physio will identify the factors contributing to your specific back problem and will design a treatment plan and management programme just right for you. They'll also check if any underlying health conditions could be contributing to your back pain. Their aim will be to get you back to full movement and enjoying life again.
If you would like to see your on site physio, please either contact your Nurse Manager, call Reception, or 0800 229 749.
Anouschka de Gourley


REFLEXOLOGY
Raewyn Coburn who did her placement at Pinesong last year for her refloxology training is now offering reflexology service for the village residents every Tuesday and Thursdays on level 2 of Seabreeze. Anyone wanting an appointment please contact her directly. Her email address raewyn.auckland@gmail.com, mobile: 0211710807 or home number 8176089.


LAB TESTS
Labtests Time Change
Labtests will be here at 2.30pm every Monday, Wednesday and Friday.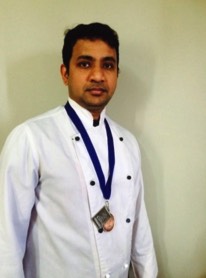 Silver Award for Naveen




At the recent Senior Lifestyle Cuisine competition Naveen won the Silver award.
A fine effort!



Cafe & Restaurant


Sunday 30 August 12.15pm
Roast beef with Yorkshire pudding $13.00


Wednesday 2 September 6.15pm
Braised lamb chops with baked potato and steam vegetables
Plated dessert $16.50

Friday 4 September 6.15pm
Chargrilled chicken with roast potato and steam vegetables
OR
Pan fried snapper with roast potato and steam vegetables
Plated dessert $17.50

Restaurant Notice



Please note that for the Wednesday and Friday night dinners the cut off time for bookings
will be 12pm on Wednesday for Wednesday night dinner (6.15pm)
and 12pm on Friday for Friday night dinner (6.15pm).

Many thanks, Naveen


Cafe and Restaurant Prices

Soup of the day: $6.50
Special of the day café lunch: $11
Fish of the day café lunch: $12
Sunday Roast of the day: $13.50
Frozen meals: $8.50

Milk
1 ltr: $2.60
2ltr: $4.60
Calci trim 1ltr: $2.80


Weekly Dinner Menu - 31st August - 6th September

Pick-up $12, dessert $2.50; delivery $2. Residents may collect these takeaway meals at 5pm from the Cafe.
Wednesday, Friday and Sunday dinners served seated in the Restaurant as usual


MEAL DELIVERY SERVICE

Could you please arrange with Staff or Caregiver for the plates to be returned to the Restaurant kitchen. Thank you.

Information regarding the Café

Dinner is available every Wednesday and Friday in the restaurant at 6.15pm
(please order at reception)
Apart from once a month when there is the residents BBQ
We also have a Monthly Function once a month (will be advertised in Pinesong Press)

A variety of frozen dinners are available for collection at $8 (pls see café for availability)

Residents may also order a dinner from our weekly menu shown above.
These are either to be collected from the café around 5pm or we can deliver for a $2 charge

Sunday lunch only has to be booked if you have a large number of guests

Any queries please contact reception




Hi,

As the creator and manager of this website I have endeavored to portray the everyday life and activities of our village from the
residents' perspective.

Your comments and contributions are welcome and to this end I invite you to use the
'Contact Us' page
.

Deryck Hunt