The first day of the rest of our lives

Hello everyone,

Just a reminder that there is no shopping trip this Friday 19 May, due to our van being offsite for new signage. Please accept our apologies for this inconvenience.

Update on the Manukau Project:
The contractors continue to work on the pilings and retaining wall construction, which includes daily concrete pours. Water services have been relocated, and we are waiting for further details on power relocation. Shear wall construction has started and work to the drainage and excavation continues. It appears very unlikely that the council will overturn their decision to allow us to use Cliffview Drive for contactor vehicle access for the duration of the project. This week, our "re-located" Manukau residents took a trip out to see the final kitchen designs at Peter Hays Kitchens. The landscaping design to the surrounding area will be available in the near future, and we will have updated display boards available for everyone to see.

If you need some quiet time away from the construction noise, you are very welcome to come to level 2 Seabreeze, where we have 4 of our care suites set up as quiet lounges. Hot drinks are available in the kitchenette along the corridor. Our next day trip for neighbouring residents is being organised for Wednesday 31 May…details to follow shortly.

If you are coming to the Goldfinger dinner this Friday, I'll see you there!

Have a lovely weekend,

Theresa Henson
Village Manager


Official Notices




PARKING IN FRONT OF RECEPTION
Now we have had our reception garden renovated by wonderful Pinesong residents, could we please refrain from parking on the broad white lines so that everyone coming into the village can enjoy it.
Thanks for your anticipated co-operation.

COMPLIMENTARY NURSE CLINIC
We have a complimentary nurse clinic here at Pinesong, every Tuesday and Friday from 10.30am – 11.00am. The clinic is held in the care centre, level 2 seabreeze. The clinic is free, however there will be a small charge for any wound care products (if not funded under ACC) or equipment used for injections. So if you would like a wellbeing check, blood pressure or a wound dressed please see us!
Regards Leanne and Celerina.

PINESONG ACCOUNTS
I would like to remind everyone that Pinesong has the ability to email your monthly accounts. So far 70 residents have made the switch to paperless statements, receiving them as much as 24 hours earlier than the paper variety.
If you would like to receive future accounts via email please let me know by emailing me: lindaj@metlifecare.co.nz
Linda, Administrator

PLEASE REMIND YOUR FRIENDS AND FAMILIES THAT OUR SPEED LIMIT IS 15KPM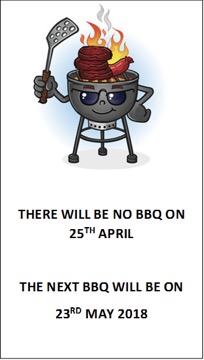 PINESONG WEATHER FORECAST
Geoffrey Hopkins has linked his weather station to the local 'grid' to give an even more accurate forecast. Take a look:-

Click on PINESONG WEATHER FORECAST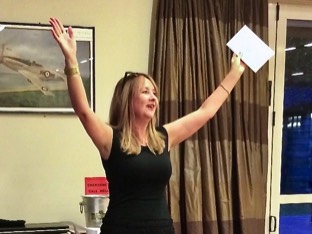 THANK YOU
A big massive thank you to Theresa and our lovely staff for my
fabulous send off
, what a great evening that was! I'm very grateful.
I would like to thank you all, staff and residents for my gifts, I was so humbled and touched.
I am now enjoying the warmth and sunshine of the Gold Coast and relishing in the cuddles and precious time with my family. Thank you all so much for my amazing time at Pinesong.
Love to you all.

Deborah xx
OPERA APPRECIATION
The next meeting of our group will be held on Friday 26
th
May at 10am in the Matai room.
We will be watching Part 2 of Samson and Dalila by Camille Saint Saens together with special tribute to Placido Domingo.
All welcome
Kate Methven 817 9804
SUNDAY @ 3

Pinesong's Non denominational Church Services
Where:
Bayview lounge

When:
Sunday, 28
th
May at 3.00pm

Speaker:
Sam Martin

Soloist:
June Hooper

It will be great to welcome back Sam Martin to speak to us on this occasion. He is a Pastor at the Valley Rd International Church and has always been enjoyed on his visits to Pinesong. Our own June Hooper will be our soloist for this service. Join us also for our much loved hymn singing followed by a good chat over Tea/Coffee and biscuits. A warm welcome to everyone.
Deryck Hunt 817 3755
SING A LONG
Saturday 27
th
May
If you enjoy a sing a long gather around the piano in Seabreeze lounge on Saturday at 3pm.
Delwyn Battersby 817 8636

CROQUET@PINESONG

LAST CHANCE TO WIN!
Be in to win the Lorna Stewart Triples Trophy by entering before this Friday. Drawn at 2pm on Monday 22
nd
May at the croquet shed. If wet, at the Fitness Centre.
Janet Cross. Villa 112 The Terrace 817 6066
RESIDENT BIRTHDAY AFTERNOON TEA 29
th
MAY 2017 at 3pm
To welcome, and celebrate Residence' Birthday Tea for the month of May, our Speaker for this month will be Chris Keery.
His topic will be Art with History through Stamps, – this could be a very interesting topic folks, something well worth seeing, so look forward to seeing you there.
Remember we start the afternoon at 3pm.
Cheers Joan Gasparich.
WHATS HAPPENING AT………… HAPPY HOUR?
(4-6pm Fridays)

Lucky door prizes

Raffles

Win a FREE drink

Meet up with friends

Make new friends
COME AND JOIN THE FUN.


STIRRED NOT SHAKEN!
Gold Finger Martini $4.50 per drink
Available at the bar
HAPPY HOUR
Friday 19
th
May - 4-6pm
Nola Maurice 817 6442
A STREAM THROUGH THE BUSH
The Residents Committee has approved to the proposal to the 'Waterworks' provide the ability to pump a continuous flow of water from the pond up into the top of the bush area.

This will mean that when the work on the pond is undertaken, a pump will be installed to provide water to the upper part of the bush area for a stream.

This stream will enable

Water movement throughout the bush area and the pond

Eliminate stagnation and muddy areas

Give rise to extra incentive for residents to enjoy the bush walk

Allow more involvement in the beautification of the bush area

Make the bush area a special asset to Pinesong
Wally Martin 818 7226 or 021 154 5593

COME AND MAKE MUSIC WITH US!
A number of residents have expressed interest in playing together in a group. If you are able to play a musical instrument, or would like to learn to play the ukulele, please contact:
Judy Nicholls 8169177 or 0211552992 (villa 111).

MID-YEAR SOCIAL AND DANCE
SATURDAY 27
TH
MAY 2017
7PM – 10.30PM
THEME: 'FLOWER POWER – "HIPPIE ERA"



Keep this night free and look out for the poster coming soon.
See you there.

Social and Dance Committee

VILLAGE SHOP
We have a number of grocery items that have passed their "Best Before" date that we are specialing at half their normal price or less. Nothing over $2 and most of the items are only a few weeks past their best before date which of course is NOT the use by date.

For those residents new to the village, the Pinesong Village Shop is located on the 1st floor of the Seabreeze building, down the aisle on the left of Cafe 66 and then take the second aisle on the right. We are open Monday, Wednesday and Friday between the hours of 10.30 a.m. and 12.30 p.m. Not only do we stock a selection of grocery items, but we have lots of lovely handcrafted goods made by the residents of Pinesong, i.e. cards, baby woollens and covered coat-hangers, etc.
Joslyn Tierney

KNITTERS NEWS
We now have ladies busily knitting bigger booties & slippers for small feet all across the Waitakere Hospital's catchment area, in preparation for the cooler days which seem to have sneaked up on us this week!
Many thanks to all concerned.
Should anybody like to help us in this task, I now have copies of a very easy pattern & one can easily finish a pair in an evening, should you feel inclined to do so.
On the wool front, I have no more double knit on hand, though have an ever increasing amount of 3 & 4ply which can be used double as I am using presently. This tends to be a bit of a problem now as I don't have the storage space for this.
To all the good people who donate wool (or acrylic) to the cause, I would be most grateful if you restrict this to D.K as it will take ages to use up the finer wools doubled, and it is a bit more 'fiddly'.
Please don't hesitate to ring me if you have any queries.
Anne Clarke 817 8408

TABLE TENNIS
We meet regularly on Thursday 1.30, Sat 9.30 & the room is available on a Monday at 1.30 for anyone who just wants to come & have a hit. There are plenty of bats & balls.
Lois, Ken & Mary

THE DARTS CLUB
Had a set back with only one resident attending. It is agreed that (until we have several committed members) that sessions would take place at 6.30pm on Tuesday.
Anybody who intended to join but forgot to attend can join by giving me their names and telephone numbers during the week.
Chris 816-8360

AUCKLAND PHILHARMONIA ORCHESTRA $10.00 Bus bookings
If you have booked your seats for the 2017 season and wish to travel on the "$10 Friends' Bus" please return your form to Liane Hume, Apartment 17, Harbour Apartments, if you have not already done so. (Contact me if you need a new form.)
The first concert is on Thursday 18 February but I need to confirm the bus bookings well before then.
Any residents who may wish to attend a concert on a casual basis can do so by contacting me, preferably a week before the concert, and can pay the $10 on the bus.
Any queries please ring Liane Hume, Ph 817-0476

KITCHEN CROCKERY
Can residents please check to see if you have any dishes that can be returned to the Café. Thank you.

OUTDOOR BOWLS
Good morning everyone. I hope you have all had a good week and have enjoyed the cooler Autumn weather.

On Thursday 4 May two teams representing Pinesong hosted two teams from each of Hillsborough Heights and Poynton Villages for the Metlifecare Challenge Trophy, which was previously contested only between Pinesong and Hillsborough Heights. The revised format also provides for the Managers from each of the Villages to be included in one of the teams and I believe this arrangement was very successful with all three making significant contributions. All in all the day was a great success with the weather also playing its part by staying fine throughout the games despite a couple of serious threats of rain.

The day proved to be a very good one for Pinesong with both teams winning all four games against the two teams from each of the other Villages. The completed result was Pinesong 8 wins; Hillsborough Heights 3 wins and Poynton 1 win. The Metlifecare Challenge Trophy will now stay at Pinesong for a further six months after which time we will take it to Poynton for the next challenge on 9 November.

We are waiting for some players to return from holidays to finalise the drawn triples and to progress both divisions of the drawn pairs. Hopefully both competitions will be completed by the end of this month.

Any resident who does not already play bowls is very welcome to join us on Mondays, Wednesdays and Saturdays between 9.20am and 11.00am. You don't have to be an expert to play. Most of us who play bowls at the Village had never played before. So come along and join us.

Have a good weekend everyone.
John Crow, Convener (Ph 817-7568)

HERB BOXES
The Herb boxes are doing well, residents are picking from The Oval, but not so many from the Conlon Lane and boxes by the Garden Shed in the Bush. These herbs and silverbeet are for all of us and need to be picked to keep them growing. Also if anyone has a surplus of plants don't throw them out plant them in the boxes for all of us to share. These are communal boxes for all of us to use and it is nice to have fresh herbs on hand. I am going to get some more Mint, Coriander, Basil, Parsley and Cress ready for summer. As you are walking by please feel free to pick whatever you need or would like to try. The Celery/Parsley is growing strongly and has masses of flavour. There is plenty of activity in the Bush with volunteers doing a great job keeping on top of tidying up and trying to get pops of colour going. Watering will soon be a busy time as we get into the warmer weather.
Aileen Keery, 817 3399

GARDEN CIRCLE
Our next Garden Circle meeting will be at 2pm on Wednesday the 17th May in the Matai Room and Sue Harris our new committee liaison officer will be attending, please come along and make her welcome, Simone our head gardener will be attending as well. We will be talking about the Herb boxes, the pump for the stream to get the water circulating and general garden chit chat. Please feel free to join us and offer ideas and just a catchup with what is going on around the village. I just would like to say how beautiful the reception area looked for Anzac Day, the poppies in our new garden with the cross was awesome. Thankyou team ANZAC,a wonderful day for our village.
Aileen Keery, 817 3399

AA SENIOR DRIVING COURSE
Keep Your Freedom and Independence
Are you a member of the AA? Are you 80 plus?
Did you know that you can book a FREE in-car coaching session? A few days ago I made use of this service and was mightily impressed. An AA driving instructor came to the village, we drove in my car for a whole hour while she observed my driving style. Before we took off she checked the following: 1) vehicle check, 2) cockpit drill, then while driving, 3) communicating and signalling, 4) car control, 5) hazard identification,6.tips, hints and feedback. My correct seating position was also checked. If this is for you: Phone 0800 223 748 or go to: aa.co.nz/senior-driver and make an appointment. My instructor was Shifali Patel. The whole session was well worth the time it took. And pleasant!
Margaret Topzand, 817 3893

BLOKES SHED
This is a facility for use by all capable residents of Pinesong. Ladies this includes you, please feel free to avail yourself of a remarkable DIY area with a wide range of equipment.
To keep us safe, all users of the Blokes Shed are requested to follow our Housekeeping Rules. As displayed on the entrance door.
Only residents of Metlifecare Pinesong may use the amenities in this workshop.
Prior to using the workshop you must have signed an "Authority and Disclaimer Form". These are available at Reception.
To gain access to the "Blokes Shed" only one key is available from Reception. You must have already signed an "Authority and Disclaimer Form" . You are then required to "personally sign in and sign out" for the key each time you visit the shed. Individual keys will not be issued.
If you have not yet used the Blokes Shed, please contact Evan Rudolph, Assistant Manager, who will orientate you to the workshop and the safety guidelines
If you wish to donate an item, please contact Evan Rudolph or Mark Leaf (Maintenance) in the first instance. Please do not take items directly to the Blokes Shed.
Please be aware that any donated item will become part of the facility and may be stored, used or discarded at any time.
Please respect other users:
CLEAN UP THE WORK AREA AFTER USE

TITIRANGI RSA DINNERS
Our amazing dinners include a $20 buffet with roast vegetables or salad with also a Dessert included. We have a courtesy van that runs every hour on the hour on Wednesday, Thursday and Friday which goes directly to your door to pick up anyone willing to join us here at the RSA. They also get dropped back when they are ready to go home. To book for this just make a phone call and let us know how many and what time 817-6415.
We have regular exciting entertainment, comedy nights, open mic nights and fundraisers. Every second Friday we have live music, for example Shane and the Shazam! band Is performing Tomorrow from 8.00pm which is $10 a ticket, and coming up we have a Dire straits tribute band in June. The RSA puts on entertaining Quiz Nights every second Tuesday of the month from 7.30pm and the last Thursday of the month we have a lunchtime quiz at 1.30pm which is always a good laugh. We have many activities available such as a golf, pool, snooker, darts and fishing. Every couple of months The fishing and golf sections go out on day or over night trips, which they all enjoy. We also have 500 club where they meet every Tuesday around 1.00pm.

For pictures of upcoming events you can check out our facebook page https://www.facebook.com/titirangirsa/?ref=bookmarks
Laura Richardson

COFFEE CORNER
The Biggest Little Local
1 Shetland Street (off Glengarry Road)
Glen Eden

Open: 6am – 12.30pm

On our travels the other day, we came across a little haven nestled in a very unlikely position situated at 1 Shetland St. Glen Eden (off Glengarry Rd.)

The Biggest Little Local is owned by Jason Baird and his wife, who is related to one of our residents. The coffee is excellent (ask for it hot) and they roast their own beans. A wide choice of cabinet food is on offer with a specialty of savoury and sweet waffles being served from Monday to Saturday.

The spacious and clean the café is decorated in Retro fashion which is both funky and comfortable and it boasts a child friendly area beyond the main café, which is well equipped with toys and a huge collection of National Geographic magazines. This coffee shop funds a Childrens Home in India which the family helped to build when they lived there in 2008.

Well worth a visit----parking immediately outside the entrance.

Cheers from your fellow coffee indulgers

HOME COOKING
RUMTOPF
This is a really wonderful combination of fresh fruits, sugar and rum, brandy or vodka which you marinate in a jar until the sugar has dissolved and the flavours have permeated the chosen spirit to make a delicious alcoholic syrup. It should be started now and will be ready for Christmas.
For every 1lb (500g) fruit you will need 8oz (250g) caster sugar and enough rum or other alcohol to cover the mixture.
The idea is that you start with the first fruits of the season and then work your way thorough strawberries, raspberries, red and blackcurrants, loganberries, cherries, peaches and apricots. Avoid melons and apples.
Prepare the fruits as for eating – pick over, hull, stone or de-stalk. Toss the fruits in the right amount of sugar and leave to stand for about 1-2 hours to draw the juices, then tip them into a Rumtopf jar or a wide necked jar with a lid – it must be deep enough so the fruit can be layered. Add sufficient spirit to submerge the fruit (press cling wrap on to the surface to keep the fruit under the alcohol), then cover the jar.
As you build up the layers of sugared fruit, always submerge them with your chosen spirit. After adding the last batch of fruit, store for at least a month before using, to give it lots of time to absorb the flavour.
To use: Spoon over ice cream; use to soak the sponge base of a trifle. They syrup can be served as an after dinner liqueur or added to a glass of white wine.
Note: you can use just one fruit if you like, for example strawberries, with sugar and rum.
Janet
E NEWS + +



Village Care Centre Clinic



Level 2 Seabreeze Care Centre
Did you know that you can access a wide range of care and support services directly through our team at Pinesong?

Did you know that many of these support services can be funded through the District Health Board?

If you feel you may require personal support services, either short term or long term, please come and talk to us. Leanne MacDonald (Care Services Manager) is here to help! We can work with your GP practice to organise an assessment through the DHB for funded services, such as personal cares, showering support or medication management. Personal care support is not means tested, and is based purely on an individual's need.

Leanne and Celerina are also registered with ACC to provide nursing treatments, such as wound dressings if you have had a fall. There is no surcharge, so no cost to you. If you have an accident, please let us know so we can help with your recovery.

Did you know that on level 2 Seabreeze, we have a number of Suites available for residents to use, for services such as respite, re-cooperation or a short term stay if you are unwell and cannot care for yourself?
If you have a stay in hospital, and are ready for discharge, but not quite ready to go home, talk to us about staying in one of our care suites on level 2 Seabreeze where you will receive 24 hour care.

Details and costs of our full range of private services are available through reception, or on level 2 Seabreeze. We are always available to talk to you about how we can help now and in the future.

FREE NURSING CLINIC
Free Nursing Clinic – Level 2 Seabreeze, Care Suite No 10 on a Tuesday and Friday from 10.30-11.00am, no bookings required.
Leanne MacDonald
Care Services Manager

PARKINSON'S MEETING FOR MAY HAS CHANGED!!!
There has been a change of day for the monthly Parkinson's meeting, it has changed for the Wednesday the 24th to Thursday the 25th May and will be held in the BAYVIEW LOUNGE.
All will return to normal next month.
Rachel

WEIGHT LOSS SUPPORT
There is a Weight Loss Support Group currently operating in the village. We meet to "weigh in" each Tuesday at 10am in the Care Centre and have a short chat about our progress. We would like to welcome anyone who is interested to join us.
Judy Jean
817 1050 817 9054

CHIROPRACTOR
Tim Archer, a registered Chiropractor, has seen me regarding his chiropractor services. Tim is able to come into the village to see residents. Tim uses an activator adjustment instrument to deliver chiropractor adjustments, making it very gentle and comfortable for patients. If you are interested in seeing Tim could you please call me on 817 0653, as I would like to have an idea of resident numbers before we proceed any further.
Leanne MacDonald, Care Services Manager

AUDIOLOGY ASSOCIATES
A number of residents may have been affected by the recent closure of Applied Hearing.
Should you require assistance with your hearing aids, we are happy to look after you and can service any aids including Rexton.
Locations: Blockhouse Bay: 2 Kinross St, ph 627 2105;
New Lynn: Totara Health Centre, Level 2,
1 McCrae Way, ph 827 0709;
Te Atatu South: 183 Te Atatu Rd, ph 838 9757

PINESONG'S BEAUTY THERAPY
With Kimberley Vautier
Internationally qualified and trained since 1987
Beauty Appointments
For an appointment call:
Kimberley, Ph 6649 or 817-1800, or 817-3606 after hours. Hours: Wed, Thur 9am-5pm


REFLEXOLOGY
Raewyn Coburn who did her placement at Pinesong last year for her refloxology training is now offering reflexology service for the village residents every Tuesday and Thursdays on level 2 of Seabreeze. Anyone wanting an appointment please contact her directly. Her email address raewyn.auckland@gmail.com, mobile: 0211710807 or home number 8176089.


LAB TESTS
Labtests Time Change
Labtests will be here at 2.30pm every Monday, Wednesday and Friday.


Cafe' 66


FRIDAY 19th May – 6.15pm
JAMES BOND 007 GOLD FINGER DINNER

SUNDAY LUNCH 21st May
Roast beef served with Roast potatoes, roast kumara, pumpkin, greens, Yorkshire pudding, horseradish & gravy.
$12.00
Dessert –.Pavlova served with cream & fruit salad.
$3.50
Combo $15.00

WEDNESDAY 24th May - 6.15pm
Home made butter chicken served with rice, green beans & carrots.
$16.00
Dessert – Pavlova served with cream & fruit salad
$3.50


FRIDAY 26th May – 6.15pm
Rump steak served with, gravy chunky potatoes, mushy peas & fresh side salad - $16.00
Lemon thyme Terakihi fillet served with chunky potatoes, mushy peas & fresh side salad - $16.00
Dessert – Banoffee pie - $3.50




Restaurant Notice

Ordering a meal: Bookings are essential for Wednesday and Friday Dinners at 6.15pm.
Meals should be booked at Reception before 1pm the day it is required. Meals outside of bookings are at the Kitchen Manager's discretion.
Please order through Cafe for delivery or collection for the 5pm meals. Pick-up $12, dessert $2.50; delivery $2. Residents may collect these takeaway meals at 5pm from the Cafe.
Wednesday, Friday and Sunday dinners served seated in the Restaurant as usual.


Weekly Dinner Menu 22nd May - 28th May
Pick-up $12, dessert $2.50; delivery $2. Residents may collect these takeaway meals at 5pm from the Cafe.
Wednesday, Friday and Sunday dinners served seated in the Restaurant as usual.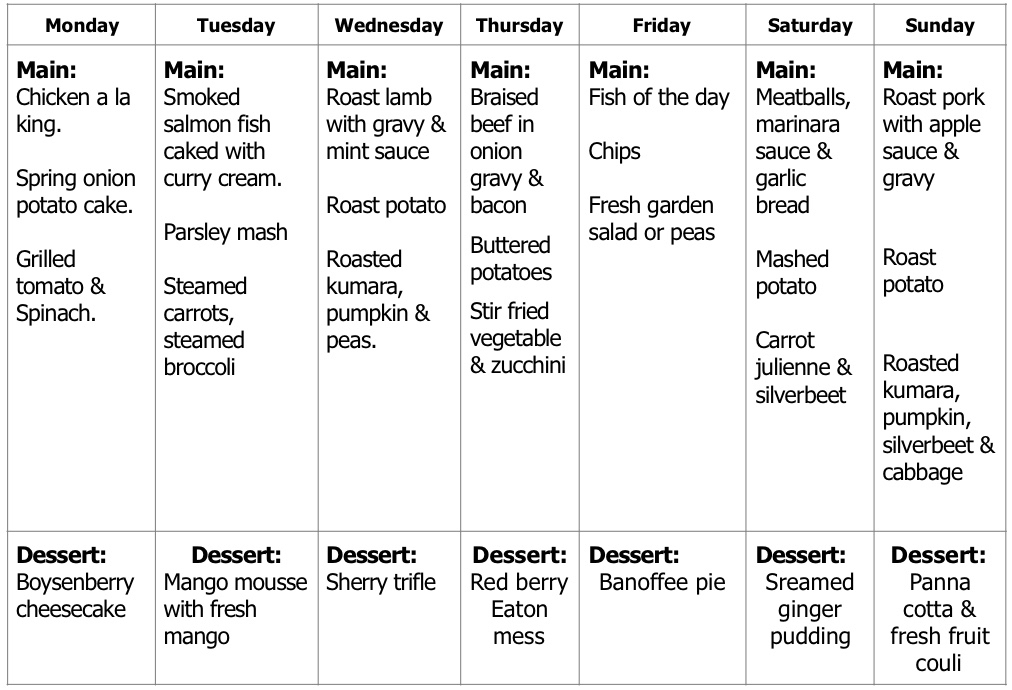 MEAL DELIVERY SERVICE

Could you please arrange with Staff or Caregiver for the plates to be returned to the Restaurant kitchen. Thank you.

Information regarding the Café

Dinner is available every Wednesday and Friday in the restaurant at 6.15pm
(please order at reception)
Apart from once a month when there is the residents BBQ
We also have a Monthly Function once a month (will be advertised in Pinesong Press)

Hi,

As the creator and manager of this website I have endeavored to portray the everyday life and activities of our village from the
residents' perspective.

Your comments and contributions are welcome and to this end I invite you to use the
'Contact Us' page
.

Deryck Hunt