The first day of the rest of our lives


Official Notices


Hello everyone,

It has been a busy week, ending on a high with sunshine and the Manukau Roof Shout! We look forward to seeing you all and raising our glasses to the milestones completed to date.

After Hours Maintenance Support: In the event you require assistance with Maintenance outside normal working hours, please always call: 817 1800. This phone number is always carried by a staff member and will be answered unless they are attending an emergency / issue. We have Maintenance cover on the weekends from 7am – 11am. In the event your issue is major and not able to be resolved at that time, it will be escalated to the on call manager.

Manukau Update: Work on the site will now be carried out on Sundays, starting this weekend. It is important to note this is 'Soft Trades' only e.g. Painting, Stopping, Gib Install, Insulation, Cleaning, Floor Coverings, and Tiling. There will be no deliveries, walking in and cars etc will be minimised where possible. Working times will be 8am – 4pm.

Have a wonderful weekend. I am heading up to Mangawhai with my girls, despite the weather forecast.

Kind regards,

Katie Worthy
Village Manager


CONSTRUCTION SITE CRANE REMOVAL
On Saturday 17 February, the Crane at the Manukau building site will start being removed.
This project will be concluded on Monday 19 February. There is a small chance that the Crane required to move the current crane will arrive on site on the afternoon of Friday 16 February and be left overnight inside the NZ Strong compound. As 2 full days are required to dismantle the crane, work may need to continue until 8pm at the latest on the Saturday. There will be a number of Large trucks coming and going during these 2 days and a 'spotter' will be stationed at all times on the corner of Beach Lane and Pinesong Drive to coordinate traffic. For your own safety, please be aware of the extra traffic flow in this area during these times.

SPA POOL COVERS
The bottom surface of the foam spa pool covers have been gradually degrading and are now leaving small pieces of foam in the pools so we have decided to remove these completely and an alternative plastic cover is being researched.

SEABREEZE CLADDING PROJECT
Our painting contractors have completed the bulk of the painting for Seabreeze building and are now finishing off any minor remedial work which will be done by the end of this week. The scope of works does not include a full re-paint of all balcony railings and touch ups to these will only occur if there has been any damage caused by the contractors while working on the balconies. If you feel that something has been missed however please fill out a maintenance request and we will come and discuss this with you.

SCHEDULED APARTMENT FIRE ALARM TESTING
Please be aware that on Thursday 22 February from 10 am the Chubb serviceman will be testing all apartment building fire alarms. This is a routine check and each building alarm will be tested for just a few seconds.
We apologise for any inconvenience.
Thank you
Neil Forrest
Maintenance Supervisor

VOLUNTEER VAN DRIVERS
A full driver's license is required and induction into driving the van will be required. Any currently authorized drivers able to do the odd Thursday would be appreciated.
Please contact me if you can be of assistance.
Evan.

HEALTH & SAFETY ALERT
Residents with a Pacemaker are warned that they should not wear Magnetic name badges.
If any resident has a Pacemaker and has one of the newer type Magnetic name badges please do not use it as it may interfere with the safe operation of the Pacemaker.
Contact me and I will organize a suitable replacement.
Evan

RATES REBATE UPDATE – Finally the rates rebate letters are trickling through to residents. Please remember to bring your letter to me so that I can make a copy and action the credit as soon as possible. Contrary to what you are told in the letter, official notification can take several months to come through to me from council.

Those of you who had your windows cleaned last month may have noticed a discrepancy between your November statement balance and the amount taken by Direct Debit on the 15th December. I had inadvertently overcharged you all but managed to get the credits through before payment day. Be assured that the amount deducted should have been less than that expected. If I have confused you, feel free to give me a call.
Linda
Pinesong Administrator

GARDENING TEAM
Well we're truly into the New Year, into our second week of January already… how time fly's.
Currently we are in the process of removing the garden on the garage side of the Point and turning it back into lawn and leaving the mature trees.
Bayview gardens have been weeded and trimmed back on the west and library sides, when access is available we will continue along the Seabreeze service apartment's area.
Requests are still continuing along the Terrace and weekly dead heading and weeding is being done on all the common gardens.
Once the Terrace requests are complete the team will be heading to the Point.
Spraying is planned for next week, weather depending. Spraying of the bowling green, pathways and various other areas of the village.
Hope you are all enjoying the lovely warm weather.
Reminder that organics pick up is on Monday, Wednesday and Friday afternoons and please put in a request for any large amounts to enable the manpower to remove it.
Simone and the Gardening team.

GYMN
Just a reminder that guests are not permitted to use our gym at any time. This is a RESIDENT ONLY amenity. Guests are only allowed to use our pool if accompanied by a resident at all times. Thank you

PARKING IN FRONT OF RECEPTION
Now we have had our reception garden renovated by wonderful Pinesong residents, could we please refrain from parking on the broad white lines so that everyone coming into the village can enjoy it.
Thanks for your anticipated co-operation.

MOBILE LIBRARY
Please be advised the Mobile Library is here every Monday at the Main Gate from 9am - 10.30am


PLEASE REMIND YOUR FRIENDS AND FAMILIES THAT OUR SPEED LIMIT IS 15KPM


PINESONG WEATHER FORECAST
Geoffrey Hopkins has linked his weather station to the local 'grid' to give an even more accurate forecast. Take a look:-

Click on PINESONG WEATHER FORECAST



PINESONG RESIDENTS' ASSOCIATION GENERAL MEETING

Tuesday 27
th
of February at 10.00 am in the Seabreeze lounge

The next general meeting of the Resident's Association will be held at 10.00AM on Tuesday 27th of February. The Clinical Director of Metlifecare, Tanya Bish will speak to us regarding the proposed Care Pod system for Pinesong.
Morning tea will be served on completion of the meeting.
Request any items for the agenda be forwarded to the secretary by Monday the 19
th
of February.
Please note we have moved from the traditional Friday to a Tuesday.

Geoff Hopkins, Villa 408, 8168067,
gffhopkins@gmail.com
THE BAR

Hi everyone,
On behalf of the Bar Team, please find below some friendly reminders;


Glasses from the bar are only available for use when bar is open.

Should you require wine glasses outside of the bar being open, please see the kitchen/café and return them accordingly.

In the event you entertain/socialise in the bar area when the bar is closed, please leave empty bottles on your tables to be cleared, not on the bar.
The bar team is run by resident volunteers and are not responsible for tidying up outside of bar hours.

We appreciate everyone's consideration and co-operation with the above.

We look forward to seeing you all at the Bar!

The Bar Team
RESIDENTS' BARBECUE – 6.15PM SEABREEZE - COST $6

WEDNESDAY, 28
TH
FEBRUARY 2018

Tickets will be on sale at Reception on Tuesday,
20
TH
FEBRUARY 2018 from 10.30am to 12-noon.
Thereafter tickets are available from Mary Lovelock –
817 9552 until mid-day Sunday, 25
TH
February 2018


Please note!
This Friday after roof shout walk in's for the "Brazilian" dinner are welcome.

COLOURING COMPETITION WINNER
Congratulations to
Pearle Cameron
our coloring competition winner. Her Santa dancing in the park is a beautiful drawing.
Thank you all artists, submitting your best art work, it was very difficult to choose one.
Well done!

Lidie

CHESS
A resident has donated a chess set for Bayview Lounge. This has been set up for use.
Please feel free to enjoy a game or more down the harbour end of the lounge.
OPERA APPRECIATION
The first meeting this year of our group will be held on Friday 23
rd
February at 10am in the Matai room. We will be viewing Das Rheingold by Richard Wagner with Bryn Terfel as Wotan.
All welcome

Kate Methven - Ph 817 9804


RESIDENTS BIRTHDAY AFTERNOON TEA

This is to welcome, and celebrate Residents' Birthday Tea for the month of February Monday 26th 2018, our Speaker for this month will be Grace Benson, Grace is a Registered Nurse, and is still working in this profession, - Grace's passion has been over a number of years, the life, and legacy of Florence Nightingale.
I hope this will be of an interest to a number of nurses among us, and others.
I have heard that Grace could be wearing a costume of sorts!! – So be there on Monday the 26th to check this out.

Cheers Joan Gasparich
ROSE LYNN FASHIONS

Will be at Pinesong on:
Tuesday 20
th
February
10.30-3pm
In the Seabreeze lounge


MR ELECTRIC BLANKET
Mr Electric Blanket will be coming to the village on
Tuesday 13
th
February 2018
to collect any Electric blankets that need testing. Blankets will be returned on
Tuesday 20
th
February 2018.

Charges for testing and minor repairs of each blanket are as follows and include GST:

Single $15.00 Double/Queen $17.00 King $18.00

Please have your electric blanket at reception no later than
Monday 12
th
February
to ensure you don't miss out.
PINESONG PEST CONTROL
Pinesong resident Mr. Hank Spijkerbosch has been acknowledged by the Auckland Council for his huge contribution to pest control in the Green Bay area. He has been responsible for the eradication of a hundreds of Rats and Possums from the local environment around Pinesong. Pinesong Management and staff would also like to express their gratitude for his voluntary contribution to the community and making Pinesong a more enjoyable place for residents, fauna and flora.

SNOOKER AND POOL
Looking for new players of any level to join our group.

Tuesday and Thursday at 2pm
in the snooker room next to the bar in Seabreeze lounge next to the bar.
Any further information please call

Bill Mules 827 4747
INDOOR BOWLS
Indoor bowls over Christmas and the New Year period.
Wednesday 27
th
December and 3
rd
January.
Thursday 28
th
December and Thursday 4
th
January.

Anyone wishing to play bowls, including new prospective bowlers should gather in front of Seabreeze bar by 6.35pm Wednesdays and 12.45pm Thursdays.
Small afternoon tea plate Thursdays please.

Anymore information phone 817 1971
Clive Coleman
Convenor

ZUMBA GOLD

Zumba resumes on Friday at 9.30am in the Seabreeze lounge. Everybody welcome. Why not come along and try it? or just to listen to the music.

Hilary
Ph 817 6555


SIT YOGA DEMONSTRATION/CLASS
Coming to Pinesong!

Instructor Dharmendra is qualified NDDY – Diploma in Naturopathy and Yoga.
Venue: SB main lounge
At: 10.30am – 11.30am
Cost $6.00 per person
Please come along and try out his relaxing breathing exercises.
LINE DANCING
Classes start again on Wednesdays

Wishing everyone a happy New Year.

Gillian Ph 817 8991
SCRAP BOOKING CALANDAR FOR THE YEAR 2018
First Friday of the Month
March 2nd April 6th

May 4th
June 1st
July 6th August 3rd

September 7th October 5th
November 2nd December 7th

Time 9.30-3pm bring your lunch, go to café or go home.
All welcome along to join us or see what we do.

Tina Ph 817 1940

CARD MAKING GROUP
In the craft room. For 2 hours on Thursday mornings 10-12pm.
Also we have greeting cards on sale at the same time.
Come and have a look or join us and make your own, its fun.

Norma Lee

VILLAGE SHOP

The Village Shop will reopen on Monday, 15th of January 2018 at 10.30 a.m.
We are also looking for some-one to help man the shop once a month next year. This will be for two hours on the first Wednesday of each month. No previous experience is required and full training will be given. If this is something you feel you could help will, please

Phone Joslyn on 817 5799.

GARDEN CIRCLE
It has been a couple of weeks since my last catch up but of course life around the village has been a bit slower due to the virus but now we are beginning to get out and about again. As I am writing this we have rain which will be so good for the plants and environment and we will probably see a big spurt of growth along with it. Of course the downside of that is weeds, but our Metlifecare gardeners are

working as hard as ever and getting on top of most of it. They are a great team.
The monthly meeting for February will be on Wednesday 21st February at 2pm in the Matai Room. The new updated Map and List of things to see in the village will be discussed and a decision made as to how we want it to be promoted. We always welcome new residents to our group as we just enjoy a chat about our environment and know that not everybody can or wants to do work around the village. Just an interest in your home and how it looks is all you need.
When you are walking around the Bush keep a look out for the Mosaic BUSH WALK sign done by a popular resident, and we also have a new featured concrete Palm sculpture to watch out for. The two water lilies are still doing well, the Pink one certainly sends its flowers up nice and tall while the cream one likes to lay about and be a little lazy. The frogs are certainly enjoying their lovely environment but I have yet to see one on a lily pad but who knows it might happen while we are not watching. One came inside my house last night and I thought it was a leaf, certainly gave me a fright when I bent to pick it up and it leapt up causing me to scream, I didn't know I could scream that loud. I managed to encourage it out the door again.
Kind regards

Aileen Keery - 817 3399

THE BLOKES SHED

This is a facility for use by all capable residents of Pinesong. Ladies this includes you, please feel free to avail yourself of a remarkable DIY area with a wide range of equipment.

To keep us safe, all users of the Blokes Shed are requested to follow our Housekeeping Rules. As displayed on the entrance door.

Only residents of Metlifecare Pinesong may use the amenities in this workshop.

Prior to using the workshop you must have signed an "Authority and
Disclaimer Form". These are available at
Reception.

To gain access to the "Blokes Shed" only one key is available from reception. You must have already signed an "Authority and Disclaimer Form" . You are then required to

"personally sign in and sign ou

t

"

for the key each time you visit the shed. Individual keys will not be issued.

If you wish to donate an item, please contact Evan Rudolph (Assistant Manager) or Mark Leaf (Maintenance) in the first instance. Please do not take items directly to the Workshop.

Please be aware that any donated item will become part of the facility and may be stored, used or discarded at any time.
Please respect other users
CLEAN UP THE WORK AREA AFTER USE.

KNITTERS NEWS
A belated offering of New Year Good Wishes to you all. Another year has come and gone and already I have collected a number of articles for our great Charity. Well done ladies, your efforts are very impressive particularly as our good weather is more suited to swimming than knitting!
A lovely card full of appreciative sentiments arrived just too late for Christmas even though it was mailed on the 19th December. I quickly pinned it to the Notice Board at the Seabreeze eastern back door. Do please take the time to read it and enjoy the comments from Louise of the Well Foundation. She is truly grateful for all we do.
Going forward I have my hand out again for wool and yarns that people either have no further use for or wish to donate for the benefit of all those needy young folk who live within our D.H.B. catchment area, that being Waitakere, North Shore and all points north. While the need for hats and bootees or slippers is not so great during summer, garments such as jumpers, cardigans and blankets, etc are always in demand.
This year I plan to keep track of all the garments we produce - I realised just too late that 2017 was a bumper year for what we produced but had no figures to offer you. (One of my New Year's Resolutions).

ANNE CLARKE PH 817 8408

TAI CHI
There will be no Tai Chi on Tuesday 5
th
February due to it being a Holiday Waitangi Day.
There will be a class on Wednesday 7
th
February provided circumstances allow. Possible start with Quintin Derham will be Tuesday 13
th
February but this will have to be confirmed when I see Quintin on Friday and provided circumstances allow.
I will confirm this date in the next Pinesong Press.

Eileen Malim Villa 401
Ph 815 4146
FITNESS CENTRE USERS
If you use the air conditioner please make sure you turn it off.
And to those fresh air fiends who open the windows and turn the air con on set to 17 degrees, probably late afternoon, do one or the other, not both. Then please close the windows or turn the aircon off. Those who come early in the morning (me!) will thank
you for it.
Tony Cross
AUCKLAND PHILHARMONIA ORCHESTRA $10.00 Bus bookings
If you have booked your seats for the 2017 season and wish to travel on the "$10 Friends' Bus" please return your form to Liane Hume, Apartment 17, Harbour Apartments, if you have not already done so. (Contact me if you need a new form.)
The first concert is on Thursday 18 February but I need to confirm the bus bookings well before then.
Any residents who may wish to attend a concert on a casual basis can do so by contacting me, preferably a week before the concert, and can pay the $10 on the bus.
Any queries please ring
Liane Hume, Ph 817-0476

OUTDOOR BOWLS

Good morning everyone. I hope you are all enjoying the continuing fine spell of our early summer weather and are looking forward to the upcoming festive season.

The time has finally arrived when I choose to walk away from the responsibility of the
position of Convener of the Outdoor Bowls Group which I have held for the last 3 years with the very able support of Dave Annan, John Horder, Bill Mules, Mary Cole, Elva Coulston and Val Eade. My sincere apologies to anyone else that may have helped at times and I am not aware of.

I have enjoyed the experience of organizing the activities for bowls over the 3 years, but my competitive nature has drawn me to join the Blockhouse Bay Bowling Club where I am enjoying the experience immensely. The grass and carpet greens are far superior and a lot faster than the artificial surface we play on at Pinesong and I urge Metlifecare Administrators to insist that any new bowling green constructed or resurfaced in a Village in the future, must be laid with a carpet surface to ensure that bowlers (particularly women can continue to enjoy playing bowls for much longer than they are able to now due to the heavy texture of the green.
My final duty apart from
chairing the Annual Meeting on Monday January 15, 2018
, is to inform all bowlers whether you play at Pinesong or at a club, that Waitakere Gardens Village will for the third year in a row, host a Any Combination Triples Tournament at the Henderson Bowling Club on Monday 26 February, 2018 commencing at 9.30am. Entry Fee is $30 per team which includes morning and afternoon teas and lunch. If you wish to enter a team, please read the posters on the Seabreeze or Bowling Green notice boards or contact me (PH 817-7568) for further details
The Tournament will again be sponsored by Metlifecare after having withdrawn its support from this year's tournament.


In 2015 Pinesong teams finished first, second and third and this year the only team entered
was runner up losing on a count back of number of ends won. Come on Pinesong let's do a repeat of 2015 and finish first, second and third again in 2018. This is an excellent tournament and I thoroughly recommend it to all Pinesong bowlers. The tournament is open to residents of Metlifecare Villages only.
Last but not least I wish to thank everyone for their wholehearted support during my tenure as Convener of the Outdoor Bowls Group and I take this opportunity to wish
al
l
Pinesong Residents and Staff a very Merry Christmas and a Happy and prosperous New Year.

Cheers,

John Crow
Convener

HERB BOXES

The Herb boxes are doing well, residents are picking from The Oval, but not so many from the Conlon Lane and boxes by the Garden Shed in the Bush. These herbs and silverbeet are for all of us and need to be picked to keep them growing. Also if anyone has a surplus of plants don't throw them out plant them in the boxes for all of us to share. These are communal boxes for all of us to use and it is nice to have fresh herbs on hand. I am going to get some more Mint, Coriander, Basil, Parsley and Cress ready for summer. As you are walking by please feel free to pick whatever you need or would like to try. The Celery/Parsley is growing strongly and has masses of flavour. There is plenty of activity in the Bush with volunteers doing a great job keeping on top of tidying up and trying to get pops of colour going. Watering will soon be a busy time as we get into the warmer weather.

Aileen Keery, 817 3399


RECIPE FOR JANUARY

Fed up with large jars of relish or chutney when you make it using kilos of fruit as in your old recipe books? Tired of the same old selection at the supermarket? Here is the answer to your problem from the Listener some years ago. A trustworthy formula to experiment with for sweet fruit chutneys especially as stone fruit is so cheap at the moment. Plums $2 a kilo at one chain this week.

To make just 2 or 3 small pots of chutney a good starting ratio is 500 grams fruit and onions, 250 grams sugar and 125 mls vinegar, a dash of salt to bring up the flavour. Now you can play around as much as you like. Brown sugar and a red onion for glossy plum chutney. White sugar and cider vinegar for a glowing apricot or nectarine mix. Add extras as you will. Chilli, cayenne pepper, candied peel, spices, glacé ginger or a cinnamon stick for example
. E.G. NECTARINE AND GINGER CHUTNEY
.
450 grams nectarines, medium brown onion, salt, 2 tbs glace ginger chopped, ½ teaspoon ground coriander seed.
Put all ingredients into a heavy pot and slowly bring to the boil. Simmer gently for about 40 minutes until thick and glossy, adding a little more water part-way through if the mixture is getting too thick. Wash and heat 2-3 jars and fill with hot chutney. Cover.

From Mrs Home Front

AA SENIOR DRIVING COURSE

Keep Your Freedom and Independence
Are you a member of the AA? Are you 80 plus?
Did you know that you can book a FREE in-car coaching session? A few days ago I made use of this service and was mightily impressed. An AA driving instructor came to the village, we drove in my car for a whole hour while she observed my driving style. Before we took off she checked the following: 1) vehicle check, 2) cockpit drill, then while driving, 3) communicating and signalling, 4) car control, 5) hazard identification,6.tips, hints and feedback. My correct seating position was also checked. If this is for you: Phone 0800 223 748 or go to: aa.co.nz/senior-driver and make an appointment. My instructor was Shifali Patel. The whole session was well worth the time it took. And pleasant!

Margaret Topzand, 817 3893

TITIRANGI RSA DINNERS
Our amazing dinners include a $20 buffet with roast vegetables or salad with also a Dessert included. We have a courtesy van that runs every hour on the hour on Wednesday, Thursday and Friday which goes directly to your door to pick up anyone willing to join us here at the RSA. They also get dropped back when they are ready to go home. To book for this just make a phone call and let us know how many and what time 817-6415.
We have regular exciting entertainment, comedy nights, open mic nights and fundraisers. Every second Friday we have live music, for example Shane and the Shazam! band Is performing Tomorrow from 8.00pm which is $10 a ticket, and coming up we have a Dire straits tribute band in June. The RSA puts on entertaining Quiz Nights every second Tuesday of the month from 7.30pm and the last Thursday of the month we have a lunchtime quiz at 1.30pm which is always a good laugh. We have many activities available such as a golf, pool, snooker, darts and fishing. Every couple of months The fishing and golf sections go out on day or over night trips, which they all enjoy. We also have 500 club where they meet every Tuesday around 1.00pm.

For pictures of upcoming events you can check out our facebook page
https://www.facebook.com/titirangirsa/?ref=bookmarks
Laura Richardson
Village Care Centre Clinic



COMPLIMENTARY NURSE CLINIC
We have a complimentary nurse clinic on a Tuesday and Friday morning from 10.30am – 11.30am to check your blood pressure and talk through any concerns you may have. We can also provide other services at the clinic such as wound care and injections and a fee is on-charged to cover materials. If your wound is covered by ACC the charge for the dressing is free of charge. If you visit the nurse outside of the clinic hours a registered nurse consult fee will apply, plus cost of materials. If you have any questions about service costs please ask
Celerina or Leanne.

Leanne and the team at Pinesong.
ECARE
Sonja from Ecare is visiting Friday 5th January at 10am up on level 2
Ecare is a self monitoring of weight and blood pressure.
If you'd like to know how to do it please come along.

PODIATRIST CLINIC
The 3rd Tuesday of every month. The next Podiatry visit is Tuesday 16th of January, please contact reception for an appointment.

PARKINSONS MEETING
Please be advised the next Parkinsons meeting is on Wednesday 28th February at 1pm.

HOSPITAL SHUTTLES
St. Johns hospital Shuttle for:

Waitakere
Book 3 days ahead of appointment.
0800 000 606
$10 return

Greenlane hospital
Auckland hospital
North Shore hospital:
Book 3 days in advance.
0800 809 342
9.30-4pm
$6.00 each way

DO YOU WANT TO IMPROVE YOUR BALANCE AND PREVENT FALLS?
Hi everyone, we are looking for 8 people to take part in a strength and balance trail using a electronic device (provided) featuring 6 exercises that have been taught to thousands of people across the Auckland region. Quintin Derham the Tai Chi teacher at Pinesong has developed a programme that is easy to follow and can be practised each day at your home.

A group of people have already used the device and found it really useful for improving balance and easy to follow.

Next Tuesday (21st November) at 9.50am after the Tai Chi class in the main hall Quintin will be meeting people to discuss the programme and get you started.

If you want to improve your balance and stability then here is a wonderful opportunity to get started. If you are interested please contact Quintin on 021 536768 or email quintinderham@gmail.com

ADVANCED REHAB – PHYSIOTHERAPIST
Shivani is away next Thursday due to personal reasons, there will be no exercise class. It will resume back on 28th December.
Hi everyone, with the end 2017 a couple of months away, we would like to take this opportunity to thank both residents and staff for your continued support and advice of a few changes. Starting next week, the Physio service will be covered by both Rachael and Shivani enabling us to provide a service every day.
Rachael will be on site Monday, Wednesday and Friday 9.00 to 5.00pm
Shivani will be on site Tuesday and Thursday 9.00 to 3.30pm

Also to advise everyone, the exercise class has now moved from Monday to Thursday 9.00am to 10am.

Once again we thank you for your ongoing support and should you need a physio appointment you can either:-
Just knock on the door (wellness clinic)
Ask reception or simply call Mandy (09) 627-9560 or freephone 0800229749
Many thanks
Rachael and Shivani

CHIROPRACTOR
Tim Archer, a registered Chiropractor, has seen me regarding his chiropractor services. Tim is able to come into the village to see residents. Tim uses an activator adjustment instrument to deliver chiropractor adjustments, making it very gentle and comfortable for patients. If you are interested in seeing Tim could you please call me on 817 0653, as I would like to have an idea of resident numbers before we proceed any further.
Leanne MacDonald, Care Services Manager

AUDIOLOGY ASSOCIATES
A number of residents may have been affected by the recent closure of Applied Hearing.
Should you require assistance with your hearing aids, we are happy to look after you and can service any aids including Rexton.
Locations: Blockhouse Bay: 2 Kinross St, ph 627 2105;
New Lynn: Totara Health Centre, Level 2,
1 McCrae Way, ph 827 0709;
Te Atatu South: 183 Te Atatu Rd, ph 838 9757


REFLEXOLOGY
Raewyn Coburn who did her placement at Pinesong last year for her refloxology training is now offering reflexology service for the village residents every Tuesday and Thursdays on level 2 of Seabreeze. Anyone wanting an appointment please contact her directly. Her email address raewyn.auckland@gmail.com, mobile: 0211710807 or home number 8176089.

LAB TESTS
Labtests Time Change
Labtests will be here at 2.30pm every Monday, Wednesday and Friday.



Cafe' 66


Restaurant Notice



KITCHEN CROCKERY
Can residents please check to see if you have any dishes that can be returned to the Café. Thank you.

We now offer two menu options so you have selection to choose from. Please phone the kitchen with your meal preference. In the event we do not hear from you, we will provide the first listed option. Orit


Ordering a meal: Bookings are essential for Wednesday and Friday Dinners at 6.15pm.
Meals should be booked at Reception before 1pm the day it is required. Meals outside of bookings are at the Kitchen Manager's discretion.
Please order through Cafe for delivery or collection for the 5pm meals. Pick-up $12, dessert $2.50; delivery $2. Residents may collect these takeaway meals at 5pm from the Cafe.
Wednesday, Friday and Sunday dinners served seated in the Restaurant as usual.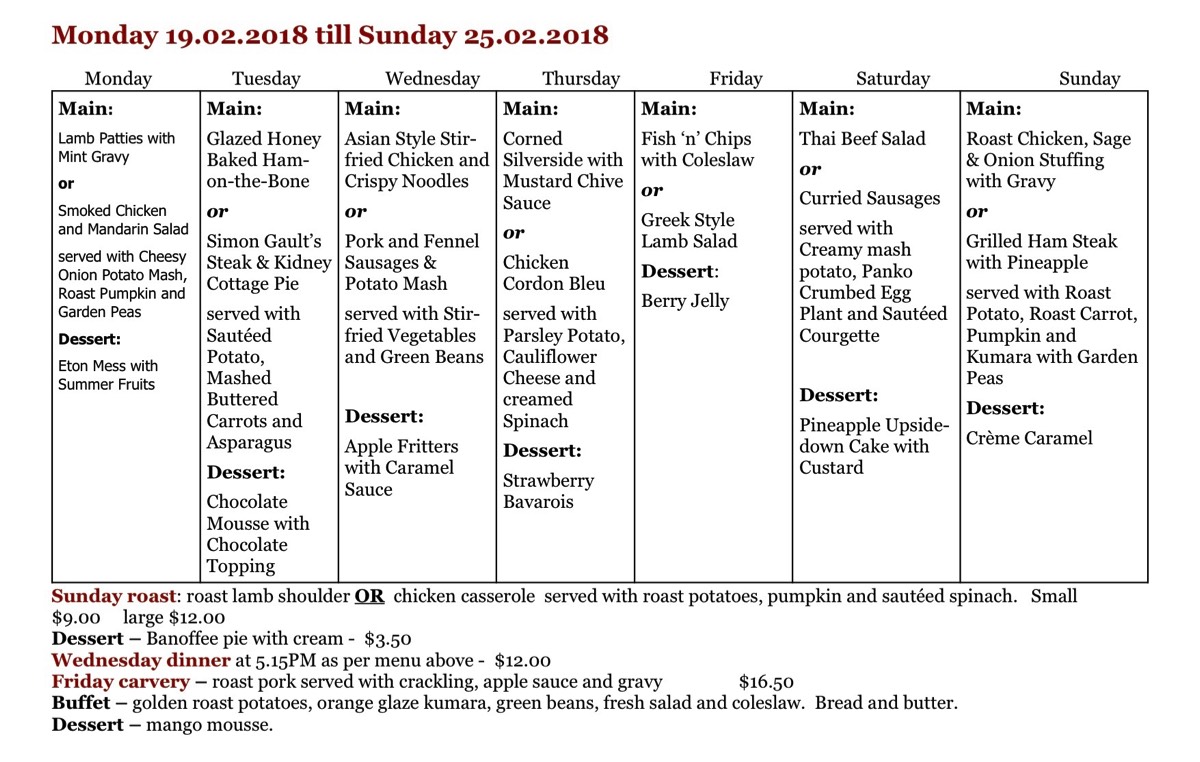 MEAL DELIVERY SERVICE


Ordering a meal: Bookings are essential for Wednesday Dinners at 5.15pm and Friday Dinners at 6.15pm.
Meals should be booked at Reception before 1pm the day it is required. Meals outside of bookings are at the Kitchen Manager's discretion.
Please order through Cafe for delivery or collection for the 5pm meals. Pick-up $12, dessert $2.50; delivery $2. Residents may collect these takeaway meals at 5pm from the Cafe.
Wednesday, Friday and Sunday dinners served seated in the Restaurant as usual.

Hi,

As the creator and manager of this website I have endeavored to portray the everyday life and activities of our village from the
residents' perspective.

Your comments and contributions are welcome and to this end I invite you to use the
'Contact Us' page
.

Deryck Hunt