The first day of the rest of our lives


Official Notices


Hello everyone,

What an absolute stunner of a week it has been with the sun shining and the birds singing! I absolutely love this time of year and all the magic the season has to offer.

Tanya Bish (Clinical Nurse Director – Metlifecare) had a meeting at the village this week with the Programme Manager from Waitemata DHB and she is supportive of us progressing to a provisional audit for the future level of care that we are looking to offer in the Care Suite area. Further information as advised, will be communicated in February.

News and updates from around the village;

Pool Use: Please be aware that in the event you use the pool area for entertainment or a gathering, residents are responsible for cleaning and tidying up after themselves. We ask that you respect this area as a common area to all residents.

Parking: For those of you whom have taken the time to write to me or present concepts to solve the village parking challenge, I have passed these onto our Development team for review as they consider the options moving forward.
Can we please ask that you let your friends and family know in the event they are parking in the visitor parks near the footpaths (Cliff View Drive) with large SUV's / Trucks, that they are mindful of not parking over the footpath area.

Rates Rebates: A number of you have enquired about the rates rebates. Unfortunately this is in the hands of Auckland Council. I have personally phoned them this morning to enquire about timeline of which they were not able to provide one.

Manukau Update:


Removed jumpform from site

Frame installation to L3 & L4 external

Continued 1

st

fix all trades

Poured L5 slab

Continued external joinery installation

Installing scaffold up to level 5

Continued gib installation

Continued external tile façade installation
Over the next Two Weeks:


Complete structural steel installation to L5, roof and podium (minus crane opening)

Complete scaffold erection & wrap

Continue framing to external and internal walls L3, L4, L5

Continue installation of RAB board and vapro shield

Continue external tile installation

Continue 1

st

fix

Continue gib installation and commence ceiling grid installation

Complete roof installation

Pour basement slab

Have a wonderful, fun filled weekend.

Katie Worthy
Village Manager

UPDATE FOR GARDENING IN THE VILLAGE
Updates for the gardens this week, we are currently tidying up the Oval, Terrace and common areas.
Irrigation will commence on the second week of December, as per our yearly upgrades of the irrigation system.
Requests along Conlon and the Crescent will be the next on the list.
Spraying will also be done over the next couple of weeks.
We are working towards getting the whole village looking its best for Xmas.
Hope you are all enjoying this lovely warm weather.

Simone & The Gardening team.

GYMN
Just a reminder that guests are not permitted to use our gym at any time. This is a
RESIDENT ONLY
amenity. Guests are only allowed to use our pool if accompanied by a resident at all times. Thank you

PARKING IN FRONT OF RECEPTION
Now we have had our reception garden renovated by wonderful Pinesong residents, could we please refrain from parking on the broad white lines so that everyone coming into the village can enjoy it.
Thanks for your anticipated co-operation.

MOBILE LIBRARY
Please be advised the Mobile Library is here every Monday at the Main Gate from 9am - 10.30am


PINESONG ACCOUNTS

I would like to remind everyone that Pinesong has the ability to email your monthly accounts. So far 70 residents have made the switch to paperless statements, receiving them as much as 24 hours earlier than the paper variety.
If you would like to receive future accounts via email please let me know by emailing me:
lindaj@metlifecare.co.nz
Linda, Administrator

PLEASE REMIND YOUR FRIENDS AND FAMILIES THAT OUR SPEED LIMIT IS 15KPM

PINESONG WEATHER FORECAST
Geoffrey Hopkins has linked his weather station to the local 'grid' to give an even more accurate forecast. Take a look:-

Click on PINESONG WEATHER FORECAST



Christmas Carols with the Salvation Army Band

Salvation Army Auckland Citadel Band
Christmas Carol Service

Seabreeze Lounge On Sunday 10th December at 3.00 pm

The visit of the Salvation army band to Pinesong at Christmas time is one of the highlight events on our calendar. Once again we are privileged to have the Auckland Citadel Band come to lead our Carol Service. Come and enjoy hearing the band play and join in singing some of your favourite Christmas Carols. The programme will conclude with afternoon tea.

A gold coin collection will be taken which will go in its entirety to the community work of the Salvation Army.
Deryck Hunt 817 3755

A HUGE THANK YOU TO ALL THE PARTICIPANTS IN THE NOSTALGIA CONCERT
The Audiences were amazed and dazzled by the many talents shown.

Great Entertainment!!!
Thanks also to those who did the hard work of preparing the stage, lighting and sound, plus managing the show.


NOSTALGIA 2017 DVD's
DVD's of the Nostalgia Concert are now available
for purchase at a cost of $10.00.
A small number are immediately available at Reception. When these run out you can order them at Reception and I will deliver them when ready – approximately one week.

Deryck Hunt 817 3755

NOSTALGIA 2017
What a wonderful time we all enjoyed this weekend with
two excellent performances from the Nostalgia team
. A huge thanks to Bob Helleur and his team for the huge amount of work that has gone into making this show the success it was. A selection of photographs are now on our Residents Website.
Go to:
www.pinesongresidents.com
and then navigate to the page NOSTALGIA 2017. For those receiving the Press by email, click on this link:-
http://www.pinesongresidents.com/page1/index.html
Deryck Hunt


AUCKLAND CITY MISSION CHRISTMAS APPEAL
Christmas Tree – Reception area
This year we have decided to again support the Auckland City Mission Christmas collection. We are appealing to residents and staff to donate to this worthy Christmas appeal. All gifts must be new, and non perishable food not to be past its use by date. Gifts do not need to be wrapped, however, the City Mission do appreciate wrapping paper and tape to be donated as well.

Attached to the back of the Pinesong Press
are some helpful ideas from The City Mission of goods that would be very acceptable. This list will also be on display behind Reception.
Our Christmas Tree will be decorated by
Tuesday 21
st
November
and we ask you to please give generously to those less fortunate than ourselves.
Collection date from Pinesong will be the week
starting 11
th
December.
Delwyn Battersby 817 8636


BINGO
Another date to pop in your Diary, BINGO is holding the final night for this year on Monday night the 18th December but instead of starting at 6.45pm it is a slightly later start approximately 7.15pm due to an earlier
booking. If you are staying at the end we ask for a very small plate and Fay has even bought you one so just ask as she really wants small.

We will be having a lot of fun with the Christmas theme, extra prizes, and to add to the fun a few light refreshments and food at the end. Perhaps you could wear something with red or a Santa hat, Christmas earrings, come on let's end our final night of the year on a high.
Bingo for the New Year.....2018 will start back on the 15th January at 6.30pm for a 6.45 start. New residents are always welcome and if you are not sure all the people who play are willing to help. We have a lot of fun.

Fay Heywood and Aileen Keery

PETANQUE XMAS BREAK
Re start the New Year on the 4
th
February 2018

SCRAP BOOKING

Just to let you know we will be starting back scrap booking 1st Friday in March will put calendar in press in the new year merry Christmas.

Tina 8171940

GARDEN CIRCLE
What lovely weather we are having but that comes with a bit more work for the gardeners as now we have to try and keep the plants fresh and watered and the size of our Village requires a lot of work. You will have seen me whizzing around on my scooter, tools at all angles just trying to get watering and weeding done.
I would like to say a huge thank you to Wally for his vision and hard work in getting the pump and pipes in and you will find they are now mostly hidden from view. I have so many funny images in my head of all our efforts which have given us a great laugh and me especially in fits of giggles. It is now getting a bit too hot to plant ferns so that will happen earlier in the year, watch this space.
We are proud to announce that we have received a substantial donation from a very kind resident which will go in the bucket on Friday 8th December when we get to see Chris and Floyd show us all about how the Police use dogs to hunt out drugs.

Aileen Keery 817 3399
THE BLOKES SHED

This is a facility for use by all capable residents of Pinesong. Ladies this includes you, please feel free to avail yourself of a remarkable DIY area with a wide range of equipment.

To keep us safe, all users of the Blokes Shed are requested to follow our Housekeeping Rules. As displayed on the entrance door.

Only residents of Metlifecare Pinesong may use the amenities in this workshop.

Prior to using the workshop you must have signed an "Authority and
Disclaimer Form". These are available at
Reception.

To gain access to the "Blokes Shed" only one key is available from reception. You must have already signed an "Authority and Disclaimer Form" . You are then required to

"personally sign in and sign ou

t

"

for the key each time you visit the shed. Individual keys will not be issued.

If you wish to donate an item, please contact Evan Rudolph (Assistant Manager) or Mark Leaf (Maintenance) in the first instance. Please do not take items directly to the Workshop.

Please be aware that any donated item will become part of the facility and may be stored, used or discarded at any time.
Please respect other users
CLEAN UP THE WORK AREA AFTER USE.

KNITTERS NEWS
I would like to thank everyone who has been so generous with their donations and also with your time spent in creating the multitude of various garments which I have been delighted to deliver to the Waitakere Hospital during this past year.
Louise Jenkins
of the
Well Foundation
has at times been overwhelmed with the quantities and varieties of clothing, rugs etc. that she has accepted from us and this last delivery for the year is no exception. I have twenty five cardigans and jumpers as well as rugs, hats and little foot warmers which I am dropping off this week. I thank you all for your splendid efforts. I believe we all deserve a well earned rest for the holiday season, so do take a break and enjoy the leisure time with your families. In the New Year I will be accepting donations of wool and other yarns as our stocks are very low at present. Merry Christmas and a prosperous New Year to all.
ANNE CLARKE PH 817 8408

TAI CHI
Congratulations to Shelia Clayton (who will be 95 in two weeks time) in achieving her 3
rd
belt in Tai Chi, mauve & black.
Next belt will be black, I hope you can achieve that one Shelia. Well done.

Eileen Malim Villa 401
CROQUET@PINESONG

It is time for the Lorna Stewart Triples Trophy Competition to get under way. The entry-signing list is up on the notice board now until Friday November 3rd. This should give plenty of time to finish before Christmas as there are only 13 matches to be played at the most. Please hurry to enter now so that there is no need for last-minute checks! Draw on Monday November 6
th
2pm.

Janet Cross. Villa 112 The Terrace 817 6066

FITNESS CENTRE USERS
If you use the air conditioner please make sure you turn it off.
And to those fresh air fiends who open the windows and turn the air con on set to 17 degrees, probably late afternoon, do one or the other, not both. Then please close the windows or turn the aircon off. Those who come early in the morning (me!) will thank
you for it.
Tony Cross
AUCKLAND PHILHARMONIA ORCHESTRA $10.00 Bus bookings
If you have booked your seats for the 2017 season and wish to travel on the "$10 Friends' Bus" please return your form to Liane Hume, Apartment 17, Harbour Apartments, if you have not already done so. (Contact me if you need a new form.)
The first concert is on Thursday 18 February but I need to confirm the bus bookings well before then.
Any residents who may wish to attend a concert on a casual basis can do so by contacting me, preferably a week before the concert, and can pay the $10 on the bus.
Any queries please ring
Liane Hume, Ph 817-0476

OUTDOOR BOWLS

Good morning everyone. I hope you are all enjoying the remarkable weather we are experiencing throughout the first week of summer. It is even almost too hot to play bowls, but we have some good umbrellas to stand or sit beneath, so come down and join us and enjoy some friendly chat and experience the pleasure of playing our great game.
With the holiday season fast approaching it is time to start enjoying the festive season and this is a reminder to all bowlers that your intention to play bowls and join in our Christmas lunch on Saturday 16 December must be returned to my letterbox
(6 Waterview)
or
Reception
no, later than 4.00pm this Friday which happens to be today 8 December. If you haven't completed the form yet fill it in today and return it to one of the above addresses. If you are unable to participate at all you do not need to complete the form.
Hearty congratulations to John Smith who won our Junior Singles defeating Bill Mules in the final. Both John & Bill are regulars on the bowling green and funnily enough have the same brand, model and colour of bowls, the only difference being the logo. John played the better bowls on the day and had a comfortable win.
The final of the Senior Singles which was played at the same time, turned out to be a very close encounter between John Horder and yours truly. I got off to a good start scoring a two and a four on the first two ends, but John Horder then clawed his way back into the game and after seven ends it was 6 – 6. After nine ends it was 7 – 7and after 10 ends it was 8 -7 to John Horder. I then scored a two to make it 9 – 8 to me. On the final end John Horder needing two to win the game and one to take it to an extra end had to draw the shot with his last bowl and as the bowl approached the head, it looked for all money that he was going to pick up the kitty and stay with it to take the match to an extra end, but as fate would have it the bowl decided to turn that little bit extra at the last moment and sailed past leaving me with the shot and the match. The game started out as though it was going to be a bit one sided but ended up being an enthralling contest. John Horder, gracious in defeat can consider himself to be a little bit unlucky on the day.
Just a reminder to bowlers that our Annual meeting will be held in January (date still to be decided) and you will need to appoint a new Convener as I will be standing down from the position. After three years with assistance from Dave Annan, John Horder, Bill Mules and others who may have assisted from time to time in organizing the draw and setting out the mats and kitties and of course not forgetting the three lovely ladies namely Mary Cole, Elva Coulston and Val Eade who in the main organized the social activities over that period, I have decided to call it a day and turn more of my time to bowls at the Blockhouse Bay Bowling Club which I joined back in September 2016.
I have enjoyed my time in the role of Convener over the last three years, but it is time to move on. I will still be available to help whenever I am able and will also happily help and give my full support to my successor.
Cheers,

John Crow
Convener

HERB BOXES

The Herb boxes are doing well, residents are picking from The Oval, but not so many from the Conlon Lane and boxes by the Garden Shed in the Bush. These herbs and silverbeet are for all of us and need to be picked to keep them growing. Also if anyone has a surplus of plants don't throw them out plant them in the boxes for all of us to share. These are communal boxes for all of us to use and it is nice to have fresh herbs on hand. I am going to get some more Mint, Coriander, Basil, Parsley and Cress ready for summer. As you are walking by please feel free to pick whatever you need or would like to try. The Celery/Parsley is growing strongly and has masses of flavour. There is plenty of activity in the Bush with volunteers doing a great job keeping on top of tidying up and trying to get pops of colour going. Watering will soon be a busy time as we get into the warmer weather.

Aileen Keery, 817 3399

AA SENIOR DRIVING COURSE

Keep Your Freedom and Independence
Are you a member of the AA? Are you 80 plus?
Did you know that you can book a FREE in-car coaching session? A few days ago I made use of this service and was mightily impressed. An AA driving instructor came to the village, we drove in my car for a whole hour while she observed my driving style. Before we took off she checked the following: 1) vehicle check, 2) cockpit drill, then while driving, 3) communicating and signalling, 4) car control, 5) hazard identification,6.tips, hints and feedback. My correct seating position was also checked. If this is for you: Phone 0800 223 748 or go to: aa.co.nz/senior-driver and make an appointment. My instructor was Shifali Patel. The whole session was well worth the time it took. And pleasant!

Margaret Topzand, 817 3893

TITIRANGI RSA DINNERS
Our amazing dinners include a $20 buffet with roast vegetables or salad with also a Dessert included. We have a courtesy van that runs every hour on the hour on Wednesday, Thursday and Friday which goes directly to your door to pick up anyone willing to join us here at the RSA. They also get dropped back when they are ready to go home. To book for this just make a phone call and let us know how many and what time 817-6415.
We have regular exciting entertainment, comedy nights, open mic nights and fundraisers. Every second Friday we have live music, for example Shane and the Shazam! band Is performing Tomorrow from 8.00pm which is $10 a ticket, and coming up we have a Dire straits tribute band in June. The RSA puts on entertaining Quiz Nights every second Tuesday of the month from 7.30pm and the last Thursday of the month we have a lunchtime quiz at 1.30pm which is always a good laugh. We have many activities available such as a golf, pool, snooker, darts and fishing. Every couple of months The fishing and golf sections go out on day or over night trips, which they all enjoy. We also have 500 club where they meet every Tuesday around 1.00pm.

For pictures of upcoming events you can check out our facebook page
https://www.facebook.com/titirangirsa/?ref=bookmarks
Laura Richardson
Village Care Centre Clinic



COMPLIMENTARY NURSE CLINIC
We have a complimentary nurse clinic on a Tuesday and Friday morning from 10.30am – 11.30am to check your blood pressure and talk through any concerns you may have. We can also provide other services at the clinic such as wound care and injections and a fee is on-charged to cover materials. If your wound is covered by ACC the charge for the dressing is free of charge. If you visit the nurse outside of the clinic hours a registered nurse consult fee will apply, plus cost of materials. If you have any questions about service costs please ask
Celerina or Leanne.

On Tuesday the 2nd of November from 2.00pm – 3.00pm, in the Bayview Lounge, Angela Lennan the Nurse Manger from Powley will be visiting Pinesong. She will be presenting information to any interested resident about care options, should anybody require private hospital level care in the

future. If you would like to know more about residential care and what Powley has to offer, please call reception to advise that you will be attending the presentation.
Regards Leanne

ECARE
Sonja from Ecare is visiting Monday 11th December at 10am up on level 2
Ecare is a self monitoring of weight and blood pressure.
If you'd like to know how to do it please come along.

PODIATRIST CLINIC
The 3rd Tuesday of every month. The next Podiatry visit is Tuesday 19th of December, please contact reception for an appointment.

PARKINSONS MEETING
Please be advised the next Parkinsons meeting is on Wednesday 28th February at 1pm.

HOSPITAL SHUTTLES
St. Johns hospital Shuttle for:

Waitakere
Book 3 days ahead of appointment.
0800 000 606
$10 return

Greenlane hospital
Auckland hospital
North Shore hospital:
Book 3 days in advance.
0800 809 342
9.30-4pm
$6.00 each way

DO YOU WANT TO IMPROVE YOUR BALANCE AND PREVENT FALLS?
Hi everyone, we are looking for 8 people to take part in a strength and balance trail using a electronic device (provided) featuring 6 exercises that have been taught to thousands of people across the Auckland region. Quintin Derham the Tai Chi teacher at Pinesong has developed a programme that is easy to follow and can be practised each day at your home.

A group of people have already used the device and found it really useful for improving balance and easy to follow.

Next Tuesday (21st November) at 9.50am after the Tai Chi class in the main hall Quintin will be meeting people to discuss the programme and get you started.

If you want to improve your balance and stability then here is a wonderful opportunity to get started. If you are interested please contact Quintin on 021 536768 or email quintinderham@gmail.com

ADVANCED REHAB – PHYSIOTHERAPIST
Hi everyone, with the end 2017 a couple of months away, we would like to take this opportunity to thank both residents and staff for your continued support and advise of a few changes. Starting next week, the Physio service will be covered by both Rachael and Shivani enabling us to provide a service every day.
Rachael will be on site Monday, Wednesday and Friday 9.00 to 5.00pm
Shivani will be on site Tuesday and Thursday 9.00 to 3.30pm

Also to advise everyone, the exercise class has now moved from Monday to Thursday 9.00am to 10am.

Once again we thank you for your ongoing support and should you need a physio appointment you can either:-
Just knock on the door (wellness clinic)
Ask reception or simply call Mandy (09) 627-9560 or freephone 0800229749
Many thanks
Rachael and Shivani

CHIROPRACTOR
Tim Archer, a registered Chiropractor, has seen me regarding his chiropractor services. Tim is able to come into the village to see residents. Tim uses an activator adjustment instrument to deliver chiropractor adjustments, making it very gentle and comfortable for patients. If you are interested in seeing Tim could you please call me on 817 0653, as I would like to have an idea of resident numbers before we proceed any further.
Leanne MacDonald, Care Services Manager

AUDIOLOGY ASSOCIATES
A number of residents may have been affected by the recent closure of Applied Hearing.
Should you require assistance with your hearing aids, we are happy to look after you and can service any aids including Rexton.
Locations: Blockhouse Bay: 2 Kinross St, ph 627 2105;
New Lynn: Totara Health Centre, Level 2,
1 McCrae Way, ph 827 0709;
Te Atatu South: 183 Te Atatu Rd, ph 838 9757

PINESONG'S BEAUTY THERAPY
Christmas is approaching fast and my available appointments for the last two weeks before Christmas have nearly gone.
Ring today to secure your spot before it's too late.
Kimberley ext 6649

REFLEXOLOGY
Raewyn Coburn who did her placement at Pinesong last year for her refloxology training is now offering reflexology service for the village residents every Tuesday and Thursdays on level 2 of Seabreeze. Anyone wanting an appointment please contact her directly. Her email address raewyn.auckland@gmail.com, mobile: 0211710807 or home number 8176089.

LAB TESTS
Labtests Time Change
Labtests will be here at 2.30pm every Monday, Wednesday and Friday.




Wheelchair and Walker Repairs and Servicing the Bike Maintenance shop Ltd
Bicycles . E-Bikes . BMW Motorcycles
"We will fix it so you can ride it"
P: 09 8185448
M: 021 1285546
W: www.thebmshop.nz
F:www.facebook.com/thebikemaintenanceshop/
A: Unit 1 / 2a Akatea Road, Glendene, Auckland, NZ PO Box 69190, Glendene, Auckland 0645, NZ







Cafe' 66

SUNDAY LUNCH 10th December
Roast beef served with roast potatoes, roast pumpkin, kumara, greens, Yorkshire pudding & gravy.
Small $9.00 Large $12.00
Sticky date with butterscotch sauce.
Dessert –.
$3.50

WEDNESDAY 13th December – 5.15pm $12.00
Roast turkey, roast potatoes, kumara, cauliflower & broccoli.
Dessert –
Pavlova with cream & fruit salad.
$3.50

FRIDAY 15th December

Xmas dinner as advertised.


Restaurant Notice



Dear Residents,
We are delighted to inform you that we have
received our cafe A grade with 97%.

Thank you for your support through the year.
Our last themed dinner 'Blues Brothers' was finger licking good.

Christmas is around the corner, we have created exciting menus, you can choose your date and the type of service that you desire. Bookings are
essential via reception.

Next year, monthly dinners are all in place. We will have 3 course meals from around the world, we
will experience: colours, flavours and textures
from different regions.

From December 1st we start the
Café Summer menu, lots of treats for the
hot months. Attached
for you to see. This summer we are having a colouring competition for the kids (young at age
and young at heart) please ask at the café counter.

We will continue with our Carvery on Friday nights.
It is advertised in the Press, please come in, as bookings are not essential!

Have a safe holiday
Culinary yours
Orit and the Kitchen Team

KITCHEN CROCKERY
Can residents please check to see if you have any dishes that can be returned to the Café. Thank you.



Ordering a meal: Bookings are essential for Wednesday and Friday Dinners at 6.15pm.
Meals should be booked at Reception before 1pm the day it is required. Meals outside of bookings are at the Kitchen Manager's discretion.
Please order through Cafe for delivery or collection for the 5pm meals. Pick-up $12, dessert $2.50; delivery $2. Residents may collect these takeaway meals at 5pm from the Cafe.
Wednesday, Friday and Sunday dinners served seated in the Restaurant as usual.




Weekly Dinner Menu 11th December - Sunday 17th December
Pick-up $12, dessert $2.50; delivery $2. Residents may collect these takeaway meals at 5pm from the Cafe.
Wednesday, Friday and Sunday dinners served seated in the Restaurant as usual.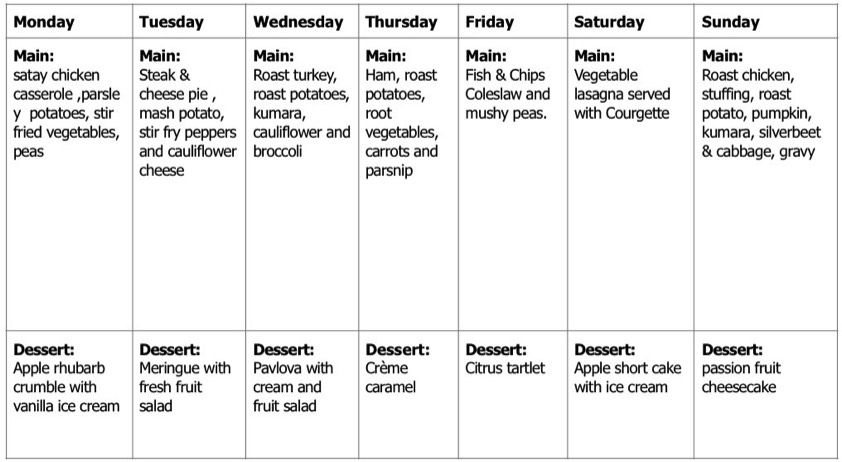 MEAL DELIVERY SERVICE


Ordering a meal: Bookings are essential for Wednesday Dinners at 5.15pm and Friday Dinners at 6.15pm.
Meals should be booked at Reception before 1pm the day it is required. Meals outside of bookings are at the Kitchen Manager's discretion.
Please order through Cafe for delivery or collection for the 5pm meals. Pick-up $12, dessert $2.50; delivery $2. Residents may collect these takeaway meals at 5pm from the Cafe.
Wednesday, Friday and Sunday dinners served seated in the Restaurant as usual.

Hi,

As the creator and manager of this website I have endeavored to portray the everyday life and activities of our village from the
residents' perspective.

Your comments and contributions are welcome and to this end I invite you to use the
'Contact Us' page
.

Deryck Hunt