The first day of the rest of our lives

Hello everyone,

We had a great few days at Conference last week, catching up with our other village teams and hearing about future projects coming up. I hope you have all now heard the news about Simon Gault partnering with Metlifecare, and we can be certain of some exciting changes in our café and restaurant services.

On 5 March, 16 staff, family members and one of our residents are doing "Round the Bays". We are thrilled to have such a large team participating, and are going to support St Johns, who are looking for fundraisers at present. We would be so grateful if you would support us with a gold coin donation. Next week, a collection box will be at reception, and all proceeds will be sent onto St Johns after our run / jog / walk.

This week, we welcome Jennifer to our café team, who has come to us from Deco in Titirangi. Jennifer will be working as café Assistant. We will be continuing to recruit new members to our kitchen team over the coming weeks.

Update on the New Croquet Green:
This project is due to start next week, on Tuesday 22 February. The project will only take around 7 working days to complete (subject to weather and wind conditions). There will be no more than 5 contractors working on this project, and vehicles will be kept to a minimum (no more than 2, with a small truck for delivering materials and taking away debris). The contractors have been asked that no noisy work begins before 8.30am, and if they do work into the evenings, no noisy work after 5.30pm. As always, the contractors are required to follow our health and safety procedures and if you have any queries or concerns, please don't hesitate to contact us.

Update on Manukau Re-development Project:
Next Tuesday I will be having my fortnightly update meeting with NZ Strong, and so will be able to give you a full progress report and schedule of works for the following two weeks. The demolition is progressing well and we will soon be moving onto the next phase of the work. Please don't hesitate to contact me if you have any questions or concerns in the meantime.

Just a reminder to please not hang washing on your balconies and to ensure that your garage basement belongings are stored in your lockers and not on the garage floor.

I look forward to seeing you all at the Resident's General meeting on Friday, and hope you all have a lovely weekend.

Theresa Henson
Village Manager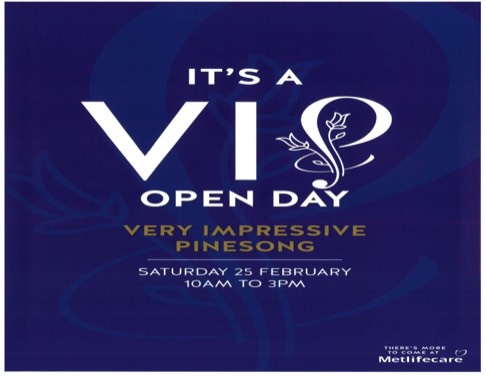 Official Notices




SEABREEZE BUILDING CHECKS
From 9am Tuesday February 21, contractors will be using a boom lift to check the facades on the sides of Seabreeze building. This is a scheduled precautionary check to make sure that all the facades are secure. This project will take up to 3 days and the boom lift will be parked at the gravel car park while this takes place. Please be aware of the lift whilst driving or walking past.

CARPET CLEANING ALL COMMON AREAS
From 8am Wednesday 22 February through to Friday 24 February, our carpet cleaning contractor will be cleaning common areas in all Apartment buildings including the Seabreeze and Bayview resident facilities.
They will start with Seabreeze restaurant and lounge on Wednesday morning.
We will have signage up around these areas, however, please be aware of ripples in the lounge area carpets as they dry.
Neil Forrest - Maintenance Supervisor

GARDEN TEAM REPORT
The Garden team have as usual been busy about the village although you may not have seen too much of them. Recently a couple of time consuming projects were completed in Plum Tree Grove and The Terrace. The Team are now back on Pinesong Drive concentrating on Anchorage and Waterview gardens, the bowling green gardens and the pool gardens. They are continuing with individual resident requests as well. If you have had a request in for any length of time and the work has not been completed please feel free to either, contact Ken based in the maintenance shed via phone through reception, resubmit the request, or feel free to contact me.
The residents development of the entry garden and water feature is continuing and not complete yet as we are awaiting the delivery of more plantings.
Until next time, happy gardening.
Evan Rudolph – Assistant Manager

REMINDER
Just a reminder to residents NOT to give out credit card details over the phone or passwords.

RATES REMISSIONS
Although rates remission letters sent by the Auckland City Council state that village management have been notified of your successful application, 99% of the time this does not happen immediately. To ensure you enjoy the benefit of your rebate as soon as possible, please supply Linda (Pinesong Administration) with a copy of your letter when you receive it. The credit will then be entered on your account and applied to the payment due in the following month.
Linda Johns - Administrator

PINESONG ACCOUNTS
I would like to remind everyone that Pinesong has the ability to email your monthly accounts. So far 70 residents have made the switch to paperless statements, receiving them as much as 24 hours earlier than the paper variety.
If you would like to receive future accounts via email please let me know by emailing me: lindaj@metlifecare.co.nz
Linda, Administrator

PINESONG WEATHER FORECAST
Geoffrey Hopkins has linked his weather station to the local 'grid' to give an even more accurate forecast. Take a look:-

Click on PINESONG WEATHER FORECAST




PINESONG RESIDENTS' ASSOCIATION GENERAL MEETING

Friday 17
th
February at 10.00am in the Seabreeze Lounge

The next general meeting of the Resident's Association will be held at 10.00am on Friday 17
th
February. The Operations Manager of Metlifecare Richard Callander is booked to speak to us on the theme of "More to come".
Morning tea will be served on completion of the meeting.
Request any items for the agenda be forwarded to the secretary by Friday 10
th
February.
Geoff Hopkins, villa 408, 816 8067
,
geoffhop@ihug.co.nz

RESIDENTS' BBQ
– WEDNESDAY, 22
ND
February 2017

Tickets will be on sale at Reception on Tuesday, 14 February 2017 from 10.30am to 12-noon. Thereafter tickets are available from Mary Lovelock – 817 9552 until mid-day Sunday, 19
th
February 2017.


SUNDAY @ 3

Pinesong's Non denominational Church Services
Where:
Bay View Lounge

When:
Sunday, 26th February at 3.00 pm

Speaker:
Deryck Hunt

Soloist:-
Barbara Hunt
Our Pinesong Church services are recommencing on the 26th of this month. As usual they will be held on the 4th Sunday of each month in the Bayview lounge at 3.00 pm. The services are non denominational and its great to have residents from most of the denominations joining us each month. If you are new to the village or have never been before, we would love you to join with us. We have a relaxed atmosphere with interesting speakers, video items and guest soloists that make the occasion really fulfilling. On this occasion Barbara will be our soloist. Join us also for our much loved hymn singing followed by a good chat over Tea/Coffee and biscuits. A warm welcome to everyone.
Deryck Hunt Villa 229 817-3755


OPERA APPRECIATION
Our first meeting of the year will be held on Friday 24
th
February at 10am in the Matai Room. This time we will be looking at Der Rosenkavalier by Richard Strauss. All welcome.
Kate Methven ph 817 9804


SING-A-LONG – SEABREEZE LOUNGE

Come along on Saturday 25
th
February at 3pm for a good old fashioned Sing-a-long around the piano.
Everybody welcome.
Delwyn Battersby – 817 8636


CROQUET@PINESONG
The croquet green will be out of action for a week or so from next Monday. It would be good if we can have the Drawn Pairs competition ready to go when it is finished. The entry list is up on the notice board so please get down there to sign up NOW! This will be an interesting test of skills as hopefully there will be no awkward seams, dips under the hoops or whole corners tipping away. These are well known to players who can take advantage of them or be disadvantaged by them. A level playing field at last.
Janet Cross. Villa 112 The Terrace 817 6066
KNITTERS NEWS
This week I was able to deliver the second batch of knitted goods to the
Well Foundation
(at Waitakere Hospital) in three weeks. As usual they were most appreciative of our efforts and reiterated that their most urgent need at present is for toddler sized garments including bigger hats and the old favourite (and easy) 'Fish & Chip' jumpers in bigger sizes. But the rugs are still very popular and necessary. Thanks again for all your donations of wool and acrylic yarns as well as the tireless hours spent in making these things. Anne Clarke Ph. 817 8408

VILLAGE SHOP

Do you enjoy meeting new people and volunteering? If so, we could have just the job for you. We have a vacancy for a resident to man the village shop on the 5th Wednesday of the month, which occurs only four times this year. The hours are 10.30 a.m. till 12.30 p.m. and of course full training will be given. Many of our volunteers have been manning the shop since it first opened several years ago and enjoy the interaction they have with our customers. If this sounds like something you would enjoy doing, please phone.
Joslyn Tierney 8175799


PETANQUE
It is that time again to dust off the boules and get ready for another year of fun at the petanque pitch. We will be starting at 2pm on Monday 6
th
February and every Monday there after. All welcome
Jacqui Batt
QUIZ

HOW WELL CAN YOU DO?
In last Saturday's quiz we asked teams to name as many countries in Africa as they could. The top team managed 45 out of a possible 54. Well done to them. All the teams managed to get better than 30. The problem is that some countries we once knew have disappeared, and others have changed their names.
The next quiz will be on Saturday 4
th
March. It is a collective effort and it amazing how six or fewer minds can come up with the answers – sometimes even the right ones. Come and join us.
Tony and Janet Cross
MR ELECTRIC BLANKET

Costs are $15.00 single, $17 Double/Queen and $18 King.
Blankets will be ready for collection from Reception Saturday 25
th
February onwards.


RESIDENTS BIRTHDAY AFTERNOON TEA
To celebrate the Residents Birthday afternoon tea for the month of February.
Our speaker for this month is Sue Harris, Sue is a very fluent, and experienced speaker, and comes to us from Pinesong Life style Living.
Her topic for this month is to be – "A Police Officer in the House" – this should be an interesting Topic, so Residents do not miss out on this month.
Joan Gasparich


LINE DANCING
Classes start Wednesday 1
st
February 1pm-3pm in Seabreeze Lounge.
Gillian 817 8991


SATURDAY WALKING GROUP
November 19th. We drove to Glenfield and followed the Kaipatiki Stream down to the Eskdale Bush Reserve for our morning tea break - a new area for most of us.
December 3. We drove to the highest pointing in the Waitakere Ranges, Pukematekeo Trig with its 360 degree view before walking down to the Waitakere Dam, along the Tram Line Track with glimpses of the Waitakere Falls (which gave their name to the whole of our area) to have morning tea at the 'station'. We then climbed a challenging section of the Anderson Track, looked at the cool store with its cave wetas and followed the Scenic Drive to transport. Anyone know who the Andersons were?
December 14th. An old favourite - the Slip Track from Arataki down to the Pipeline Track, Exhibition Drive and back past Mackies Rest on the Beveridge Track.
December 31st was the cool, fresh bush of the Rangemore Track to the Kauri knoll.
January 14th. A hot sunny day following the Mercer Bay Loop with its magnificent sea views right down the West Coast to Whatipu, white breakers showing up the Manukau Bar clearly against the blue of the sea.
JOHN WHITE 817 8382
AUCKLAND PHILHARMONIA ORCHESTRA $10.00 Bus bookings
If you have booked your seats for the 2017 season and wish to travel on the "$10 Friends' Bus" please return your form to Liane Hume, Apartment 17, Harbour Apartments, if you have not already done so. (Contact me if you need a new form.)
The first concert is on Thursday 18 February but I need to confirm the bus bookings well before then.
Any residents who may wish to attend a concert on a casual basis can do so by contacting me, preferably a week before the concert, and can pay the $10 on the bus.
Any queries please ring Liane Hume, Ph 817-0476


PATCHWORK GROUP
We are commencing again on Tuesday 7
th
February at 10.30am-12noon.
PLEASE NOTE CHANGE OF TIME as we are joining with the embroidery group.
Patricia 817 7073
KITCHEN CROCKERY
Can residents please check to see if you have any dishes that can be returned to the Café. Thank you.

OUTDOOR BOWLS

Good morning everyone. I do hope you are all having a good week and that you were not too disappointed that the "Olympic Games had to be abandoned at the last minute.
I do not have a lot to say today except to remind all bowlers in the Village including those residents who play at clubs, that entries for the Metlifecare any combination Triples tournament at the Henderson Bowling Club closes next Monday 20 February with Barry Wood Ph.837-7747 or email
janetbarry1944@gmail.com

The tournament will be played on Monday 27 February playing 3 games of 8 ends. Full details of the tournament are on the Noticeboards 1
st
floor Seabreeze, Swimming Pool and Bowling Green. Remember Pinesong finished first, second and third in last years tournament and it would be great to do it again.
Longstanding and new Residents are always welcome to come down to the bowling green and try out the game. We play organised bowls on Mondays, Wednesdays and Saturdays at 9.30am. Reporting time is 9.20am each day. There is a limited supply of bowls available for new players to try. A small group of players also play on the green Tuesdays, Thursdays, Fridays and Sundays between 9.00am and 10.00am. Come down and join us on all or any of these days.
Just a reminder to the regular bowlers that the entry form for the Drawn Pairs competitions will open at the end of next week. Play starts at the end of March.
Have a great weekend everybody.
Regards
John Crow
Convener. (Ph 817-7568)

HERB BOXES

The Herb boxes are doing well, residents are picking from The Oval, but not so many from the Conlon Lane and boxes by the Garden Shed in the Bush. These herbs and silverbeet are for all of us and need to be picked to keep them growing. Also if anyone has a surplus of plants don't throw them out plant them in the boxes for all of us to share. These are communal boxes for all of us to use and it is nice to have fresh herbs on hand. I am going to get some more Mint, Coriander, Basil, Parsley and Cress ready for summer. As you are walking by please feel free to pick whatever you need or would like to try. The Celery/Parsley is growing strongly and has masses of flavour. There is plenty of activity in the Bush with volunteers doing a great job keeping on top of tidying up and trying to get pops of colour going. Watering will soon be a busy time as we get into the warmer weather.
Aileen Keery, 817 3399


GARDEN CIRCLE
Well has this been a very hot week, hard to think about doing any gardening, it's a matter of just trying to keep things watered and alive. I think we have to be grateful to the Garden Team for managing to keep the transferred plants and gardens going. This has to be the hardest month with no rain to speak of and the heat trying to kill our plants, they will not win.
I would like to take this opportunity of asking residents to remember that the weed/green collection is every Monday, Wednesday and Friday and it would help the garden team if we could use bins or garden bags that are easy to empty.
Reminder for our next Garden Circle meeting will be in the Matai Room, on Wednesday, 15th Feb at 2pm. New residents are always welcome and it is a very casual meeting where we get to catch up with what is going on in the gardens of our beautiful village.
I love what is happening in the front of Seabreeze it is going to be amazing, a new fountain and a brand new garden, how wonderful and exciting. A great welcome to our village.

Aileen Keery, 817 3399


AA SENIOR DRIVING COURSE

Keep Your Freedom and Independence
Are you a member of the AA? Are you 80 plus?
Did you know that you can book a FREE in-car coaching session? A few days ago I made use of this service and was mightily impressed. An AA driving instructor came to the village, we drove in my car for a whole hour while she observed my driving style. Before we took off she checked the following: 1) vehicle check, 2) cockpit drill, then while driving, 3) communicating and signalling, 4) car control, 5) hazard identification,6.tips, hints and feedback. My correct seating position was also checked. If this is for you: Phone 0800 223 748 or go to: aa.co.nz/senior-driver and make an appointment. My instructor was Shifali Patel. The whole session was well worth the time it took. And pleasant!
Margaret Topzand, 817 3893


BLOKES SHED

This is a facility for use by all capable residents of Pinesong. Ladies this includes you, please feel free to avail yourself of a remarkable DIY area with a wide range of equipment.
To keep us safe, all users of the Blokes Shed are requested to follow our Housekeeping Rules. As displayed on the entrance door.
Only residents of Metlifecare Pinesong may use the amenities in this workshop.
Prior to using the workshop you must have signed an "Authority and Disclaimer Form". These are available at Reception.
To gain access to the "Blokes Shed" only one key is available from Reception. You must have already signed an "Authority and Disclaimer Form" . You are then required to "personally sign in and sign out" for the key each time you visit the shed. Individual keys will not be issued.
If you have not yet used the Blokes Shed, please contact Evan Rudolph, Assistant Manager, who will orientate you to the workshop and the safety guidelines
If you wish to donate an item, please contact Evan Rudolph or Mark Leaf (Maintenance) in the first instance. Please do not take items directly to the Blokes Shed.
Please be aware that any donated item will become part of the facility and may be stored, used or discarded at any time.
Please respect other users:
CLEAN UP THE WORK AREA AFTER USE

NEW LYNN RSA - 'VILLAGE SPECIAL'

Join for $15 until the end of year
Courtesy Van pick up and drop off $2 each
for full van of nine people
Need to know more on applying for your Membership Card, Members cash draw Thursday/Friday nights, Meat Raffles etc?
Give New Lynn RSA a call on 827 3411 then 4 to speak to Dale, Club Manager. Or call: Ray Warren 817 5500


COFFEE CORNER
HILLS CAFÉ
713-715 Richardson Road
Hillsborough

Open: Tuesday–Sunday

This
café was recommended to us by a resident, so we ventured along Hillsborough Road, turning into Richardson Road, there was the Café on the left. It has been open for a year and is very clean and roomy. The staff were very friendly.
The variety of food was excellent, consisting of a large array of sandwiches, cakes and French pastries. Coffee was also good and the prices were reasonable.
We recommend that you try this café. If you would like to extend your outing, you could travel along Richardson Road to Weston Avenue where Kevin Kilsby's Ceramic Studio is located. The garden is a must to look around whilst you are there.
Jean Piper and Mary Lovelock

817 9054 817 9552


HOME COOKING
RUMTOPF
This is a really wonderful combination of fresh fruits, sugar and rum, brandy or vodka which you marinate in a jar until the sugar has dissolved and the flavours have permeated the chosen spirit to make a delicious alcoholic syrup. It should be started now and will be ready for Christmas.
For every 1lb (500g) fruit you will need 8oz (250g) caster sugar and enough rum or other alcohol to cover the mixture.
The idea is that you start with the first fruits of the season and then work your way thorough strawberries, raspberries, red and blackcurrants, loganberries, cherries, peaches and apricots. Avoid melons and apples.
Prepare the fruits as for eating – pick over, hull, stone or de-stalk. Toss the fruits in the right amount of sugar and leave to stand for about 1-2 hours to draw the juices, then tip them into a Rumtopf jar or a wide necked jar with a lid – it must be deep enough so the fruit can be layered. Add sufficient spirit to submerge the fruit (press cling wrap on to the surface to keep the fruit under the alcohol), then cover the jar.
As you build up the layers of sugared fruit, always submerge them with your chosen spirit. After adding the last batch of fruit, store for at least a month before using, to give it lots of time to absorb the flavour.
To use: Spoon over ice cream; use to soak the sponge base of a trifle. They syrup can be served as an after dinner liqueur or added to a glass of white wine.
Note: you can use just one fruit if you like, for example strawberries, with sugar and rum.
Janet

E NEWS + +
Village Care Centre Clinic



Level 2 Seabreeze Care Centre
Did you know that you can access a wide range of care and support services directly through our team at Pinesong?

Did you know that many of these support services can be funded through the District Health Board?

If you feel you may require personal support services, either short term or long term, please come and talk to us. Leanne MacDonald (Care Services Manager) is here to help! We can work with your GP practice to organise an assessment through the DHB for funded services, such as personal cares, showering support or medication management. Personal care support is not means tested, and is based purely on an individual's need.

Leanne and Celerina are also registered with ACC to provide nursing treatments, such as wound dressings if you have had a fall. There is no surcharge, so no cost to you. If you have an accident, please let us know so we can help with your recovery.

Did you know that on level 2 Seabreeze, we have a number of Suites available for residents to use, for services such as respite, re-cooperation or a short term stay if you are unwell and cannot care for yourself?
If you have a stay in hospital, and are ready for discharge, but not quite ready to go home, talk to us about staying in one of our care suites on level 2 Seabreeze where you will receive 24 hour care.

Details and costs of our full range of private services are available through reception, or on level 2 Seabreeze. We are always available to talk to you about how we can help now and in the future.

FREE NURSING CLINIC
Free Nursing Clinic – Level 2 Seabreeze, Care Suite No 10 on a Tuesday and Friday from 10.30-11.00am, no bookings required.
Leanne MacDonald
Care Services Manager

ECARE VISITS
We have Rose from E-Care visiting the village on Monday 13th February from 10.00am – 10.30am. If any residents would like a re-fresher on how to use the system or if there are any new residents to ECARE, please feel free to come along, no bookings required. The ECARE system is the self monitoring programme of your weight and blood pressure which is located on level 2 Seabreeze, care centre.
Leanne McDonald – Care Services Manager

PODIATRIST
Tuesday 21st Feb, please contact reception for an appointment.

PARKINSONS MEETING
Wed 22nd Feb – Kauri room 1pm

HEARING STUDY
Volunteers Wanted
The University of Auckland is running a Hearing Study at Pinesong and needs people to volunteer for a free hearing assessment. We are doing this study because in New Zealand we have very little information about the hearing abilities of our older adults. This research project aims to remedy this, and potentially help improve the hearing services available to people that they may need as they age.
If you participate you get a free hearing assessment on site at Pinesong at a time to suit you. It doesn't matter if you already use hearing aids or not. All results are confidential.
Interested? To find out more contact:
Pinesong Reception, ph 817 1800

WEIGHT LOSS SUPPORT
There is a Weight Loss Support Group currently operating in the village. We meet to "weigh in" each Tuesday at 10am in the Care Centre and have a short chat about our progress. We would like to welcome anyone who is interested to join us.
Judy Jean
817 1050 817 9054

CHIROPRACTOR
Tim Archer, a registered Chiropractor, has seen me regarding his chiropractor services. Tim is able to come into the village to see residents. Tim uses an activator adjustment instrument to deliver chiropractor adjustments, making it very gentle and comfortable for patients. If you are interested in seeing Tim could you please call me on 817 0653, as I would like to have an idea of resident numbers before we proceed any further.
Leanne MacDonald, Care Services Manager

AUDIOLOGY ASSOCIATES
A number of residents may have been affected by the recent closure of Applied Hearing.
Should you require assistance with your hearing aids, we are happy to look after you and can service any aids including Rexton.
Locations: Blockhouse Bay: 2 Kinross St, ph 627 2105;
New Lynn: Totara Health Centre, Level 2,
1 McCrae Way, ph 827 0709;
Te Atatu South: 183 Te Atatu Rd, ph 838 9757

PINESONG'S BEAUTY THERAPY
With Kimberley Vautier
Internationally qualified and trained since 1987
Beauty Appointments
Hi from Pinesong Beauty Room. Thought I'd better I'd better let you know that if you require any beauty treats before Christmas, now is the time to book as spaces are nearly gone.
For an appointment call:
Kimberley, Ph 6649 or 817-1800, or 817-3606 after hours. Hours: Wed, Thur 9am-5pm

TREATMENT LIST
Facials 1 hr $58
Inclusive of a double cleanse, brow shape, exfoliation, facial, neck and shoulder massage, mask, moisturise and eye cream. A wonderful treat and your skin will love you for it.
Massage ¾ hr $43
Relaxing back and neck massage.1 hr $56
Manicures ¾ hr $38
Nail and cuticle care, hand and arm massage and polish. Keep your hands and nails in top condition.
File and polish $19
For a special treat.
Pedicares ¾ hr $43
Soak in a pedi spa, exfoliation, nail and cuticle care, dead skin removal, foot massage and polish. Don't forget your feet need some TLC too.


Express Mani/Pedi ½ hr $29
Nail and cuticle care and dead skin
removal.
Great for those who find their feet seem
a little further away than they used to.
Waxing
½ Leg wax $25
Full Leg wax $42
Bikini line $17
Underarm $17
Forearm $24
Lip and/or chin $14
Eye treatments
Lash tint $23
Lash and Brow tint $27
Brow shape (pluck or wax) $14
Lash and Brow tint and shape $29
Brow tint and shape $18


REFLEXOLOGY
Raewyn Coburn who did her placement at Pinesong last year for her refloxology training is now offering reflexology service for the village residents every Tuesday and Thursdays on level 2 of Seabreeze. Anyone wanting an appointment please contact her directly. Her email address raewyn.auckland@gmail.com, mobile: 0211710807 or home number 8176089.


LAB TESTS
Labtests Time Change
Labtests will be here at 2.30pm every Monday, Wednesday and Friday.


Cafe & Restaurant

SUNDAY LUNCH 19TH
ROAST LAMB $12

WEDNESDAY 22nd
Residents
B.B.Q.

FRIDAY 24th February
Steak (scotch filLet) chips and fried egg served with coleslaw.
Hoki Florentine served with chips and coleslaw.
Dessert
lemon meringue pie
$17.50


Restaurant Notice

Ordering a meal: Bookings are essential for Wednesday and Friday Dinners at 6.15pm.
Meals should be booked at Reception before 1pm the day it is required. Meals outside of bookings are at the Kitchen Manager's discretion.
Please order through Cafe for delivery or collection for the 5pm meals. Pick-up $12, dessert $2.50; delivery $2. Residents may collect these takeaway meals at 5pm from the Cafe.
Wednesday, Friday and Sunday dinners served seated in the Restaurant as usual.


Weekly Dinner Menu 20th - 26th February
Pick-up $12, dessert $2.50; delivery $2. Residents may collect these takeaway meals at 5pm from the Cafe.
Wednesday, Friday and Sunday dinners served seated in the Restaurant as usual.



MEAL DELIVERY SERVICE

Could you please arrange with Staff or Caregiver for the plates to be returned to the Restaurant kitchen. Thank you.

Information regarding the Café

Dinner is available every Wednesday and Friday in the restaurant at 6.15pm
(please order at reception)
Apart from once a month when there is the residents BBQ
We also have a Monthly Function once a month (will be advertised in Pinesong Press)

Hi,

As the creator and manager of this website I have endeavored to portray the everyday life and activities of our village from the
residents' perspective.

Your comments and contributions are welcome and to this end I invite you to use the
'Contact Us' page
.

Deryck Hunt