The first day of the rest of our lives

Hello everyone,

A reminder that the Craft Room Extension is due to start Monday 9 May; work should take approximately two weeks to complete. Please contact Evan or Neil if you have any questions regarding this project.

Thank you to everyone who helped with the
Anzac Service held on Monday 25 April
. It was wonderful service with a great attendance.

We are absolutely thrilled to be able to congratulate three of our Home Care Team. Sashi Ram, Rose Gomintong and Rosa Bae have successfully progressed to Level 2 Home Support Workers, a first within Metlifecare and our new career progression steps in place. The girls have worked incredibility hard completing specific competencies and training (through Health Education Trust) to achieve this level. Well done to all of you!

I hope you all have a lovely weekend, see you next week,

Theresa Henson
Village Manager

COMPUTER TUITION

Glen Eden and Titrangi Library are offering a range of free digital help and services. These include Beginners Computer Classes, Microsoft Word and Excel, Beginners computer graphics, Digital drop in – device help. Other services include, Book a librarian sessions – 1 on 1 help in a variety of topics including everything covered in the previously mentioned classes, Email setting up and using, Facebook, device help – tablets, smart phones and laptops. Help with downloading the libraries Ebook and audio books, free to your devices. Depending on Numbers, Librarians may be able to offer this service at Pinesong. Expressions of interest can be made on the form available in the area behind Pinesong Reception.
Evan Rudolph Assistant Manager


HEAT PUMP SERVICING

Our contractor Excel is offering a bulk price of $30 incl GST per service to residents who want their heat pumps looked at before winter sets in.
There is another company called the Heat Pump Cleaning Company that has done servicing in the past & is following up with previous clients regarding servicing for this year. They are a legitimate servicing company that some Metlifecare villages do use however we have not organised them ourselves and the choice of contractor is totally up to the resident.
If you want your heat pump serviced by Excel please contact reception and they will put you on the list which will be at the desk for one more week then we will let everyone know when the contractor is booked in.
If you have any questions please don't hesitate to contact me
Neil Forrest
Maintenance Supervisor


BIRD RESCUE VOLUNTEERS

Residents interested in volunteering to assist bird rescue are reminded to contact myself or Reception as soon as possible. Bird Rescue will be at Pinesong in the very near future to do a presentation for those who have expressed interest or who may be interested. Keep an eye on the Pinesong Press for this.

Evan Rudolph Assistant Manager
PINESONG RESIDENTS COMMITTEE 2016

The following are the newly elected
members of the Committee.
Activities they will liaise with are also shown.

Chairman Ken Webster Sport
Secretary Geoff Hopkins Library
Treasurer Marion Millar Barbecue
Welfare Officer Deryck Hunt ChurcH
Committee Aileen Keery Garden, Choir, Blokes Shed
Delwyn Battersby Assistant Welfare
Nola Maurice Bar
Theresa Henson, Manager (ex officio)

Correspondence to the Secretary at Villa 408 or preferably by email at
geoffhop@ihug.co.nz


QUIZ

Saturday May 7 is the date for the next Quiz
- same time, same place and still the same entry fee.
This time, all the questions will be asked by women, but they won't be all women's questions. Promises, promises! Tony and Janet Cross 1 Manukau


BOOK CLUB

QUOTE...

One way to get the most out of life is to look upon it as an adventure.
—William Feather

THURSDAY 5 MAY 2016
Always first Thursday of the month.
10am Bayview Lounge as usual.
Looking forward to seeing you all.
Davina McFarlane 817 4242


END OF LIFE CHOICE

Green Bay Community House
1 Barron Drive, Green Bay
2pm Saturday 30 April
In the event of being taken seriously ill how to go about informing medical authorities of what would be your wishes. For information contact:
Ph 630-7035 or Eric Perrett 817 0748


PINESONG ART ROOM EXTENSION

The extension to the Pinesong Art Room will commence on 9 May. Resident groups with regular bookings will be contacted by myself with a view to relocating the various activities to available areas. The extension is planned to take two weeks. I will keep you updated.
Evan Rudolph Assistant Manager


KNITTERS NEWS

The Well Foundation at Waitakere Hospital were thrilled to accept the amount as well as the variety of offerings which I delivered. I had counted 10 rugs/blankets as well as numerous cardigans, jumpers and hooded jackets along with singlets and hats. A grand effort especially as we haven't had weather which was particularly suited to knitted or crocheting large items. Should any of you need to build up your supplies I have had a number of donations of wool recently so please contact me if you are running low.
Many thanks to you all for the grand efforts you put into this great charity.
Anne Clarke 817 8408


THANK YOU KATHRYN

We now have a new piano in the Matai Room. You are welcome to inspect it if you are passing.
This beautiful top-of-the-range Yamaha has been donated to us by Kathryn Mansell. Kathryn is an extremely gifted musician who has accompanied the Pinesongsters for more than a decade and is an integral part of our choir. This generous donation is another indication of her dedication to music in our village.
Thank you Kathryn. Doug Lilly and The Pinesongsters


FITNESS CENTRE

Thanks to the Residents' Committee we have ordered a new upright bicycle. It is the same brand and has all the same features as the existing recumbent cycle. The old upright bike will be kept as I know some people like using it – perhaps when they use the new one they will change their minds.
The new one won't be here for a few weeks because of supply problems so it might have to be installed in our new temporary gym in the Rata Room.
Tony Cross


AQUASIZE

Even though the mornings are getting cooler the pool temp remains at 30c. Join us for Aquasize Tuesday and Friday at 9am.


TABLE TENNIS

Singles Competition
All those interested please enter your name on the sheet provided in the Table Tennis Room. The draw will be on the 12th May at 2pm. Lois

THE BLOKES SHED

This is a facility for use by all capable residents of Pinesong. Ladies this includes you, please feel free to avail yourself of a remarkable DIY area with a wide range of equipment.
To keep us safe, all users of the Blokes Shed are requested to follow our Housekeeping Rules. As displayed on the entrance door.

Only residents of Metlifecare Pinesong may use the amenities in this workshop.

Prior to using the workshop you must have signed an "Authority and Disclaimer Form". These are available at Reception.

To gain access to the "Blokes Shed" only one key is available from reception. You must have already signed an "Authority and Disclaimer Form" . You are then required to "personally sign in and sign out" for the key each time you visit the shed. Individual keys will not be issued.

If you wish to donate an item, please contact Evan Rudolph (Assistant Manager) or Mark Leaf (Maintenance) in the first instance. Please do not take items directly to the Workshop.

Please be aware that any donated item will become part of the facility and may be stored, used or discarded at any time.

Please respect other users CLEAN UP THE WORK AREA AFTER USE.
MANUKAU GARDEN AREA

After creating a garden area outside Manukau Apartment Building over 15 plus years, I am going to have to remove most or all of it to make way for the 'new' Manukau building. If any resident has a surplus of medium to large pots or plant troughs I would be most grateful to receive them. I plan to put as many plants as possible in containers so I can re-plant a new garden elsewhere (somewhere?) at a later date.
Please phone and I will be happy to collect any of the above at a time which suits us both.
Jocelyn Cartwright, 815 4127, 14 Manukau Apts

HAIRDRESSERS

Dianne and Debbie would like to welcome 'Sheridan' to Pinesong Salon in the Resort Village. However, we can no longer be known as
The blonde one, the dark one and the young one,
So with two blondes someone needs to change their colour. (I wonder if she can sing or dance?) Please welcome Sheridan who will be working Wed-Fri.


ART CLASSES

My name is Suzanne Laidlaw, and I am a qualified artist and teacher with 20 years practice as an artist and a Master of Fine Arts plus teachers certificates in adult teaching. I enjoy sharing my passion for art and providing a nurturing and fun environment for students. I aim to provide an in depth quality art class to engage participants with drawing skills including composition, tonal values and perspective in a variety of materials – pencil, charcoal and oil pastels. Subject matter includes set up still lifes and land and city scapes. I can provide discounted materials for purchase from Studio Arts Supplies or an art materials package individually selected to suit including paper pads and drawing materials. Subject to interest, Drawing Class (9 Weeks) starts Wed 10 February for a two hour session once a week 9.30am to 11.30am. Cost of course is $180 per student. End of term is mid April. This is an engaging course for all levels developing skills with observation, drawing, colour and expression providing a stimulating and enjoyable course with personal development encouraged. Contact Suzanne Laidlaw at suz.l@paradise.net.nz or leave message and number on 09 630 2612 if you would like to find out more.


PINESONG SHOP

We have a small shop in the village, run by residents to provide
non-perishable goods to save you going out to the supermarket
for just one or two items.
Items such as cleaning products, dry goods, cereals, biscuits, toiletries and batteries are available.
There is also a supply of craft items, cards etc. made by residents and suitable as gifts.
The shop is open from 10am to 12 noon on Mondays, Wednesdays and Fridays.
Fresh milk is available from the café

GARDENING CIRLCE
Hello everybody,
just a small update on the gardens around the village. The herb boxes are going strong, the two by the garden shed have been cat proofed, thanks to Wally, and we have cress and mesculin coming on. Some of the basil can be picked gently so feel free to take some leaves. Two Lemon trees have been planted at the end of the duck pond and other trees are ready to plant. If you are not sure where these boxes are, one is on Conlon Lane, one by the Croquet Court and the other two by the garden shed in the bush when you get the chance take a walk around and see what is going in the gardens which are looking really good. I have a basket in Reception for anyone with a surplus of fejoas so help yourself if there are any left.
Aileen Keery Villa 108, 817 3399


COFFEE CORNER
Humbug Cafe 32 Rua Rd
Glen Eden
Open – Tuesday - Sunday
Limited parking outside of the café, but parking is available on both sides of the street. The coffee and food are very good and we recommend the iced coffee and iced chocolate. Cheerful, friendly staff. The interior is large, light and airy with mismatched furniture, retro artwork and floor-to-ceiling windows. We recommend if you go there take a seat in the main room, away from the family area. However, if you are child minding, there is a very comfortable playroom area beyond the main café which is very safe for very young children.
Jean Piper and Mary Lovelock
817 9054 817 9552

HOME COOKING
RUMTOPF

This is a really wonderful combination of fresh fruits, sugar and rum, brandy or vodka which you marinate in a jar until the sugar has dissolved and the flavours have permeated the chosen spirit to make a delicious alcoholic syrup. It should be started now and will be ready for Christmas.
For every 1lb (500g) fruit you will need 8oz (250g) caster sugar and enough rum or other alcohol to cover the mixture.
The idea is that you start with the first fruits of the season and then work your way thorough strawberries, raspberries, red and blackcurrants, loganberries, cherries, peaches and apricots. Avoid melons and apples.
Prepare the fruits as for eating – pick over, hull, stone or de-stalk. Toss the fruits in the right amount of sugar and leave to stand for about 1-2 hours to draw the juices, then tip them into a Rumtopf jar or a wide necked jar with a lid – it must be deep enough so the fruit can be layered. Add sufficient spirit to submerge the fruit (press cling wrap on to the surface to keep the fruit under the alcohol), then cover the jar.
As you build up the layers of sugared fruit, always submerge them with your chosen spirit. After adding the last batch of fruit, store for at least a month before using, to give it lots of time to absorb the flavour.
To use: Spoon over ice cream; use to soak the sponge base of a trifle. They syrup can be served as an after dinner liqueur or added to a glass of white wine.
Note: you can use just one fruit if you like, for example strawberries, with sugar and rum.

Janet

E NEWS + +

OUTDOOR BOWLS
Good morning everyone. I was hoping that I could start this morning with the good news that Pinesong bowlers had regained the Metlifecare Inter Village challenge trophy but despite the beautiful weather conditions I am sorry to say that our form did not live up to expectations and we lost once again, although the winning margin was a little slimmer this time 6-8 with one game drawn. I am at a loss to understand just why we can't gain sufficient wins particularly on our home turf where we should have an advantage. Perhaps we need to recruit some of our Village residents who play at the Blockhouse Bay Bowling Club.
Our next clash will be at Hillsborough Heights in November. We can only take 12 players to Hillsborough and play fours as they only have 3 rinks.
The Junior Pairs final was played last Tuesday and resulted in a win to Yvonne Meister (Skip) and Bruce Wilding in a very close contest, over Bob Helleur (Skip) and Colin Wall. The scores were tied at 7 all going into the last end where Yvonne scored 2 to make the final score 9-7. Congratulations to Yvonne and Bruce on their fine victory. In the other game played on the day, a semi-final of the Senior Pairs, John Crow (Skip) and Patricia Carr had a lucky escape over Noel Clark (Skip) and Charlie Bish. Noel and Charlie got out to an early 6-1 lead and looked as though they might run out comfortable winners, but they didn't score again until the last 2 ends when at 11-6 ahead John and Patricia looked to be in for a comfortable win. Needing 4 on the last end to take the game into an extra end Noel and Charlie failed by only 1cm. The strong wind on the day made playing conditions very difficult for the players in both games.
The second semi-final of the Senior Pairs between Don Pearman (Skip) and Ted Erskine-Legget and Terry Adolph(Skip) and Geoffrey was to be played yesterday but as the print deadline for this issue closed on Tuesday I am unable to give the result until next week's edition when I also hope to let you know the result of the final.
Members are reminded that the forms together with money for the dinner for our first social function of the year on Saturday 14 May, must be returned to me (6 Waterview) or to Reception no later than 4.00pm Friday 6 May.
John Crow, Convenor, 817 7568


POWLEY FROZEN MEALS

To order your frozen meals phone 627-0700. There will be a $6 delivery charge which will be delivered direct to your door.
Powley Frozen Meals, ph 627-0700


VILLAGE CARE CENTRE CLINIC

Level 2 Seabreeze Care Centre


Hello Everyone,
Thought it was timely that I updated the village about our ACC services we can offer residents here at Pinesong.
Both Celerina and I are registered ACC providers. That means if you sustain a wound or skin tear accidently, we can dress the wound free of charge as we claim the cost of the dressing through ACC. So if you unfortunately manage to get a wound by catching your arm on a door, falling over, etc. you can see us Monday – Friday at Level 2 Seabreeze, or if mobility is a concern for you, we will come to your house. If the wound occurs outside of working hours, the homecare staff are trained in workplace first aid and can attend to your wound and we can see you when we are next due to work!! In addition if you see your family doctor for a wound caused by an accident, we can still see you free of charge as long as we have your ACC claim number, which the doctor will provide you with.
Any questions you may have, please give me a call,
Leanne McDonald

At Pinesong we have an activity programme that the Serviced Apartment residents enjoy each week day. There are sessions from gentle exercises, through to arts/crafts, sing-a-longs and outings. If you are a resident out in the village or are caring for a loved one who is unable to go out into the community for socialisation and you would like to partake in activities again, please feel free to phone me regarding session times and costs.
Currently I am looking at alternative activities for the programme at Pinesong. Many of my Serviced Apartment residents talk about Probus and interested in other activities, hobbies and experiences. So if you are a resident out in the village who has a special interest, hobbies, or have been on an interesting holiday and able to share that with others, please contact Skevi our Activity Coordinator in the Care Centre.

Leanne MacDonald

Care Services Manager


ECARE

wellness through technology
ECare Digital Health System
Pinesong • Tuesday 15 March 2016

We are pleased to announce that Pinesong is installing an ecare digital health system on Tuesday 15 March 2016
What is it?
ecare will provide all residents in the village and village staff the opportunity to monitor their own blood pressure, pulse and weight on a regular basis.

Access to a range of health, news and web sites and announcements that relate to village and local health initiatives will also be available.
Once you've been trained how to use it, you can use it on your own at your own convenience.
Who should use it?

Any one who has been advised by their GP to have their blood pressure, weight etc checked regularly

Any one who is wanting to keep an eye on their blood pressure or weight – or even just to check it occasionally.
Where?

The kiosk and equipment will be set up inthe Care Centre Level 2

How?

Training for residents and staff will be held by Sonja Reid from ecare on Tuesday 15 March 2016.. After you have been trained, it's all yours to use when and how you choose.

Register:

You must register to ensure that you receive maximum benefit from your training. Your training will take 15 minutes.

You can register "on the day' directly with Sonja, after the main presentation in Seabreeze Lounge, commencing at 10.30am


EAR HEALTH

Monday 23 May at 9am
The Mobile Ear Nurse will be at Pinesong using mico-suction to safely remove wax. Cost $50, approved ACC $35. To make an appointment contact Reception.

ADVANCED REHAB'S PHYSIO TIP
The Five Steps to Well-Being
As Physios we refer to the five steps to well-being, and encourage our patients to follow these steps. See how many you can do this week.
Be active: Exercise is known to improve mood and physiotherapists can prescribe tailored exercise programmes to suit a patient's mobility and flexibility
Connect: Building connections enriches your life. Physiotherapists can connect with patients by providing patient-centred care.
Give: Doing something for someone else makes you feel good and connected.
Take notice: Physiotherapists can help patients learn techniques for becoming more aware of life. Correct breathing is essential in the practice of mindfulness - stopping, calming, resting, noticing.
Keep learning: Learning new things helps build confidence. Learning to self-manage with the help of a physio is empowering.
Anouschka de Gourley Business Manager Advanced Rehab

PINESONG'S BEAUTY THERAPY
With Kimberley Vautier
Internationally qualified and trained since 1987

Ph 6649 or 817-1800, or 817-3606 after hours. Hours: Wed, Thur 9am-5pm

My Pinesong answer phone is only cleared on the days that I am at Pinesong. Please call the after hours number outside these times to ensure a prompt response.


PODIATRIST
Will be here
Tuesday 19 April
Anyone who would like an appointment
please contact Reception

PARKINSON MEETING

MATAI ROOM
Tuesday 19 April 10am-12 noon

REFLEXOLOGY
Raewyn Coburn who did her placement at Pinesong last year for her refloxology training is now offering reflexology service for the village residents every Tuesday and Thursdays on level 2 of Seabreeze. Anyone wanting an appointment please contact her directly. Her email address raewyn.auckland@gmail.com, mobile: 0211710807 or home number 8176089.


LAB TESTS
Labtests Time Change
Labtests will be here at 2.30pm every Monday, Wednesday and Friday.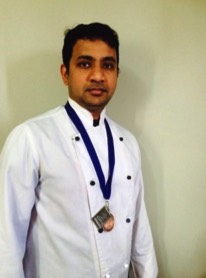 Silver Award for Naveen




At the recent Senior Lifestyle Cuisine competition Naveen won the Silver award.
A fine effort!




Cafe & Restaurant

Sunday 1 May
Roast pork with crackling and roast vegetables $13.00

Wednesday 4 May 6.15pm
Lamb chops with baked potato and steam vegetables.
Plated dessert $16.50

Friday 6 May 6.15pm
Duck breast, boneless, with baked potato and steam vegetables.
OR
Pan fried hanukah with baked potato and Steam vegetables.
Plated dessert $17.50

Notice - Introducing:

Big break fast buffet function with small barista coffee from café $15.00 per person

Menu

Egg benedict with smoke salmon and ham

Scrambles eggs

Smoke chicken, ricotta cheese crepes with cheese sauce

Hash brown, grilled, tomatoes, Portobello mushrooms and toast

Assorted Danish pastries

Bacon

Sausages and grilled onions and chutneys

Corn flakes and oats
Orange juice, apple juice and tea

Small Espresso coffee from café
All included


Restaurant Notice


Please note that for the Wednesday and Friday night dinners the cut off time for bookings
will be 12pm on Wednesday for Wednesday night dinner (6.15pm)
and 12pm on Friday for Friday night dinner (6.15pm).

Many thanks, Naveen

Cafe and Restaurant Prices

Soup of the day: $6.50
Special of the day café lunch: $11
Fish of the day café lunch: $12
Sunday Roast of the day: $13.50
Frozen meals: $8.50

Milk
1 ltr: $2.60
2ltr: $4.60
Calci trim 1ltr: $2.80


Something New!

We are expanding our soft drinks selection, and shortly the
"Better Drinks Company" will be supplying us with a café fridge with a large range of cold drinks.

If you haven't seen already, we now have an ice block and icecream selection in the café as well.


Weekly Dinner Menu 2nd - 8th May

Pick-up $12, dessert $2.50; delivery $2. Residents may collect these takeaway meals at 5pm from the Cafe.

Wednesday, Friday and Sunday dinners served seated in the Restaurant as usual.

MEAL DELIVERY SERVICE

Could you please arrange with Staff or Caregiver for the plates to be returned to the Restaurant kitchen. Thank you.

Information regarding the Café

Dinner is available every Wednesday and Friday in the restaurant at 6.15pm
(please order at reception)
Apart from once a month when there is the residents BBQ
We also have a Monthly Function once a month (will be advertised in Pinesong Press)

A variety of frozen dinners are available for collection at $8 (pls see café for availability)

Residents may also order a dinner from our weekly menu shown above.
These are either to be collected from the café around 5pm or we can deliver for a $2 charge

Sunday lunch only has to be booked if you have a large number of guests

Any queries please contact reception




Hi,

As the creator and manager of this website I have endeavored to portray the everyday life and activities of our village from the
residents' perspective.

Your comments and contributions are welcome and to this end I invite you to use the
'Contact Us' page
.

Deryck Hunt