The first day of the rest of our lives

OFFICIAL NOTICES
Hello Everyone,
For those of you who attended, I hope you enjoyed the Mid Winter Christmas Dinners last week…did you know it's now only 146 days to the 'real thing'!
I thoroughly enjoyed meeting with many of you last Friday following the General Meeting; if you do have any questions following on from my report, please don't hesitate to come and ask. It was great to see such a large attendance.
One question that has been raised is if we will be able to relocate the gym during the refurbishment of the Pool Complex….and the answer is YES, most definitely. We are looking to use the ground floor snooker room (next to the craft room).
I have now confirmed the date for our Civil Defence "Preparedness' talk, booked for the 18 August at 10am in Seabreeze Lounge. In light of all the bad weather and power outages we have had recently, I hope that you will all be able to come along and take part. More details are at the back of the Press and on our notice boards.
This afternoon, Evan and I met with a number of residents who have volunteered to be our 'Resident Wardens'. Thank you to all of you who were able to come along and share ideas with us. Our staff are also receiving refresher training on our Evacuation Procedures this month, in preparation for our Seabreeze Fire Drill. Everyone will be informed prior to the drill happening, and will receive details of our Evacuation Procedure.
I also wanted to say a HUGE congratulations from the team here to Ken and Kath Webster, who must be the proudest grand parents right now! Their grandson Sam has just won 3 medals (2 Gold and 1 Silver) for velodrome cycling at the Commonwealth Games. What an achievement! Well done and congratulations from us all!
I hope you all have a great weekend, and the good weather continues for us.

Theresa Henson
Village Manager

CARE SERVICES

I have been back at Pinesong for three weeks now and it's such a pleasure to be working here again. Part of my role here at Pinesong is to be able to offer support services to you, that will make life just that bit easier each day. So from time to time you may see an insert in the Press about some of our support services. This week I would like to let you know about our service of being able to administer your B12 injection. A B12 injection can be prescribed by your Doctor and is commonly given every 1 to 3 months. For some residents who can no longer drive or unwell, this can be a challenge for you, as need to organise transport or a loved one to take you to the Doctors. Here at the village we can administer the injection for you, either in the Care Centre or the comfort of your own home. If you would like to know more about this service, please contact me or the Registered Nurse - Celerina in the care centre. Take care,

Leanne MacDonald
Care Services Manager

TELECOM LINES

The installation of new telephone lines into the village has now been completed. Residents wishing to transfer from the village PABX to outside providers can now do so. Please remember to complete a cancellation of account form if you do so. These forms are available at reception. If any further information is required feel free to contact me.
Washing
Residents are reminded that drying laundry on balconies is not permitted. I know with the wet weather it is difficult to dry larger items in clothes dryers and it is tempting to dry things on apartment balconies when there is a little sun. It is acceptable to erect clothes dryers and dry items inside ranchsliders in lounges where sun and air can reach them. The village compendium states that drying any washing in areas of public visibility is prohibited anywhere in the village. Thank you all for your anticipated co-operation.


PANTRY MOTH ERADICATION

A resident has supplied some information on dealing with pantry moth as follows.
Discard anything that is affected by pantry moth. Thoroughly clear and wipe down pantry or storage shelves. Put any newly purchased sealed packets of dry food in the freezer overnight to kill any eggs or larvae. Transfer the contents to sealed containers. If residents are having problems with pantry moth or wish assistance in identifying them, please feel free to contact me.
Evan Rudolph (AVM)


ON THE BUSES

REMEMBER THE CHANGES

West Auckland bus services from:
Sunday 3 August 2014
Those with access to the internet visit.
AT.govt.nz/westchanges. Otherwise to check timetables. Call 09 366 6400.
Mike Hogben Villa 404, ph 817-1464


CIVIL DEFENCE 'PREPAREDNESS'

Sea Breeze Lounge 18 August 14 10am
An information session for all residents
Please join us to find out more about how to look after yourselves
and neighbours
Presenter: Ricky Mark
www.nzsurvivor.co.nz

AUGUST QUIZ
The next quiz is on tomorrow, Saturday 2 August in Bayview at 4pm
It is going to be a retro quiz – we have dug up some questions we used a few years ago and we are going to give them a second run – so those around in about 2010, will of course, remember them all!
Tony and Janet Cross

MUSIC EVENTS CALENDAR

Please help yourself, if you are interested, to a copy of The University of Auckland's School of Music and Events Calendar for the second half of 2014.

They will be behind reception. Ann (4P)


PROPOSAL TO PICK UP
RESIDENTS FOR HAPPY HOUR

At the Resident's General Meeting on Friday 25 July, a proposal was put forward to reinstate using the Village Van on a Friday evening to take residents to Happy Hour. There were several people who offered to drive the van but we need more volunteers. If we can get a group of people we can make a roster so that the duty can beshared. No special Driving Licence is required as the driving is just within the village grounds. If you could help, please phone:

Mary Lovelock – 817-9552 or
Shirley Wakelin – 817-0540


TABLE TENNIS

Coming soon - the Double Competition for table tennis. Please sign the sheet provided in the Table Tennis room to indicate your interest.
Lois Lilly


BOOK CLUB
BAYVIEW LOUNGE

10am Thursday 7 August 2014
First Thursday of the month again.
Look forward to seeing you all there.
Davina McFarlane, ph 817-4242


RESIDENTS BIRTHDAY TEAS

I would like to bring to your attention that we are looking for two to three people to assist with hosting the Birthday Afternoon Teas. It is the same principle that was brought up at the residents meeting last Friday. That unless I do get support with assistance this could be something that won't be able to continue.
It is only once a month. The last Monday of every month. With two to three more people this would only mean doing your turn three or four times a year.
I would appreciate a response asap so we can organise a roster. Contact:
Joan Gasparich, ph 817-7606

KNITTERS UPDATE
After delivering the latest bundle of rugs, jersey's hats etc to Waitakere Hospital, I felt it necessary to convey to you all that the garments were most graciously accepted and the quality was much admired. I was assured that they would be put to good use as soon as possible. When our offerings are so obviously appreciated it gives one a 'warm fuzzy' doesn't it? However this means that I'm running short of wool again so any offers are very useful, thank you.
Anne Clarke

CROQUET@PINESONG

The Kumfs Singles Competition is down to the last rounds and so it is time to get entries for the Drawn Pairs. This means that as soon as the present competition finishes we will be ready to go instead of having to wait the usual length of time to do the draw and start. The entry list will be up on the notice board until Friday August 8th .
Janet Cross, 1 Manukau 817-6066


NEW POSTAGE RATES

Local 80 cents
Australia $2.00
Rest of World $2.50

NGATEA WATER GARDENS

Paeroa - Pokeno
Well Ray's direct line to the weather gods worked again and they smiled benevolently on us. An overcast but dry morning, to view the gardens. Who would have thought a gem like this, could be hidden away almost in the centre of a small rural community. A pleasant social luncheon at the Ohinemuri Club. Then a sunny afternoon to wander the streets of Paeroa, the antique shops didn't do too badly by the number of packages that came back on board the coach.
The surprise stop at Pokeno, ice-creams (no need for tea tonight), quality meat and small goods. Then safely home. For more, familiar faces check out the photos on the page
RECENTLY.

Ray Warren Apt 303 Seabreeze ph 817-0682
Mike Hogben Villa 404, ph 817-1464


VILLAGE SHOP

We have a small shop in the village, run by residents to provide non-perishable goods to save you going out to the supermarket for just one or two items.
Items such as cleaning products, dry goods, cereals, biscuits, toiletries and batteries are available.
See reverse for a sample list.
There is also a supply of craft items, cards etc.
made by residents and suitable as gifts.

The shop is open from 10.00am to 12 noon on Mondays, Wednesdays and Fridays.

Fresh milk is available from the café


GARDEN CIRCLE
I am sure we are all noticing the falling leaves now and the trees becoming bare. It is winter after all and to be expected but it is also a time to look at the trees and shrubs in your gardens and see what needs cutting back a little. Don't forget if you need some help please feel free to contact me and our small group of volunteers will help if we are needed. I have noticed while going around the lemon trees that some need some pruning as the lemons are looking a bit small and probably in need of some fertiliser. I want to thank the people who have allowed me to pick the lemons and put them in a basket up in reception for others to take a few. I will try and keep on top of this until the lemon season is over. Please call me if you want me to cut some out for you as they can be a bit difficult to reach.
Of course it is pretty wet and muddy underfoot so don't go wandering off the paths too much as you could end up right up to your armpits in mud. Stick to the paths and we are still watching out for fallen branches and dead ferns and trying to clean up as we go.
We have two of our helpers back from overseas and another two away for a couple of weeks, so you will see people working in different areas from time to time. Enjoy our beautiful bush and garden areas as even in the winter they have a lot going for them.
Have a great week everybody.
Aileen Keery, Ph 817-3399

LOW IMPACT AEROBIC CLASS

Seabreeze Lounge, Mondays 9.30-10.15am
Grade 1. No charge
Trish Richards would like you all to know this group is continuing in Shirley's absence. In the meantime it is being well supported. All welcome.

BBQ ORGANISER

Having organised the Resident Monthly Barbecue for the last ten years I feel it is time to relinquish my position and allow someone new to take over. I will be finishing after the last barbecue for this year.
Is there someone in the Village who is willing to take over this role so that the barbecue does not cease? Please give it some thought and contact me:
Patricia Carr, ph 6417 or 817-0494


AQUASIZE GROUP
The Acquasize group meets every Tuesday and Friday mornings at 9am. All are very welcome to join our friendly group for 30 minutes of gentle exercise in the swimming pool. Always a great start to the day, so why not grab your swimming gear and towel and give it a go? Any enquiries please contact:
Esme Burge, ph 817-1844
Noel or Gillian Clark, ph 815-4116 or 6102

GLENBROOK STEAM TRAIN EXCURSION

Thunderous excitement, with steely eyes Peter and Ted rode the plates, as "Diana" powered down the straight towards the workshops, on a special run for our photo shoot. What a great group of like minded people, out to enjoy every moment, and the weather gods smiled on us. From a brief look at the survey sheets it's a positive "Yes" to try it again. So read your weekly Pinesong Press and watch this space, or you will never know what diabolical plans Ray has lined up. Eds. note: After the RSA those steely eyes softened to a shade of red?? For more action of the day visit the page
RECENTLY.
Ray Warren Apt 303 Seabreeze, ph 817-0682;
Mike Hogben Villa 404, ph 817-1464


PETANQUE

Our annual competition has taken place over the past two weeks with really good numbers taking part. Congratulations to Sue Leigh on becoming our 2014 Champ, beating husband Roger in the final. Thanks to all the players that made it such a great event.

Keith Burge


BRIDGE INVITATION

Anyone who would like to enjoy a social game of Bridge, or those who would like to brush up on their game, we play on Saturday afternoons in the Matai Room, usually from 1pm to 4pm. We would very much like to see anyone who is interested in this intriguing game. So come and join us. Please contact:
Riet Bergers on 816 8441 or Pat Crow 817 7568


WAITAKERE MOBILE LIBRARY
Visits Pinesong Village every Monday morning from 9.30 -10.15am parking just outside the main gates. All residents are welcome to visit and borrow material from our wide selection. If you don't have a current library card we can arrange to get you a new one. Look forward to seeing you on the "Bookbus" Gerard, Mobile Librarian.


500 CARD GAME
Anyone wishing to play 500 or would like to refresh their memory of this great card game, please join us in the Bayview Lounge on Tuesday mornings at 10am, or contact Pat on 817 7568. Look forward to seeing you there.
Pat Crow, ph 817-7568

VILLAGE CARE CENTRE CLINIC
Level 2 Seabreeze Care Centre
We have had several requests from residents to have a selected time for the Centre Clinic for consultations, blood pressure monitoring and wound dressings.
Monday through to Friday 10.30am- 11.30am and again 1.30- 2.30pm we will be available for consultation.
Weekends by arrangement – just phone and arrange a time.
Any queries don't hesitate to call us,
Regards David & team
David Halewood
Care Services Manager

PARKINSON MEETING
BAYVIEW LOUNGE
Tuesday 19 August 10am-12 noon

PODIATRIST
Will be here
Tuesday 19 August
Anyone who would like an appointment
please contact Reception

PHYSIOTHERAPY
I would like to take the opportunity to officially introduce Shivani to the team of physios at Pinesong.
Shivani will be on site all day Monday Wednesday and Friday as normal and appointments can be via the number on the front of the press 09 267-9560
She has been on site now the last 6 months periodically and we are getting some great feedback from residents about the addition to the service and I know she is enjoying working with you.
I will still be around occasionally but cannot commit to days for the next 4 months so my apologies there. I hope to back to normal by mid-July.
I would also like to remind people of charges for the next year.
Private physiotherapy consultation $60.00
Surcharge on ACC treatment $20.00
We have also recently updates the website to include a range of products including creams, hot packs etc. these can be ordered and paid for on line. I promise you the prices are much more competitive and you don't have to leave your apartment. If there is something you are looking for and you can't find it there, let us know so we can source it for you. The web address is: www.advancedrehab.co.nz
If you have questions about an injury, a pain or anything please come and talk to us advice is and always will be free.
Once again thank you for all your support and patronage we would not be here without it.
Sean Mchugh


REFLEXOLOGY
Raewyn Coburn who did her placement at Pinesong last year for her refloxology training is now offering reflexology service for the village residents every Tuesday and Thursdays on level 2 of Seabreeze. Anyone wanting an appointment please contact her directly. Her email address raewyn.auckland@gmail.com, mobile: 0211710807 or home number 8176089.


LAB TESTS
Labtests Time Change
As from Monday 16 June Labtests will be here at 2.30pm every Monday, Wednesday and Friday.






Cafe' & Restaurant


Sunday 3 August Roast Pork $13

Wednesday 6 August Braised chicken with steam vegetables and baked potato $14.50
Plated dessert

Friday 8 August Scotch fillet with onion rings, roast potato and salad
OR
Pan fried snapper with baked potato and vegetables
Plated dessert $16.50

Weekly Dinner Menu - 4th- 10thAug

Pick-up $10, dessert $2.50; delivery $2. Residents may collect these takeaway meals at 5pm from the Cafe.
Wednesday, Friday and Sunday dinners served seated in the Restaurant as usual


MEAL DELIVERY SERVICE

Could you please arrange with Staff or Caregiver for the plates to be returned to the Restaurant kitchen. Thank you.

Information regarding the Café

Dinner is available every Wednesday and Friday in the restaurant at 6.15pm
(please order at reception)
Apart from once a month when there is the residents BBQ
We also have a Monthly Function once a month (will be advertised in Pinesong Press)

A variety of frozen dinners are available for collection at $8 (pls see café for availability)

Residents may also order a dinner from our monthly menu which is printed at the back of the Pinesong Press (monthly)
These are either to be collected from the café around 5pm or we can deliver for a $2 charge

Sunday lunch only has to be booked if you have a large number of guests

Any queries please contact reception




PETER SNELL BOOK
WRITTEN BY PINESONG RESIDENT... AND
AN INVITATION TO YOU

AFTER four years of research, long-time Pinesong resident, Vern Walker, has compiled a book entitled:
PETER SNELL AND THE KIWIS WHO FLEW
A book that will be valued by those interested in sport at the highest level, and one about New Zealand's greatest-ever sportsman – voted Sportsman of the 20th Century.
THE INVITATION: Here is an opportunity to solve your Christmas present problems. You are invited to view the book which will be selling, as follows:

WHEN: Between 10.30am and noon
on Thursday 7 August; and
Friday 8 August at 5 to 6pm in the
SEABREEZE LOUNGE, Fireplace End.
If you are unable to attend, just phone 817-6002 and you can view the book at
Villa 104, The Terrace.

Payment: by personal cheque or bank cheque or correct cash ($45.00).
Cheques to be made payable to: DAVID LING PUBLISHING.
The publication embraces the decade (1956-1965) when Peter Snell, Murray Halberg, Bill Baillie and Barry Magee and a whole coterie of New Zealand middle and long-distance runners, amazingly, broke 23 world records/world best times, and won 14 Olympic and Commonwealth Games medals.
To quote from the Foreword by Sir Peter Snell: "Vern presents a fresh, new storyline, enhanced with many photographs that have never been published before. The most authoritative account of the era. This history is written with a sense of passion, by one who competed throughout the decade. It is a story that needed to be told, and is done so in a very engaging manner."
A substantial over-size book with 305 pages, and 124 photographs.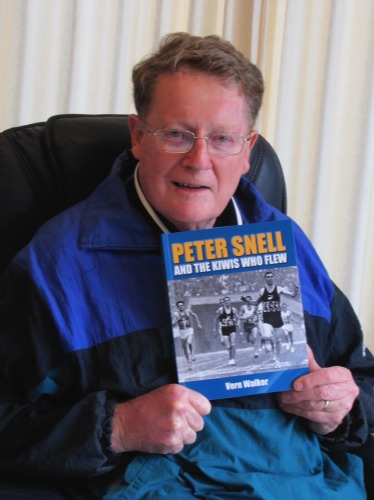 Hi,

As the creator and manager of this website I have endeavored to portray the everyday life and activities of our village from the
residents' perspective.

Your comments and contributions are welcome and to this end I invite you to use the
'Contact Us' page
.

Deryck Hunt