The first day of the rest of our lives


Official Notices


Hello everyone,

Another busy week around our lovely village. Tree Scape have been here since Monday under the watchful eye of Simone, making good headway on the trimming of our trees around the village.

In the last week, we have been made aware of a couple of different phone scams that have targeted our residents. One was SPARK advising our resident that they had been involved in a money laundering scheme and to provide bank information. The second one was someone claiming to be from NZ Government Grants and targeting individuals who have recently sold their homes. Please be extremely vigilant when answering phone calls and being asked for bank account information. Genuine companies would not require bank information, passwords, access codes or the like over the phone. If you are ever in doubt, please simply hang up.

Sadly, we say farewell to Maurice (Maintenance Handy Man) today. Maurice joined the Pinesong team in August 2008 and after 10 years of dedication to our village, he is hanging up his tool belt. Maurice is taking the opportunity to head down a different path within a Warehouse business. On behalf of Metlifecare and the Pinesong Team, please join me in wishing Maurice every success with his future endeavours.

Have a lovely weekend everyone.

Kind regards,

Katie Worthy
Village Manager

TEMPORARY MAINTENANCE STAFF
Due to the large workload the maintenance Department is experiencing at the moment, we have taken on two agency staff from today through for 4-5 weeks to help with maintenance and the rubbish collecting/grounds. So you may see Jeff or Pavel around the village or knocking on your door to change a light bulb etc over the next few weeks.

Washing Machine Taps
A reminder for those of you that have washing machine taps on the top of your supertub, we recommend that you turn off your washing machine taps once the washing is complete. Sometimes these hoses can split over time due to constant mains pressure and cause major flooding if not caught quickly, especially in an Apartment situation.

Thank you
Neil Forrest
Maintenance Supervisor

GARDENING TEAM
Hi all, I hope you have all enjoyed the action in the village over the last week, from scaffolding, pathways and NZ Strong's fences etc being removed to the opening of Manukau! It's been a big week!
Most of all our amazing Treescape guys, trimming back multitudes of Storm tree damage and pruning trees around the village! Great work!!!!
Now it has come to my attention the Garden Plots at the end of the Terrace! Who has which plot, and which ones are vacant? I have managed to find an old list which I have to date confirmed a few plots. If I have not contacted you regarding this, and you have/had a plot or are interested in obtaining one, please leave me a request form with your details and we will set up a new and improved system for the garden, I will also be getting new numbers to easily identify which plots are which.
Thankyou to those who have contacted Aileen in regards to the Organic bins, this will make life much easier for disposal of waste.
We are still endeavouring to continue with pruning and keeping the grounds nice and tidy. The sprinkling system for the croquet court is now being installed.
Last but not least a sad farewell to one of our team members Maurice, he will be missed greatly by us all!
Wishing you all a lovely weekend!!
Your Gardening Team Simone, David and Jack

NEW CLINICAL SERVICES MANAGER
Hi everybody,
As you know, I am your new Clinical Services Manager and I am hoping to get to know you all very quickly. However, before I get to know about you, I thought that you'd like to know a bit about me.
I was born in Salford (next to Manchester) and then moved just to the northern outskirts to Pendlebury.
My Dad was a 'Fifer' and so we went up to Scotland 3 or 4 times a year to visit my gran.
When I was 17, I met my future husband, who was also Scottish, (although his 2 siblings were English – complicated story!!!) We married 2 years later whilst I was doing my nurse training and we lived in South Manchester where I completed my midwifery and Health Visiting.
We soon went north to Fife, where we built our house (literally – I put the 300 tiles on the roof single handed) and where we adopted our 2 daughters. Sadly my husband died 24 years ago but I still have my 2 lovely daughters and 3 grandchildren. My elder daughter lives here in NZ, along with her son, now 25) and my other daughter is still in Scotland with her 10yr old and 7 year old.
I came out to NZ 12 years ago and love being here. I worked in a small private village with a hospital unit for 4 years and then went to work for Ryman when they opened their new village in Orewa. I was there for 7 years and then asked to open the new village in Birkenhead where I stayed for the next year.
I am now with you and looking forward to ensuring that you or your loved one get the best standard of care possible when you need it.
See you all soon
Linda

POOL COMPLEX CONDENSATION
With the seasonal drop in temperature, we are currently experiencing a considerable amount of moisture build up in the main room of the Pool Complex. We are investigating all possibilities, however, the most likely source is the lack of spa pool covers creating a lot more steam and heat.
Due to the old rubber ones breaking up and leaving particles in the water, these were removed.
New covers of a different material that have a longer lifespan have been approved and ordered but this could take up to three weeks to arrive. We did try a temporary cover on Wednesday night, but unfortunately due to the odd shape of the spas, this has proved unsuccessful.
All mechanical equipment has been checked out and the air heating unit is operating as it should.
We turned on the two exhaust fans in the main room on Friday 18 in an attempt to alleviate the amount of moisture build up. Before now, we have not had these fans on for many years as the noise they create has caused quite a few complaints from residents using the pool complex and also living in the area. I fully acknowledge the noise level and the disruption the fans being on all the time could cause however, we will more than likely need to find periods of time that these fans can be on daily. Currently one fan has a fault and this is being looked into this week. Rest assured we are looking into this issue and are very aware of the inconvenience the moisture and noise is causing some people.
Thank you
Neil Forrest
Maintenance Supervisor

GARDENING TEAM
Hello all.
I trust your all keeping warm in this unpredictable weather, confusing as to know whether it's Winter Autumn, or Spring... especially our plants
As some of you may have noticed we have planted lavenders and a variety of other plants throughout the village.
We have just finished planting on one of the northern banks of the pond and are about to proceed with mulch, there is still more work and planting to be done.
New plants for winter colour is in the process of happening at the front gate, now that our roses are in hibernation.
Pruning of the Plum trees are now a priority on our list including lots of mulch to be laid on the common areas of the Terrace and pond.
Work is now underway with the landscapers designing the new Manukau gardens. Exciting stuff!
Continuous weeding and pruning through out the village is on our radar as well as the requests.
Thanks to my hard working team we are achieving a lot, and weather permitting will continue at a good pace.
Friendly reminder that organics are Monday Wednesday Friday afternoons
Your friendly Gardening Team Simone, David and Jack

REMINDER TO RESIDENTS
To not park in mobility parks unless they have the correct permit on display.

NEW CELLPHONE PHONE LIST
If you are interested in having your cell phone number on a NEW resident cell phone list, please contact us at reception to put your number down.

GYMN
Just a reminder that guests are not permitted to use our gym at any time. This is a RESIDENT ONLY amenity. Guests are only allowed to use our pool if accompanied by a resident at all times. Thank you

PARKING IN FRONT OF RECEPTION
Now we have had our reception garden renovated by wonderful Pinesong residents, could we please refrain from parking on the broad white lines so that everyone coming into the village can enjoy it.
Thanks for your anticipated co-operation.

MOBILE LIBRARY
Please be advised the Mobile Library is here every Monday at the Main Gate from 9am - 10.30am

PLEASE REMIND YOUR FRIENDS AND FAMILIES THAT OUR SPEED LIMIT IS 15KPM

PINESONG WEATHER FORECAST
Geoffrey Hopkins has linked his weather station to the local 'grid' to give an even more accurate forecast. Take a look:-

Click on PINESONG WEATHER FORECAST



SING A LONG

Our next community sing-along is on Friday 22
nd
June at 3pm.
Come and join us in the Seabreeze lounge and enjoy the good old songs of yesterday.


OPERA APPRECIATION
The next meeting of our group will be on Friday 22
nd
June at 10am in the Matai room. This time our opera will be the Elixir of Love by Gaetano Donizetti. This is a comic opera so hope you will join us for an enjoyable hour or so.

Kate Methven Ph 817 9804


SUNDAY @ 3

Pinesong's Non denominational Church Services
Where:
Bayview Lounge

When:
Sunday, 24th June at 3.00 pm

Speaker:
Ann Marshall

Music:
Video presentation
Our speaker for our service this month is Ann Marshall. Ann is one of the pastors at the Blockhouse Bay Baptist Church and has spoken at our services on several occasions over the past few years. Once again, I'm sure you will enjoy what she has for us. We will be screening a couple of inspirational soloists on video. Join us also for our much loved hymn singing followed by a good chat over Tea/Coffee and biscuits. A warm welcome to everyone.

Deryck Hunt Villa 229 817-3755
"SIDE BY SIDE"

The Pinesongster's Half Yearly Concert is now only one week away.

Saturday Evening 30 June or Sunday Afternoon 1 July
.

In the past the Saturday concert has been somewhat more formal. The Sunday performance is followed by a light afternoon tea; this is an opportunity to meet up with members of the choir after the show.

Our Concert, entitled "SIDE BY SIDE, will feature medleys from well loved musical shows and other nostalgic favourites that have stood the test of time. Traditionally this is a time when friends and family can come together to enjoy the best that Pinesong has to offer. We suggest you invite your guests now and make it a special occasion for us all.

This year we extend a special welcome to all those residents newly arrived in our wonderful village. This is a great occasion to come along to meet some of your neighbours and enjoy one of the many activities at Pinesong. The symbol for Pinesong is centered on music and the environment in which we live. Our resident choir, The Pinesongsters, have been an integral part of village life from the start. We perform regularly outside the village and are invited to travel for special functions throughout Auckland and further afield.

Further information is available from members of the choir.

Doug Lilly
817 2199


RESIDENTS BIRTHDAY AFTERNOON TEA

Welcome again to our residence' birthday afternoon tea, this will be held on
Monday the 25th June.

Our speaker for this month will be Ian Fraser, Ian is the manager for field conservation at the Auckland Zoo – this should be most interesting topic folk.
Ian will be showing a lot of wonderful photos through our great technical system in the Seabreeze Lounge, so I look forward to seeing you on Monday the 25th June.

Cheers Joan Gasparich
RESIDENTS' BARBECUE – 6.15PM SEABREEZE - COST $6

WEDNESDAY, 27
TH
JUNE 2018
Tickets will be on sale at Reception on Tuesday,
19
TH
JUNE 2018 from 10.30am to 12-noon.
Thereafter tickets are available from Mary Lovelock –
817 9552 until mid-day Sunday, 24
TH
JUNE 2018


AMAZING YOUTH CHOIR COMING TO PINESONG

Saturday afternoon, July 14th at 3.00 pm in the Seabreeze Lounge
SAINTZUP Performing Arts (SUPA) is a performance based programme for all children aged 3–15 years. The Mission of SAINTZUP Performing Arts Trust is to create possibilities that enhance and nurtures the unique gifts that every child and young person brings when they join the programme. SUPA helps children believe that they can achieve their dreams and boosts their self-confidence in performing through the arts of drama, dance, singing and playing musical instruments.

We are so fortunate to have these young people coming to perform at Pinesong. Their singing and shear joy of presentation will create a lasting memory for you. Feeling a little older? well come to this concert and let their youthful joy and enthusiasm help bring you to life again! This is so good because some of our Residents Grandchildren will be performing!

For a glimpse of what these young people and their tutors are doing, go to the page
'Coming Events'.

Deryck Hunt 817 3755


ANGELO HENRY D'SOUZA
Is playing at Pinesong!!

"Piano Accordion"

On:
Sunday 15
th
July 2018

At:
2.30pm – 3.30pm

Venue:
Seabreeze main lounge

Come along and enjoy the sounds.

Gold coin donations are welcomed
BOOKMAN IS BACK
The bookman is again back selling books behind reception.
Come and have a look!
BLANKETS WANTED
I am collecting blankets or duvets for needy families. My daughter Deborah will collect them from my apartment. There is a great need with the cold weather, so all items welcome.

Trish Richards 817 3758


ARE YOU INTERESTED IN BIRD AND BUSH RESTORATION? WE WOULD LOVE YOUR HELP
There is a network of approximately 300 neighbours working on restoring the ecology of South Titirangi, from South Titirangi Rd to Wood bay.
The success of their weed, pest control and native plant programmes is growing steadily. The recent Kaka sightings in the Otitori Bay Rd for the first time in 20 years, Grey Faced Petrels found nesting in coastal reserves and reported increase in Fantails are all hopeful signs.
As network grows, so does its need for co-ordinated communication and volunteering in the nursery at St Francis Church.
We'd especially love a skilled person to manage our Facebook and Website communications. If you are interested please contact Rhyll on
027 344 9847, or email
rhyll@miracompanions.co.nz
for more information. Or please feel free to put your name forward to receive quarterly STNN (South Titirangi Neighbourhood Network) newsletters, to stay informed of volunteer weeding, planting and plant nursery potting up working bee days.
NURSERY RHYME CHARACTER MID YEAR SOCIAL

What a
wonderful Fairy Tale evening
we had last Saturday night. A big thank-you to all who made it so special. There are too many people to name. The murals drawn by Margaret Kemp took us back to our childhood. Thank-you Margaret. The costumes were terrific. Music, dancing and line dancing filled the evening. Those who stayed home missed a great night.

Jack and Jill

NURSERY RHYME SOCIAL EVENING
On behalf of the Social and Dance committee I would like to extend a huge vote of thanks to those of you who braved the elements and attended
our social on Saturday night
. The costumes were amazing and added to the fun and colour of the evening. A good time was had by all and we again thank Deryck, Mike, Bob, Wally and the Bar Team for their support. Also thanks to the wonderful Line Dancers who provided the entertainment.
We hope to see you all at the end of the year when we have some more surprises for you.

Regards
Anna, Judy, Jean, Margaret and Mary

SENIOURNET WEST AUCKLAND
Have moved premises to the RSA, Railside Avenue Henderson; parking available. Handy to train, buses and the Mall. Help and Information days held 2nd and 4th Tuesday of the month from 10.00am to 12 noon.
If you need help with your computer/device or a refresher on something you have forgotten, don't hesitate to call in and see us.
Windows, Apple and Android systems covered.

Phone 837 7600.

SCRAPBOOKING CALENDAR FOR THE YEAR 2018
First Monday then first Friday of the Month alternately.


Monday Friday

June 11
th
July 6
th

August 6
th
September 7
th


This is a trial to see if Monday is better; time will be 9am – 12noon or longer if you want.
All welcome


Note:
June - second Monday due to Queen's Birthday weekend.

Ph Tina 817 1940

KNITTERS NEWS
I have to say "Well done" to all the Residents who contribute to our cause. In the last article I said that we had 44 garments to deliver, but since going to Press the amount had increased to 75! I believe that the number of rugs was the most I have taken so far, so keep up the good work Ladies during the coming winter months. That is truly an amazing effort; the quality and variety was of a very high standard and Louise was delighted to receive our contribution. Many thanks to all the people who responded to my request for zipped bags. If Louise in not in her office I sometimes have to leave the full bags there and pick them up on my next trip so now I have some to spare should that happen. It also makes the task of keeping the various yarns in order so much neater and easier to deal with.
Anne Clarke, 021 1128523
OVER 60'S
Want to enjoy a friendly social group of people? Well, come along and join us. We're a group of both singles and couples, over the age of 60, who enjoy a get-together and make new friends. We meet in the club every fortnight on a Monday between 12.00 noon and 2.00pm. Membership is open to financial members of Titirangi RSA and costs $5 for the year. We enjoy a shared lunch once a month and we have outings to interesting places from time to time. Some members play pool, some play dominos, some bring their craft work along (like knitting or whatever), some just enjoy having a chat and solving the problems of the world! If you feel you'd like some company, then come along.
Colleen Osborne 817 6112
CROQUET

A reminder that the entry list for the Lorna Stewart Triples is on the board until Friday June 8th. Please don't miss the deadline so that the draw can take place at 2pm on Monday.

Janet Cross V112 8176066
SNOOKER AND POOL
Looking for new players of any level to join our group.

Tuesday and Thursday at 2pm
in the Snooker room next to the bar in Seabreeze lounge next to the bar.

Any further information please call

Bill Mules 827 4747

THE BAR

Hi everyone,
On behalf of the Bar Team, please find below some friendly reminders;


Glasses from the bar are only available for use when bar is open.

Should you require wine glasses outside of the bar being open, please see the kitchen/café and return them accordingly.

In the event you entertain/socialise in the bar area when the bar is closed, please leave empty bottles on your tables to be cleared, not on the bar.
The bar team is run by resident volunteers and are not responsible for tidying up outside of bar hours.

We appreciate everyone's consideration and co-operation with the above.

We look forward to seeing you all at the Bar!

The Bar Team
INDOOR BOWLS NEWSBREAK
Two new bowls mats have arrived recently and are now in use. Come up to Seabreeze on Wednesday night or Thursday afternoon and try them out. Newcomers to bowls most welcome and can be shown how to play.

Contact Clive Coleman 817 1971


LINE DANCING
Classes start again on Wednesdays

Wishing everyone a happy New Year.

Gillian Ph 817 8991


WALKING GROUP
Thursday Walks for February
As we had no bus driver for our first February walk we walked locally.
From the Avonleigh Rd track through to Godley Rd. We crossed to Stottholm and then left into Dolbear and Hilling St. Walking around Crum Park most of us climbed the steep pathway to Titirangi Rd. From there down Golf Rd to Hilling, Stottholm and home.
Our second walk Geoff drove us to Onehunga Wharf where we parked by 'The Landings' hotel. We crossed over and walked the coastal walk to Waikaraka Park and beyond. The Manukau Harbour looked beautiful with the tide in. Geoff sailed away and Maurice drove the bus for our final two walks.
The first trip was to Exhibition Drive off The Scenic Drive. This is a 1½ hour return walk along an almost flat easy walkway.
The final walk for February was to Taunton Terrace above Green Bay. We walked the bush track down to Blockhouse Bay Beach. From there up Blockhouse Bay Road to the track Sandy and Flounder Bay. Up through a steep bush track returning to Blockhouse Bay again and back to Maurice at Taunton Terrace.
The weather has been excellent for walking, sometimes too hot but we managed well.

Jocelyn Cartwright Ph: 815 4127

CARD MAKING GROUP
In the craft room. For 2 hours on Thursday mornings 10-12pm.
Also we have greeting cards on sale at the same time.
Come and have a look or join us and make your own, its fun.

Norma Lee


VILLAGE SHOP
The shop is open on Monday, Wednesday and Friday from 10.30 am till 12.30 pm.

Joslyn Tierney
Phone 817 5799


GARDEN CIRCLE
Lots of things happening around the village with interest mainly focussed on Manukau, watching the scaffolding coming down was interesting, such teamwork. We are also wanting to see how the landscaping turns out. I want to wish all the people returning to the new building the best of luck and hope they are happy to be back in their new homes.
No need to be worrying about watering the new areas in the bush at the moment but keep looking around as we still have more planting and mulch to go in. Have you seen the Roosters yet?
June meeting reminder is on Wednesday 20th June at 2pm in the Matai Room. All residents are welcome and we are usually through by 3pm so you still have to time to go off and do other things.

Aileen Keery - 817 3399

THE BLOKES SHED

This is a facility for use by all capable residents of Pinesong. Ladies this includes you, please feel free to avail yourself of a remarkable DIY area with a wide range of equipment.

To keep us safe, all users of the Blokes Shed are requested to follow our Housekeeping Rules. As displayed on the entrance door.

Only residents of Metlifecare Pinesong may use the amenities in this workshop.

Prior to using the workshop you must have signed an "Authority and Disclaimer Form". These are available at Reception.

To gain access to the "Blokes Shed" only one key is available from reception. You must have already signed an "Authority and Disclaimer Form". You are then required to

"personally sign in and sign ou

t

"

for the key each time you visit the shed. Individual keys will not be issued.

If you wish to donate an item, please contact Evan Rudolph (Assistant Manager) or Mark Leaf (Maintenance) in the first instance. Please do not take items directly to the Workshop.

Please be aware that any donated item will become part of the facility and may be stored, used or discarded at any time.

Please respect other users

CLEAN UP THE WORK AREA AFTER USE.
FITNESS CENTRE USERS
If you use the air conditioner please make sure you turn it off.
And to those fresh air fiends who open the windows and turn the air con on set to 17 degrees, probably late afternoon, do one or the other, not both. Then please close the windows or turn the aircon off. Those who come early in the morning (me!) will thank
you for it.
Tony Cross
AA SENIOR DRIVING COURSE

Keep Your Freedom and Independence
Are you a member of the AA? Are you 80 plus?
Did you know that you can book a FREE in-car coaching session? A few days ago I made use of this service and was mightily impressed. An AA driving instructor came to the village, we drove in my car for a whole hour while she observed my driving style. Before we took off she checked the following: 1) vehicle check, 2) cockpit drill, then while driving, 3) communicating and signalling, 4) car control, 5) hazard identification,6.tips, hints and feedback. My correct seating position was also checked. If this is for you: Phone 0800 223 748 or go to: aa.co.nz/senior-driver and make an appointment. My instructor was Shifali Patel. The whole session was well worth the time it took. And pleasant!

Margaret Topzand, 817 3893


WEARING HELMETS WHEN CYCLING
You will have noted there has been some controversy about this in the newspapers.

I can assure you it is not a requirement in the Pinesong Gym! As well you won't have to cycle into the wind even with the air-conditioning on at full blast.

We have three cycles all of which are easy to operate. Come along and try. Even ten minutes or so each day at the lowest level is a start. If you need help to get started, give me a call.

I will also be there on the Sports Day on 11 April and will be organising a competition to see who can go the longest distance in one minute – well that's the plan at the moment – watch this space.

Tony Cross

TITIRANGI RSA DINNERS
Our amazing dinners include a $20 buffet with roast vegetables or salad with also a Dessert included. We have a courtesy van that runs every hour on the hour on Wednesday, Thursday and Friday which goes directly to your door to pick up anyone willing to join us here at the RSA. They also get dropped back when they are ready to go home. To book for this just make a phone call and let us know how many and what time 817-6415.
We have regular exciting entertainment, comedy nights, open mic nights and fundraisers. Every second Friday we have live music, for example Shane and the Shazam! band Is performing Tomorrow from 8.00pm which is $10 a ticket, and coming up we have a Dire straits tribute band in June. The RSA puts on entertaining Quiz Nights every second Tuesday of the month from 7.30pm and the last Thursday of the month we have a lunchtime quiz at 1.30pm which is always a good laugh. We have many activities available such as a golf, pool, snooker, darts and fishing. Every couple of months The fishing and golf sections go out on day or over night trips, which they all enjoy. We also have 500 club where they meet every Tuesday around 1.00pm.

For pictures of upcoming events you can check out our facebook page
https://www.facebook.com/titirangirsa/?ref=bookmarks
Laura Richardson
Village Care Centre Clinic



NEW CLINICAL SERVICES MANAGER
Hi everybody,
As you know, I am your new Clinical Services Manager and I am hoping to get to know you all very quickly. However, before I get to know about you, I thought that you'd like to know a bit about me.
I was born in Salford (next to Manchester) and then moved just to the northern outskirts to Pendlebury.
My Dad was a 'Fifer' and so we went up to Scotland 3 or 4 times a year to visit my gran.
When I was 17, I met my future husband, who was also Scottish, (although his 2 siblings were English – complicated story!!!) We married 2 years later whilst I was doing my nurse training and we lived in South Manchester where I completed my midwifery and Health Visiting.
We soon went north to Fife, where we built our house (literally – I put the 300 tiles on the roof single handed) and where we adopted our 2 daughters. Sadly my husband died 24 years ago but I still have my 2 lovely daughters and 3 grandchildren. My elder daughter lives here in NZ, along with her son, now 25) and my other daughter is still in Scotland with her 10yr old and 7 year old.
I came out to NZ 12 years ago and love being here. I worked in a small private village with a hospital unit for 4 years and then went to work for Ryman when they opened their new village in Orewa. I was there for 7 years and then asked to open the new village in Birkenhead where I stayed for the next year.
I am now with you and looking forward to ensuring that you or your loved one get the best standard of care possible when you need it.
See you all soon
Linda

COMPLIMENTARY NURSE CLINIC
We have a complimentary nurse clinic on a Tuesday and Friday morning from 10.30am – 11.30am to check your blood pressure and talk through any concerns you may have. We can also provide other services at the clinic such as wound care and injections and a fee is on-charged to cover materials. If your wound is covered by ACC the charge for the dressing is free of charge. If you visit the nurse outside of the clinic hours a registered nurse consult fee will apply, plus cost of materials. If you have any questions about service costs please ask. Seabreeze level 2.
Celerina

PINESONG BEAUTY

Skin feeling dry, flaky, in need of a boost?
Treat yourself to a facial treatment at Pinesong Beauty.
Benefits include deep cleansing & dead skin cell removal to reveal a more luminous skin, nourishing face, neck, shoulder massage & mask to feed the skin. Very relaxing & beneficial. Your skin will thank you.


Call Kimberley on 817 0649 to make an appointment for a facial


EXERCISE CLASS WITH SHIVANI
Hi there, just letting you know that we are now back to Monday mornings for our amazing exercise class at 9.15am

Thank you Shivani

ECARE
Sonja from Ecare is visiting

Monday 13
th
August at 10am
up on Level 2

Ecare is a self monitoring of weight and blood pressure. If you'd like to know how to do it please come along


PODIATRIST CLINIC
The 3
rd
Tuesday of every month.
The next Podiatry visit is Tuesday 17
th
of July, please contact reception for an appointment.

HOSPITAL SHUTTLES
St. Johns hospital Shuttle for:


Waitakere

Book 3 days ahead of appointment.
0800 000 606
$10 return


Greenlane hospital
Auckland hospital
North Shore hospital:

Book 3 days in advance.
0800 809 342
9.30-4pm
$6.00 each way


DO YOU WANT TO IMPROVE YOUR BALANCE AND PREVENT FALLS?

Hi everyone, we are looking for 8 people to take part in a strength and balance trail using a electronic device (provided) featuring 6 exercises that have been taught to thousands of people across the Auckland region. Quintin Derham the Tai Chi teacher at Pinesong has developed a programme that is easy to follow and can be practised each day at your home.

A group of people have already used the device and found it really useful for improving balance and easy to follow.

Next Tuesday (21st November) at 9.50am after the Tai Chi class in the main hall Quintin will be meeting people to discuss the programme and get you started.

If you want to improve your balance and stability then here is a wonderful opportunity to get started. If you are interested please contact Quintin on 021 536768 or email
quintinderham@gmail.com
ADVANCED REHAB
Hi everyone, with April just over a week away, we would like to take this opportunity to thank both residents and staff for your continued support and advice of a few changes.

Rachael will be on site Tuesday and Thursday 8.00 to 4.00pm
Shivani will be on site Monday, Wednesday and Friday 8.00 to 3.30pm (Saturday by appointment)
We now have an eftpos machine in clinic and will no longer be placing charges on account with Metlifecare.

Best wishes
Mandy Dutton
Receptionist

CHIROPRACTOR

Tim Archer, a registered Chiropractor, has seen me regarding his chiropractor services. Tim is able to come into the village to see residents. Tim uses an activator adjustment instrument to deliver chiropractor adjustments, making it very gentle and comfortable for patients. If you are interested in seeing Tim could you please call me on 817 0653, as I would like to have an idea of resident numbers before we proceed any further.
Leanne MacDonald, Care Services Manager


AUDIOLOGY ASSOCIATES

A number of residents may have been affected by the recent closure of Applied Hearing.
Should you require assistance with your hearing aids, we are happy to look after you and can service any aids including Rexton.
Locations:
Blockhouse Bay:
2 Kinross St, ph 627 2105;

New Lynn:
Totara Health Centre, Level 2,
1 McCrae Way, ph 827 0709;

Te Atatu South:
183 Te Atatu Rd, ph 838 9757
REFLEXOLOGY
Raewyn Coburn who did her placement at Pinesong last year for her refloxology training is now offering reflexology service for the village residents every Tuesday and Thursdays on level 2 of Seabreeze. Anyone wanting an appointment please contact her directly. Her email address raewyn.auckland@gmail.com, mobile: 0211710807 or home number 8176089.


LAB TESTS
Labtests Time Change
Labtests will be here at 2.30pm every Monday, Wednesday and Friday.



Cafe' 66


Restaurant Notice



TRY OUR NEW WINTER WARMERS:
Orange hot chocolate topped with marshmallows and chocolate sauce $5.00
OR
White hot chocolate served with meringue $5.00
Orit

KITCHEN CROCKERY
Can residents please check to see if you have any dishes that can be returned to the Café. Thank you.


Ordering a meal: Bookings are essential for Wednesday and Friday Dinners at 6.15pm.
Meals should be booked at Reception before 1pm the day it is required. Meals outside of bookings are at the Kitchen Manager's discretion.
Please order through Cafe for delivery or collection for the 5pm meals. Pick-up $12, dessert $2.50; delivery $2. Residents may collect these takeaway meals at 5pm from the Cafe.
Wednesday, Friday and Sunday dinners served seated in the Restaurant as usual.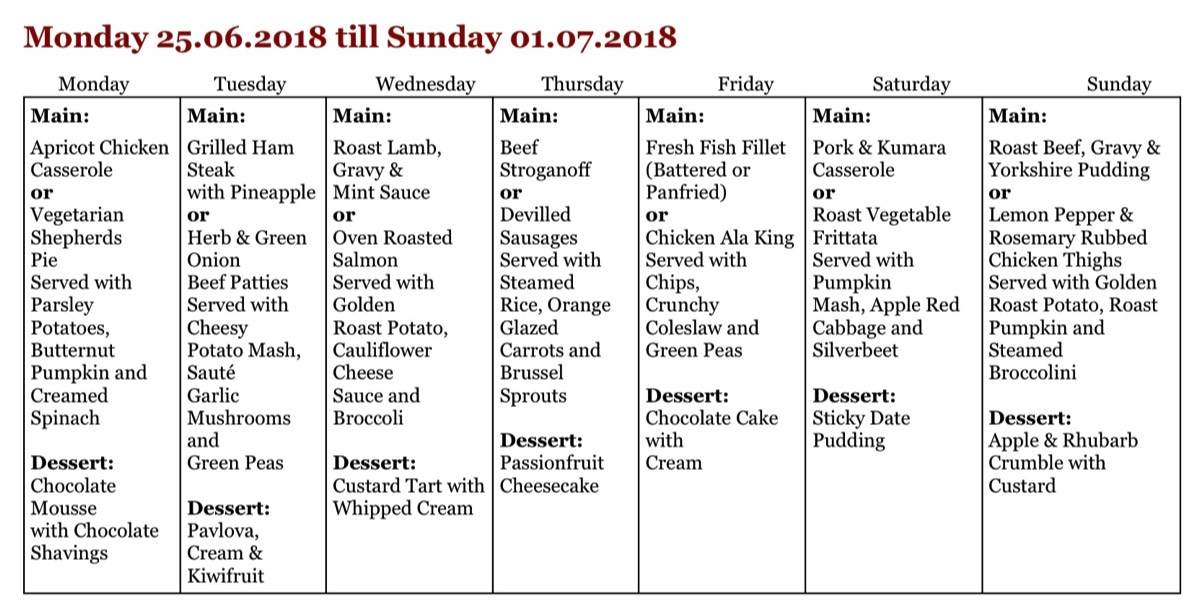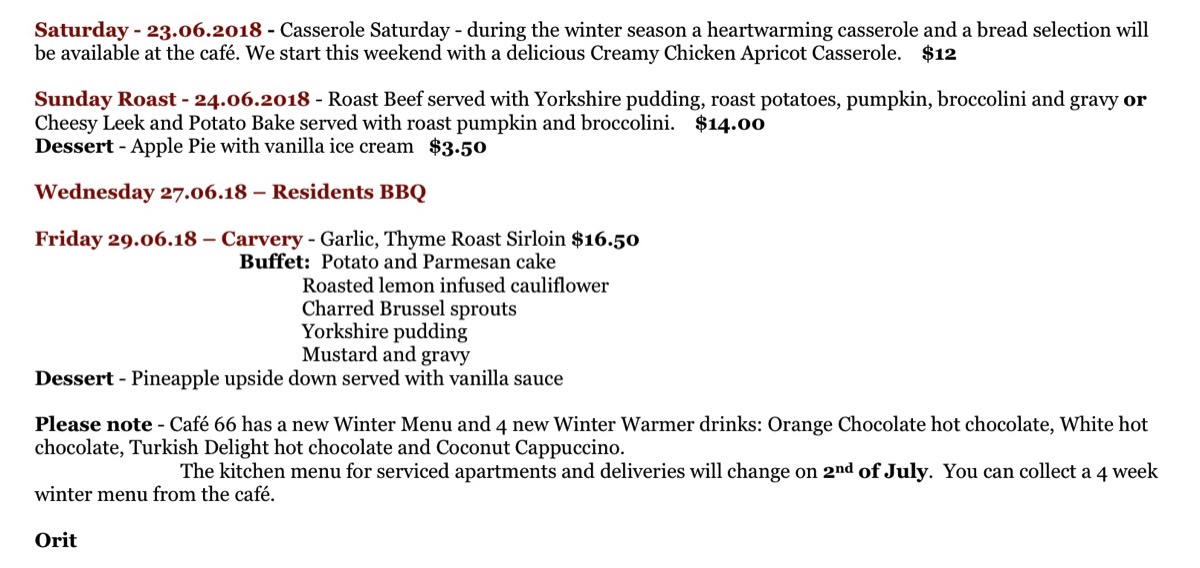 MEAL DELIVERY SERVICE


Ordering a meal: Bookings are essential for Wednesday Dinners at 5.15pm and Friday Dinners at 6.15pm.
Meals should be booked at Reception before 1pm the day it is required. Meals outside of bookings are at the Kitchen Manager's discretion.
Please order through Cafe for delivery or collection for the 5pm meals. Pick-up $12, dessert $2.50; delivery $2. Residents may collect these takeaway meals at 5pm from the Cafe.
Wednesday, Friday and Sunday dinners served seated in the Restaurant as usual.

Hi,

As the creator and manager of this website I have endeavored to portray the everyday life and activities of our village from the
residents' perspective.

Your comments and contributions are welcome and to this end I invite you to use the
'Contact Us' page
.

Deryck Hunt