The first day of the rest of our lives

OFFICIAL NOTICES
Hello Everyone,


Finally, the sun is shining….and long may it last!
Thank you to all of you who attended Monday's Civil Defence session, it was great to see such a large attendance; I found it really useful with some great 'down to earth' advice. As soon as I receive Ricky's summary of his presentation, I will ensure everyone receives a copy.
I can now confirm that the evacuation for Seabreeze will take place next Wednesday at 2.30pm. We plan to set the fire alarms off on each floor at 2.30pm, and will let them sound for 10 minutes. You will see that we will have 'observers' posted on each floor and exit points, so that we can debrief afterwards as to what worked well (or not!). The lifts should NOT be used during the evacuation. If you are expecting visitors around this time, please advise them that we are conducting a drill, as we will not be able to allow anyone into Seabreeze while the alarms are sounding.
We will be putting up notices around Seabreeze early next week to remind everyone of the procedure, but if you have any concerns or questions, please do come and see us.
I'm looking forward to our morning sessions next week, where we will run through the evacuation procedure for all the apartment buildings.

With the elections looming, it's timely just to confirm that we do not allow mail drops of any advertising or political material throughout the village. We do allow information leaflets to be placed in the residents area behind reception for collection, and as with previous elections, we do not allow organized political meetings or forums to be held at the village.
I also need to advise you of two resignations; Nick Gyde will be leaving us on the 11 September to take up a new role in Project Management. I would like to acknowledge the energy and knowledge Nick has given to his role here at Pinesong, and wish him all the very best for his future. Lynne Abercrombie (General Manager, Operations) also leaves us at the end of September to pursue travel and other personal interests. Lynne has worked for Metlifecare for 15 years, and will be missed by the teams throughout the company.
I hope you all have a lovely weekend.


Theresa Henson
Village Manager


AUGUST FIRE CHECK REMINDER

Please be aware that Chubb will be on-site Monday the 25th of August to carry out monthly fire checks in all apartment buildings - This does include testing alarms in each common area once for a few seconds.
No access will be required into any apartment.

Nick Gyde
Maintenance Supervisor

WALLMOUNTED BATHROOM HEATERS
The village has been surveyed for Goldair Bathroom heaters (Model 3108 &3109)
These were standard installations in Harbour, Anchorage and Waterview apartments as well as the Town houses 201 to 220. Additional locations have been noted where Gold air replacements have been carried out.
The next step is to approach the Goldair supplier and determine when replacement units can be obtained with a view to having electricians remove and replace them.
We advise residents not to use any of the affected Goldair heaters. We do not have any information when the remedial action will be undertaken but we will keep residents in touch as information comes to hand. Any issues or queries regarding this situation should be referred to Evan.
Thank you all for your co-operation with this matter.

Evan Rudolph (AVM)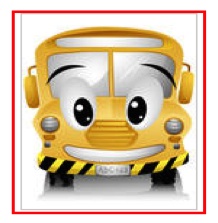 On the Buses


SPECIAL EDITION


West Auckland bus services from:
Sunday 3 August 2014
Those with access to the internet visit.
AT.govt.nz/westchanges. Otherwise to check timetables. Call 09 366 6400.
Mike Hogben Villa 404, ph 817-1464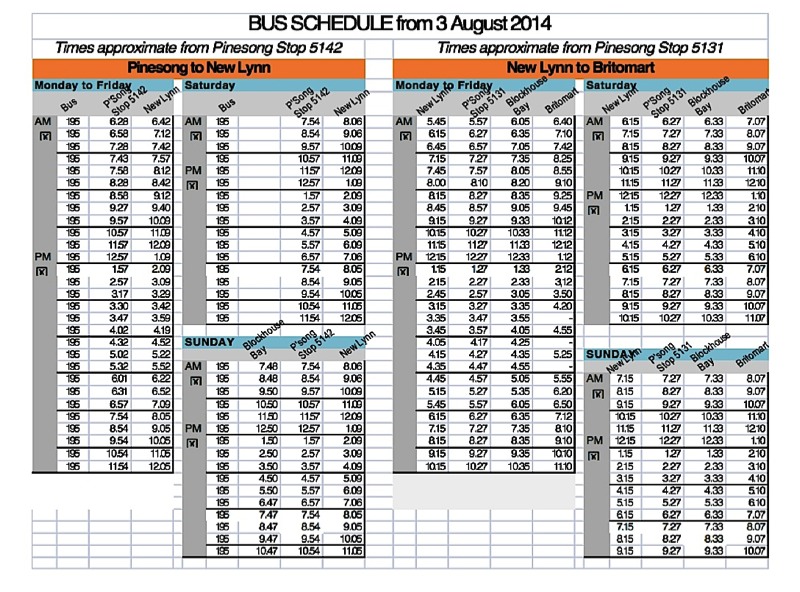 Question & Answers (Q&A) section

Q: Where can I get a copy of the new Western Bus Timetable ?
A: Timetables are available from buses using the Avonleigh Rd route, or the Customer Service counter of the New Lynn train station. Auckland Transport (AT) have also produced an informative leaflet called "Changes to West Auckland Bus Services"
You can check timetables by phone. Call 09 366 6400
Or for those with internet access visit AT.co.nz

Q: Will my Gold Card still work with the changed bus services ?
A: Yes your Gold Card will still be accepted by all AT buses, trains and most ferries, just ensure you receive a paper ticket. Remember with AT the Gold Card concession starts at 9:00 am and continues through to midnight.

Q: Which bus stop do I use to go to New Lynn / Lynn Mall ?
A: Use bus stop No 5142. Walk up to the Pinesong main entrance, turn left and the bus stop for New Lynn is straight ahead.

Q: Which bus stop do I use to go to Green Bay / Blockhouse Bay / Britomart ?
A: Use Bus Stop No 5131. Walk up to the Pinesong main entrance, cross over Avonleigh Rd. to the bus stop on the other side.

Q: Do I have to have an ATHOP card
A: The short answer is NO, but it is more convenient even if you only use it occasionally.

Q: How do I get an ATHOP card.
A: The simplest way is to walk up to the Pinesong main entrance, catch a bus to the New Lynn rail station. Walk inside to their Ticket sales counter and buy a card for cash. If you go to the Customer service counter they only accept eftpos. Present your Gold Card and the sales person will load the details and you will always receive the Gold Card concession.

Q: What will an ATHOP card cost ?
A: The AT HOP card costs $5 until at least 31 January 2015. The minimum top up is $5, there is no longer a top up fee.

Mike Hogben Villa 404, ph 817-1464


NOSTALGIA SHOW –Tickets $2
Thank you! Saturday the 6 September show is now full. Tickets for Sunday 7 September show will be on sale Friday 29 August from 10am to 12 noon in the foyer by Reception.
The show starts at 7.30pm.
Family and friends welcome. The bar will be open for refreshments.
Bob Helleur, ph 817-8996


SUNDAY@3
Pinesong's Interdenominational Church Services
Where: Bay View Lounge
When: Sunday, 24 August at 3.00pm
Afternoon Tea at end of service
Speaker: John Mynett
Choral items:Church of the Saviour singers
John is a retired Vicar from the UK, and came over to NZ a few years ago to be closer to family. He comes to us from the Church of the Saviour in Blockhouse Bay. We also look forward to hearing from their Choral items, singers who have been with us on past occasions. This will be another great service and we warmly invite you to join with us. Enjoy singing our much loved hymns followed by a good chat over Tea/Coffee and biscuits.
Deryck Hunt Villa 229, 817-3755

ON THE BUSES
- trains & ferries
PINESONG TO NEW LYNN

AND RETURN

Have you all got the
new bus timetables sussed out?
Don't be disappointed with the next trips they will be simple and some you will have done before, but the times and route numbers could have changed. One thing I have found since living at Pinesong a number of residents have moved to Auckland to be near family, so aren't familiar with our suburbs and which way to go: eg To go to New Lynn by car I drive through our main gates and turn right and go down the hill, to go to New Lynn by bus I walk through our main gates and turn left, the bus comes up the hill. Confused ???

New Lynn here we come!!

Walk up to our main entrance in time to catch the bus at approx. 9:57 am. Perhaps get there a bit earlier. Buses, trains and ferries wait for no man or lady.
Turn left at the entrance and your bus stop 5142 is straight ahead. Catch the bus No 195.
At the New Lynn interchange have a wander around, check out the train station (cs) perhaps walk through to Lynn Mall (cs) for lunch.
But most importantly decide which bus you will return on to Pinesong, let's say after lunch at 2:57pm.
After an enjoyable lunch, walk back to the train station, catch your 195 bus from bus stop No 5910, that's the one under the big blue 4A sign.
When to get off? Ask the driver to let you off at Pinesong in Avonleigh Rd. Or, as you travel along Castleford St past the dairy on your right, the bus will climb the rise then slow down at the "Give Way" sign before turning left. At this point press the stop button.
To check timetables. Call 09 366 6400 or visit AT.co.nz.

Mike Hogben Villa 404, ph. 817 1464
email:
curly001@xtra.co.nz
RESIDENTS BIRTHDAY TEA

Monday 25 August,
3pm Cafe area
To welcome, and celebrate Residents' Birthday for the month of August. Please wear name badges. Terry Batt will be the speaker.
His topic will be, "Life in the Fire Brigade."
A big thank you to those people who came forward and offered their assistance with hosting the Birthday Afternoon Teas.
Joan Gasparich


LAWN BOWLS SPRING EVENT

Pinesong lawn bowlers are planning a Spring Event on Saturday 27th of September. Exact details are still being developed but will consist of a morning competition followed by a BYO picnic lunch and then a few more games in the afternoon.
We are in need of new players and with the warmer weather in sight this is a good time to join us and take up our wonderful game.
We have a number of old bowls that we can lend you to get you started. We can also arrange some coaching to meet your needs.
To our current players please diary Saturday the 27 September for our Event Day. To prospective players please contact one of our committee and we will make you most welcome. To all Pinesong residents we would love to see you watching the games on the 27th bring lunch and enjoy the occasion.
Entries will commence this Saturday – see notice board in Pool.
Committee members are:
Geoffrey Hopkins 8168067, John Crow 8177568, John Horder 8171050, Ray Redman 8168451, Rob Campbell 8170593, Val Eade 8170470.


SURPLUS BOWLS

We currently have some 21 sets of mainly old bowls, and bags which appear to belong to no residents.
These can be viewed at either the Bowls and Croquet shed, adjacent to both greens, or in the lower Billiard Room (keys available from Reception).
We would request that if any of these sets are owned, please claim them by 5
September, as we intend keeping only sufficient sets for visitors, casuals, or new members for training purposes.
Any surplus bowls and bags will be disposed of to create more room in storage areas for active players.
Any enquiries please contact either:-

Ray Redman 816 8451
John Horder 817 1050
Geoff Hopkins 816 8067

404 JAZZ

Our next meeting will be held at 7.15pm, Thursday 28 August in the Matai Room, featuring the St Petersburg State Orchestra with Lionel Hampton on vibes. Outstanding! Al and Dennis


GARDEN CIRCLE

The big tree is looking much better after its hair cut, a bit battered and bruised but at least a lot safer. Roll on summer so everything will start looking better and brighter.
Well for a bit of bad news, as you know we have critters lurking in the bush and it has been a treat for residents going hunting to see what they can find. Long time residents donated to the village a much loved frog which they had lovingly painted and renovated. It was placed with great care in the first Bush Hut and had a plant placed neatly in its back. After just one week this frog has disappeared and after much searching it has not been located. The plant was taken out and left but the frog has gone. If anyone has seen or heard of the missing frog could you please either let us know or if it could be returned to its home in the bush it would make us all really happy. It is a very green frog with orange on its body and legs. Please everyone keep an eye out for this frog as it had a nice home by the hut and is a cause of sadness that it could be just removed like this.

Spare Lemons needed
Still looking for any lemons that people do not want, the basket is now empty so if we do not have any to replace them I will take the basket away until next year. Thanks to all that have kindly donated lemons for other residents to enjoy they have been gratefully accepted.

Aileen Keery, Villa 208, ph 817-3399


PINESONG TO ... A MYSTERY DESTINATION???

THURSDAY 20 NOVEMBER 2014
After the Ngatea Gardens trip we have had several inquiries as to the next one. So pencil the above date in your diaries. Threats and cajoling will not work, it's a real mystery, to us too!! (Although thinking about it bribery and corruption at Happy Hour might work?) The 50-seater bus is pencilled in, so we will be going somewhere. Even booking the bus was tough with pre-Xmas, Xmas celebrations getting into gear. But never worry, never fear, not while Ray and Mike are here. All will be revealed closer to the date.
Ray Warren Apt 303 Seabreeze, ph 817-5500
Mike Hogben Villa 404, ph 817-1464


PETANQUE PLAYERS

As we get a clash each month when it's Residents' Birthday Afternoon Teas and quite a few people enjoy this occasion to hear the speakers and have a catch-up it has been decided to not have Pétanque on that Monday. Of course if anybody wishes to still play please do as you would any other day, the facilities are there for all of us at any time. So on the last Monday of the month no official Pétanque. If anyone wishes to join us on the other Mondays we begin to play at 3pm until approx 4pm. It is a fun group and all are very welcome.
Keith Burge and Aileen


GENERAL ELECTION

An outline of the Party Political policies has been prepared by Family First. Free copies available at Reception.


LOOM BANDS

Have you heard about them? Have you seen them? The latest craft craze popular with school-age children.
If you want to know more, then come to the Fireplace End in Seabreeze Lounge between 3 and 4pm this Saturday 23 August.
Jamie (aged 10) and Kara (aged 7) will demonstrate what it is all about. You may like to try it yourself or purchase a little trinket. Vel Fleming, 5C, ph 816-8384


CARD MAKING GROUP
We have lovely hand-made cards by our Group for sale every Thursday morning in the table tennis room 10am until midday. Come along and have a look.
Norma Lee, ph 6924
PETER SNELL BOOK SELLS FAST
The book:
PETER SNELL AND THE KIWIS WHO FLEW
got a sharp buying response from residents. With birthday presents in mind, or an early decision to store away for Christmas, nearly double the projected quota sold in two days. The quickly diminishing advance supply is still selling at the author's villa in The Terrace. Special thanks must go to John Addis, who designed the promotional page in a recent copy of
Pinesong Press
.
Vern Walker, Villa 104, ph 8176002
■
A resident highly recommends Vern's book. -
Editor

ORCHID LOVERS
I have several flowering Australian Dendrobiums. Is there an orchid lover who would like to swap with me for another flowering orchid? Some flowering Cymbidiums would be lovely.
Dendrobiums are easy to look after, very similar as Cymbidiums.
Anke van den Brink, 429, The Oval, ph. 817 7063
BARBECUE
Wednesday 27 August, 6pm
Café area
Tickets will be on sale in the Reception area on Tuesday 19 August from 10.30am until 12 noon. Thereafter from Patricia Carr, ph 6417/817-0494 until 21 August.
SEPTEMBER QUIZ
There will be a quiz on 6 September as usual – 4pm in Bayview – well before the Nostalgia Show, which of course, is also being repeated on Sunday.
This time entry will be free. There will be no money prizes, but chocolate fish will still be on the line!
Tony and Janet Cross
HAPPY HOUR BUS
The Happy Hour Bus Pick-up
will start on:
Friday, 8 August
Pick-up time from 4.15pm
Drop-off time from 5.46pm
The Pick-up will start at the Terrace and continue around the Village
LISTEN FOR THE 'BEEP' OF THE HORN FROM THE BUS

MUSIC EVENTS CALENDAR

Please help yourself, if you are interested, to a copy of The University of Auckland's School of Music and Events Calendar for the second half of 2014.

They will be behind reception. Ann (4P)

RESIDENTS BIRTHDAY TEAS

I would like to bring to your attention that we are looking for two to three people to assist with hosting the Birthday Afternoon Teas. It is the same principle that was brought up at the residents meeting last Friday. That unless I do get support with assistance this could be something that won't be able to continue.
It is only once a month. The last Monday of every month. With two to three more people this would only mean doing your turn three or four times a year.
I would appreciate a response asap so we can organise a roster. Contact:
Joan Gasparich, ph 817-7606

CROQUET@PINESONG

The Kumfs Singles Trophy has been won by Ken Jarvis in a good match against Shirley Thomson. He is also the current holder of the Marie Dempster Challenge Trophy. He awaits a new challenge from any other player willing to take him on.
The prize giving and trophy presentation will be held next Friday August 8th at 3pm, poolside in the Fitness Centre. All players are invited to join us. Please bring a small plate to share for afternoon tea. Keith Burge who was instrumental in it coming to Pinesong originally will present the Kumfs Trophy to Ken.
We will do the Drawn Pairs competition draw at the same time. A few more entries would be good
See you all there!
Janet Cross, 1 Manukau, 817-6066


NEW POSTAGE RATES

Local 80 cents
Australia $2.00
Rest of World $2.50

NGATEA WATER GARDENS

Paeroa - Pokeno
Well Ray's direct line to the weather gods worked again and they smiled benevolently on us. An overcast but dry morning, to view the gardens. Who would have thought a gem like this, could be hidden away almost in the centre of a small rural community. A pleasant social luncheon at the Ohinemuri Club. Then a sunny afternoon to wander the streets of Paeroa, the antique shops didn't do too badly by the number of packages that came back on board the coach.
The surprise stop at Pokeno, ice-creams (no need for tea tonight), quality meat and small goods. Then safely home. For more, familiar faces check out the photos on the page
RECENTLY.

Ray Warren Apt 303 Seabreeze ph 817-0682
Mike Hogben Villa 404, ph 817-1464


VILLAGE SHOP

We have a small shop in the village, run by residents to provide non-perishable goods to save you going out to the supermarket for just one or two items.
Items such as cleaning products, dry goods, cereals, biscuits, toiletries and batteries are available.
See reverse for a sample list.
There is also a supply of craft items, cards etc.
made by residents and suitable as gifts.

The shop is open from 10.00am to 12 noon on Mondays, Wednesdays and Fridays.

Fresh milk is available from the café

SAVE THE CHILDREN
STALL, MATAI ROOM
9am-12 noon
Tuesday 26 August

LOW IMPACT AEROBIC CLASS

Seabreeze Lounge, Mondays 9.30-10.15am
Grade 1. No charge
Trish Richards would like you all to know this group is continuing in Shirley's absence. In the meantime it is being well supported. All welcome.

AQUASIZE GROUP
The Acquasize group meets every Tuesday and Friday mornings at 9am. All are very welcome to join our friendly group for 30 minutes of gentle exercise in the swimming pool. Always a great start to the day, so why not grab your swimming gear and towel and give it a go? Any enquiries please contact:
Esme Burge, ph 817-1844
Noel or Gillian Clark, ph 815-4116 or 6102

GLENBROOK STEAM TRAIN EXCURSION

Thunderous excitement, with steely eyes Peter and Ted rode the plates, as "Diana" powered down the straight towards the workshops, on a special run for our photo shoot. What a great group of like minded people, out to enjoy every moment, and the weather gods smiled on us. From a brief look at the survey sheets it's a positive "Yes" to try it again. So read your weekly Pinesong Press and watch this space, or you will never know what diabolical plans Ray has lined up. Eds. note: After the RSA those steely eyes softened to a shade of red?? For more action of the day visit the page
RECENTLY.
Ray Warren Apt 303 Seabreeze, ph 817-0682;
Mike Hogben Villa 404, ph 817-1464

BRIDGE INVITATION

Anyone who would like to enjoy a social game of Bridge, or those who would like to brush up on their game, we play on Saturday afternoons in the Matai Room, usually from 1pm to 4pm. We would very much like to see anyone who is interested in this intriguing game. So come and join us. Please contact:
Riet Bergers on 816 8441 or Pat Crow 817 7568


WAITAKERE MOBILE LIBRARY
Visits Pinesong Village every Monday morning from 9.30 -10.15am parking just outside the main gates. All residents are welcome to visit and borrow material from our wide selection. If you don't have a current library card we can arrange to get you a new one. Look forward to seeing you on the "Bookbus" Gerard, Mobile Librarian.


VILLAGE CARE CENTRE CLINIC
Level 2 Seabreeze Care Centre
We have had several requests from residents to have a selected time for the Centre Clinic for consultations, blood pressure monitoring and wound dressings.
Monday through to Friday 10.30am- 11.30am and again 1.30- 2.30pm we will be available for consultation.
Weekends by arrangement – just phone and arrange a time.
Any queries don't hesitate to call us,

Regards Leanne & team
Leanne MacDonald
Care Services Manager

PHYSIOTHERAPY
I would like to take the opportunity to officially introduce Shivani to the team of physios at Pinesong.
Shivani will be on site all day Monday Wednesday and Friday as normal and appointments can be via the number on the front of the press 09 267-9560
She has been on site now the last 6 months periodically and we are getting some great feedback from residents about the addition to the service and I know she is enjoying working with you.
I will still be around occasionally but cannot commit to days for the next 4 months so my apologies there. I hope to back to normal by mid-July.
I would also like to remind people of charges for the next year.
Private physiotherapy consultation $60.00
Surcharge on ACC treatment $20.00
We have also recently updates the website to include a range of products including creams, hot packs etc. these can be ordered and paid for on line. I promise you the prices are much more competitive and you don't have to leave your apartment. If there is something you are looking for and you can't find it there, let us know so we can source it for you. The web address is: www.advancedrehab.co.nz
If you have questions about an injury, a pain or anything please come and talk to us advice is and always will be free.
Once again thank you for all your support and patronage we would not be here without it.
Sean Mchugh


REFLEXOLOGY
Raewyn Coburn who did her placement at Pinesong last year for her refloxology training is now offering reflexology service for the village residents every Tuesday and Thursdays on level 2 of Seabreeze. Anyone wanting an appointment please contact her directly. Her email address raewyn.auckland@gmail.com, mobile: 0211710807 or home number 8176089.


LAB TESTS
Labtests Time Change
As from Monday 16 June Labtests will be here at 2.30pm every Monday, Wednesday and Friday.






Cafe & Restaurant

Sunday 24 August RoastBeef with Yorkshire pudding $13

Wednesday 27 August Butter chicken with rice and papodoms $14.50
Plated dessert

Friday 29 August Fish and Chips special dinner – see below $10



Friday Night Function
29 August at 6.15pm

FISH AND CHIPS NIGHT $10

BEER BATTER FISH
WITH HOT CHIPS
COLESLAW AND GREEN PEAS

DESSERT
ICE CREAM


Cafe and Restaurant Prices

Please be advised that from Monday 15 September 2014, there will be a small increase in prices.
Tea and coffee prices will not increase.


Wednesday night dinner at 6.15pm: $13.50 dessert $3
Friday night dinner at 6.15pm: $14.50 dessert $3


Naveen and Amanah have reviewed the café menu, and you will also
see some changes over the coming weeks.

Keep watching the blackboard, we hope you enjoy the new selection
and welcome your feedback!


Soup of the day: $6.50
Special of the day café lunch: $11
Fish of the day café lunch: $12
Sunday Roast of the day: $13.50
Frozen meals: $8.50

Milk
1 ltr: $2.60
2ltr: $4.60
Calci trim 1ltr: $2.80



Weekly Dinner Menu - 25th- 31st Aug

Pick-up $10, dessert $2.50; delivery $2. Residents may collect these takeaway meals at 5pm from the Cafe.
Wednesday, Friday and Sunday dinners served seated in the Restaurant as usual


MEAL DELIVERY SERVICE

Could you please arrange with Staff or Caregiver for the plates to be returned to the Restaurant kitchen. Thank you.

Information regarding the Café

Dinner is available every Wednesday and Friday in the restaurant at 6.15pm
(please order at reception)
Apart from once a month when there is the residents BBQ
We also have a Monthly Function once a month (will be advertised in Pinesong Press)

A variety of frozen dinners are available for collection at $8 (pls see café for availability)

Residents may also order a dinner from our monthly menu which is printed at the back of the Pinesong Press (monthly)
These are either to be collected from the café around 5pm or we can deliver for a $2 charge

Sunday lunch only has to be booked if you have a large number of guests

Any queries please contact reception




Hi,

As the creator and manager of this website I have endeavored to portray the everyday life and activities of our village from the
residents' perspective.

Your comments and contributions are welcome and to this end I invite you to use the
'Contact Us' page
.

Deryck Hunt