The first day of the rest of our lives

OFFICIAL NOTICES

Hello everyone,


Well spring is finally here, it's just great to have sunny days and light evenings again!

ACCESS are well underway with our annual building washes, and slightly ahead of their time frame. The maintenance work at the cliff base at the Point is also well underway; please stay clear of the cordoned off areas while this work is in progress. Please don't hesitate to contact us should you have any questions about these projects.

Well, I am going to make a real effort to do my painting at home again (I know I've said that several times now, but I have to make the effort). I have booked a weeks leave at the beginning of November; I'll be painting the lounge while our bathroom is being renovated, ready for my mum and dad coming to visit in December from Spain.

I hope you all have a lovely weekend, I'm hoping to be in the garden which desperately needs some attention now the weathers improving


Theresa Henson
Village Manager


LEADERSHIP CONFERENCE
Congratulations

PINESONG
Supreme Village of the Year 2015

Also awarded

Theresa Village Manager of the Year
Leanne Clinical Manager of the Year
Allan Sales Executive of the Year
Neil Finalist Emerging Talent

These awards really acknowledge all our residents and Staff in making Pinesong the amazing place it is.
Thank you everyone


USING LIFTS
It has been noticed that many people will stop in lift entrance ways obstructing door closure to have conversations with others outside the lift. This is not only an inconvenience to other users but can cause problems with the lifts computer. If doors are held open for any period of time a warning signal is given that alerts users. If it is held open for a prolonged period the lift may shut down and go through a series of re setting causing more inconvenience. Please be considerate of other users and alight from the lift if you wish to talk to someone outside it. Also be aware that it is dangerous practice to put your arm through the gap in a closing door to stop the lift. A short delay in your journey is preferable to an injury.

SCHEDULED SHOPPING TRIPS
It has been requested by some users of the shopping trips to go to Blockhouse Bay shops occasionally.
We will soon trial these trips to Blockhouse Bay in Lieu of Green Bay on the Monday shopping trip as of Monday 12th October. Please provide feedback on the feedback forms at reception on how users feel about any intended changes.
Evan Rudolph, Assistant Manager


MELBOURNE CUP
VOLUNTEERS NEEDED

Well, here we are again, Melbourne Cup Day on Tuesday the 3 November this year.
The current team, which has worked hard over the last five years organising this very popular event, is seriously depleted this time and we require five people to join the team. As in all activities at Pinesong, volunteers are essential, and from time to time new blood is great as it produces fresh ideas and rejuvenates events of this type.
In particular the Fashion Parade is a very important aspect of the day and although I know that Audrey Baldwin will be a hard act to follow two ladies with the necessary flair are required to take over this most enjoyable part of the day.
This year will be my fifth and final year of involvement and accordingly we will require someone to take over my mainly clerical contribution and now would be an ideal time to get a handle on what's involved.
For those amongst you who are interested and would like to learn more about how you can assist please call
Geoff Long 817 7374 or email geoff@long.org.nz


RAMBLERS BUS TRIP

Last week you put a ring around 27 October as the next bus trip. This week you can fill in with:-
Departing Pinesong Reception 8.00am on Tuesday 27 October. Cost is $35.00 per person. (Lunch not included, more on this venue next week)
The main activity on this trip will be a visit to the Zealong Tea Plantation in Gordonton. We will have a guided tour and tea tasting during our visit. Some brief notes for you to brush up on before we get there.


It All Started With A Camellia Tree

Flowering, lush and green, the camellia grew next door to Tzu Chen's house in New Zealand's Waikato region. A lover of tea, Mr Chen was struck by the similarities between tea plants and the camellia. To Mr Chen, the thriving camellia plant meant New Zealand was not just pure and clean, it was also the perfect environment to grow one of the world's best teas.
In 1996, Mr Chen and his son Vincent imported 1,500 tea seedlings from Taiwan. They were left with only 130 after a rigorous quarantine from New Zealand's Ministry of Agriculture. But after careful propagation Zealong's lush, sweet tea plants number in the thousands and spread over 40 hectares.
perfectly grown and chemical free, but also processed to the highest international food standards.
Today, Zealong tea is a testament to Mr Chen and Vincent's dream. Combining New Zealand's pristine environment with the best traditional knowledge and produce, they seek to produce the perfect, purest tea.
Payment to be left at Reception and must be made by Wednesday 21 October. There can be no refunds after this date.
Note to all new Residents in the Village "Ramblers" is just a name we call ourselves while on the bus. Everyone is welcome on these excursions.
Ray & Lorraine Warren 817 5500,
Mike Hogben (away on holiday)


404 JAZZ

Our next session is on Thursday 29 October at 7.15pm in the Matai Room, 1st Floor Seabreeze. We shall be featuring the vocal group Manhattan Transfer in Concert. Dennis
Players Wanted
Ukulele/Banjo/Harmonica players wanted, or all three!!
Margaret, 405 Seabreeze,
ph 817 6595


QUIZ REPORT

This is a report on our quiz last Saturday.
I tried a new, and I thought brilliant way, to separate out the teams in a close contest, and it is fair to say that it was a disaster! I have lots of good ideas, but that wasn't one of them. In fact the results not only confused the teams, but also confused those trying to add up the scores. If you want to know what happened, ask someone who was there!
Apologies to those affected. I won't try it again. Promises, Promises!
Anyway there is a month to recover before the next Quiz on Saturday November 7. Tony Cross

PINK RIBBON BREAST CANCER APPEAL
FRIDAY 9 AND
SATURDAY 10 OCTOBER

DONATIONS HERE AT PINESONG
One box at Reception and another in Seabreeze Lounge near the double doors.
Every donation, no matter how small, will help someone in need. Many thank yous.
Beverley Cantley, ph 815 4137

CHRISTMAS IS COMING!

Lita and Colin
Independent Phoenix Traders
NZ-10069
SEABREEZE, 10AM TUESDAY 13 OCTOBER

To display and sell our new wonderful range of Christmas cards, Advent calendars, rollwrap, gift boxes and gift ideas. Also everyday cards, stationery, accessories.
Great prices.

All Christmas cards are supporting
Hospice NZ.


TABLE TENNIS

MISSING BUTTERFLY NETS
Red and green butterfly nets have gone missing from the cupboard in the Table Tennis Room. Has anybody seen them? They were kindly donated to the Table Tennis group to assist with picking up table tennis balls from the floor. We would love to see them back. With thanks. Lois 817 2199


PINESONG WALKING GROUP
September 3: We drove to the Auckland Domain and parked the van near the kiosk and walked the perimeter of the Domain past the duck ponds around to the Winter gardens and the Fernery. The spring flowers on display were just beautiful.
September 10: We drove to Kiwi Esplanade , Mangere and walked over the Old Mangere Bridge and returned via the walkway under the new bridge. We then continued around the harbour to view the Mangere Marae and back to the van. A mixture of weather that day!
September 17: At last a lovely sunny day. We drove to Tui Glen, Henderson. From there we walked the Henderson Creek walkway to the jetty below the Trust Stadium. We returned via the other side of the creek to our transport.
September 24: Weather was a bit unpredictable so we drove to Glen View Road and walked around the interesting older part of the Waikumete Cemetery . (The largest cemetery in the southern hemisphere). Black clouds were looming so shortened our walk and returned to Pinesong for an enjoyable hot cuppa and a chat.
October 1: We are planning to go to Kakamatua Inlet followed by morning tea at the Huia Store.
Jocelyn will be returning from her holiday this weekend.
Gillian Clark , Villa 102, ph 815 4116 or 6102

NEW ITEM FOR OUR SHOP

Coming to Pinesong shop early October... printed linen tea towels with Pt Chevalier motifs designed by a pupil from Pasadena Intermediate School. These tea towels would bring back memories for many of our residents who have connections with Pt Chev as well as helping out with fund raising activities for the school. They could make an ideal Christmas present and cost only S10 and are a good size towel. We have limited stocks so it may be wise to get your order in early to avoid disappointment.
Pat Crow, 817 7568


KNITTERS NEWS

First of all I have to say how impressed I have been with the quality and the number of rugs which have been delivered to the Waitakere Hospital in the last month! All up, there were in excess of 20 which is a truly grand effort for a small group of dedicated workers. On top of that a friend and I have taken numbers of pairs of wee mittens as well as jumpers, singlets and hats. Last week I managed to meet Angela, who is our representative from the Well Foundation and she was telling me about the garments she also gives to Plunket Nurses for their charges as well as all the District Health Boards which she distributes our wares to.
Just now, she says they are "short of everything" so you can all be creative with your ideas as their supplies and running very low at present. Should you require more wool I have a reasonable supply at the moment, but will be away next week so please contact me after 6th October if your 'wool' is running low. Many thanks for all your hard work.
Anne Clarke ph 817 8408


DARTS
Are there any Dart players in the village? Did you know we have a dart board already set up? Do you know where?
If you answered yes to any of the above and you are interested in playing with other like minded residents – give me a call over the next week and I will set up a meeting to discuss.
Fay Heywood 4301 or 817 6947


SEWERS WANTED

Pupils from Green Bay Primary School have entered in the 2015 National "Jump Jam Competitions" to be held in Christchurch in November. Sewers are required to help make simple (but effective) costumes. If you are interested in helping please contact:
Sarah Bowler ph 817 8082 or
Vel Fleming 816 8384

COMMON AREA GARDENS

It is great to see so many residents taking an interest in looking after our common area gardens.
However, please consult with the Gardening Team before making any alterations to any garden as there may already be a plan in place for that particular area.
Ken Gill, Head Gardener

WONDERFUL NIGHT
A big thanks to Bob Helleur for a
wonderful night of entertainment
. All the talented cast and the behind the scenes hard workers. Everyone in the show deserve an Academy award.
Loma, 312 Seabreeze


CHRISTMAS IS COMING
Lita and Colin
Independent Phoenix Traders
NZ-10069
SEABREEZE, 10AM TUESDAY 13 OCTOBER

To display and sell our new wonderful range of Christmas cards, Advent calendars, rollwrap, gift boxes and gift ideas. Also everyday cards, stationery, accessories.
Great prices.

All Christmas cards are supporting
Hospice NZ.


BINGO

I would like to put in a brief plug for our weekly Bingo session every Monday evening between 6.30pm and 8pm.Whether you are a new or long term resident you are welcome to join us on a Monday evening in the Seabreeze Lounge Cafeteria for a fun evening at a cost of $5 entitling you to ten games of Bingo five of which include a prize for a line. A jackpot also applies to most games. Come and meet another group of your fellow residents. If you require any further information about the Bingo evenings do not hesitate to contact Fay Heywood ph 817 0687or yours truly on the number below. Have a great weekend everyone.
John Crow, Bowls Convenor ph 817 7568


TAI CHI

I shall be back to Tai Chi on Tuesday 13 October for the Quintin Derham class. I shall also be returning to the Wednesday class on October 14 from 9am to 9.45am for members who have attended previously. New members very welcome and the first session is free.
Eileen Malim, Villa 401 The Terrace


CROQUET@PINESONG
Two corrections and apologies. Eileen Malim and Iona Manaton won the last Drawn Pairs final from Val Eade and Sheena McCormack (not Shona – my fault.) Now we are into the second Drawn Pairs completion of the year for the Eileen Malim Trophy. The draw has taken place and is being circulated so that all is ready to go as soon as the Singles final has been played. We have 26 players entered with another four of the usual people having a rest from match play for a month or two.
Janet Cross, 1 Manukau, 817 6066


ZUMBA TIME CHANGES

Zumba Gold classes are changing times from 1.15pm to 9.15-10.15am every Friday. It's a fantastic way to keep fit, have a laugh and keep your toes warm !!! Come along and watch if you like - first class is FREE !!. Love to see more chaps at my classes — any chance you might get your dancing shoes on??? Valerie White


THE BLOKES SHED

This is a facility for use by all capable residents of Pinesong. Ladies this includes you, please feel free to avail yourself of a remarkable DIY area with a wide range of equipment. To keep us safe, all users of the Blokes Shed are requested to follow our Housekeeping Rules. As displayed on the entrance door.
Only residents of Metlifecare Pinesong may use the amenities in this workshop.
Prior to using the workshop you must have signed an "Authority and Disclaimer Form". These are available at Reception.
To gain access to the Blokes Shed only one key is available from Reception. You must have already signed an "Authority and Disclaimer Form" . You are then required to "personally sign in and sign out" for the key each time you visit the shed. Individual keys will not be issued.
If you wish to donate an item, please contact Evan Rudolph (Assistant Manager) or Mark Leaf (Maintenance) in the first instance. Please do not take items directly to the Workshop.
Please be aware that any donated item will become part of the facility and may be stored, used or discarded at any time.
Please respect other users:
CLEAN UP THE WORK AREA AFTER USE
+ Go for it! +

HOME COOKING
This is an occasional column and contributions welcome, especially cooking for one or two persons.
From Home Economics Corner – School Newsletter 1983. Low calorie cooking
CORN FRITTERS for 2
2 slices of bread, 60g cheese
finely crumbled 2 eggs
1 small onion grated Pinch of baking powder
1 cup corn Salt and pepper
Combine all ingredients.
Drop by tablespoon on to a non-stick or lightly greased frying pan. Brown on each side.
Serve with hot vegetables or salad.
Healthier? Replace 1 egg with 2tbs milk and 1tbs flour.
Less healthy? Serve with bacon.
Very unhealthy? Slosh on the maple syrup and enjoy!
Janet

E NEWS + +

COFFEE CORNER
The Old Woodshop and Corner Cafe
2 Hutchinson Ave, New Lynn
Open – Friday to Monday
Situated on the site of a furniture making shop with an attractive and welcoming atmosphere. Coffee is good and a wide variety of food is offered with an extensive brunch menu. There is seating inside and on the footpath with extra seating available in an outside courtyard through the back of the café where there is a heater for chilly days. The staff are friendly and efficient. Parking on the street or across the road in the Margan Avenue shopping car park.
If anyone has a contribution to make to the Coffee Corner, please feel free to send it to us.
817 9054 817 9552

OUTDOOR BOWLS
Good morning everyone. It must be very gratifying to know that you are living in the Metlifecare "Supreme Village" and to know that we have the best Metlifecare Management team in the country. I am sure I speak on behalf of all residents of Pinesong Village when I express sincerest congratulations to Theresa, Leanne and Allan on their individual victories at the Leadership Conference last week and to Neil for achieving a finalist position in the Emerging Talent section.
On the bowling front this is a final reminder that entries for the Senior and Junior Singles close at 4pm today Friday 2 October and the first round of both competitions will commence next week. Players will have the option of playing on one of our normal playing days or making their own arrangements to play at any other time providing that all games are completed on or before the date stipulated on the draw sheets.
The entry forms for the singles and the visit to Hillsborough Heights are both on the notice board on the wall above the kitchen bench in the swimming pool area. Names for the Hillsborough Heights visit must be entered no later than 4pm Friday 9 October.
With the spring season well and truly here and the warmer climate arriving, now is the time for beginners to shake off the winter blues and seriously think about joining us on the bowling green. Don't use having no bowls as an excuse not to play as there are a number of sets of spare bowls in the shed adjoining the Croquet green. We play bowls on Mondays, Wednesdays and Saturdays commencing at 9.30am. Reporting time is 9.20am each day. There is a small group who play casually on Tuesdays, Thursdays, Fridays and Sundays between 9am and 10am and I am happy to breakaway from this group on any day to give one on one coaching or advice. Don't be shy come on down and give it a go.
Have a great weekend everyone.
John Crow, Convenor, 817 7568

GARDEN CIRCLE
A reminder for the Garden Circle get-together held in Seabreeze on Tuesday 15 September at 11am down by the fireplace. Hope to see you all for a general catch-up and natter. See you there.
Aileen Keery, 817 3399

VILLAGE SHOP
We have a small shop in the village, run by residents to provide
non-perishable goods to save you going out to the supermarket
for just one or two items.
Items such as cleaning products, dry goods, cereals, biscuits, toiletries and batteries are available.
There is also a supply of craft items, cards etc. made by residents and suitable as gifts.
The shop is open from 10am to 12 noon on Mondays, Wednesdays and Fridays.
Fresh milk is available from the café

MOBILE LIBRARY BUS TIMES

The service will now operate fortnightly from 12 January. As 26 January is Auckland Anniversary there will be no library.
Titirangi Library Hours:
Mon, Tues Wed 9am-5.30pm
Thursday 9am-8pm
Friday 9am-5.30pm
Saturday 10am-4.00pm

Closed Public Holidays


POWLEY FROZEN MEALS

To order your frozen meals phone 627-0700. There will be a $6 delivery charge which will be delivered direct to your door.
Powley Frozen Meals, ph 627-0700


VILLAGE CARE CENTRE CLINIC

Level 2 Seabreeze Care Centre
We have had several requests from residents to have a selected time for the Centre Clinic for consultations, blood pressure monitoring and wound dressings.
Monday through to Friday 10.30am- 11.30am and again 1.30- 2.30pm we will be available for consultation.
Weekends by arrangement – just phone and arrange a time.
Any queries don't hesitate to call us,

Regards Leanne & team
Leanne MacDonald

Care Services Manager


At Pinesong we have an activity programme that the Serviced Apartment residents enjoy each week day. There are sessions from gentle exercises, through to arts/crafts, sing-a-longs and outings. If you are a resident out in the village or are caring for a loved one who is unable to go out into the community for socialisation and you would like to partake in activities again, please feel free to phone me regarding session times and costs.
Currently I am looking at alternative activities for the programme at Pinesong. Many of my Serviced Apartment residents talk about Probus and interested in other activities, hobbies and experiences. So if you are a resident out in the village who has a special interest, hobbies, or have been on an interesting holiday and able to share that with others, please contact Skevi our Activity Coordinator in the Care Centre.

Leanne MacDonald

Care Services Manager


PINESONG BEAUTY THERAPY

A message to all my lovely clients – the Salon will be closed from 23 September and will re-open Wednesday 7 October. I am off exploring the Middle East. Look forward to catching up when I get back.
Kimberley


PODIATRIST
Will be here
Tuesday 20 October
Anyone who would like an appointment
please contact Reception

PHYSIOTHERAPY
Physio Tip of the month - Back Pain
Over 80% of New Zealanders will experience some form of back pain in their life time. If you're one of them, then you'll know what a struggle it can be. Back pain can impact on your work, sleeping patterns and your general ability to keep moving and enjoy life.
For minor back pain the sooner you get back to being active the better – gone are the days where bed rest for weeks was recommended. In fact, research clearly demonstrates that staying active can help reduce your pain and shorten recovery time in most cases.
Your physio will identify the factors contributing to your specific back problem and will design a treatment plan and management programme just right for you. They'll also check if any underlying health conditions could be contributing to your back pain. Their aim will be to get you back to full movement and enjoying life again.
If you would like to see your on site physio, please either contact your Nurse Manager, call Reception, or 0800 229 749.
Anouschka de Gourley


REFLEXOLOGY
Raewyn Coburn who did her placement at Pinesong last year for her refloxology training is now offering reflexology service for the village residents every Tuesday and Thursdays on level 2 of Seabreeze. Anyone wanting an appointment please contact her directly. Her email address raewyn.auckland@gmail.com, mobile: 0211710807 or home number 8176089.

PARKINSON MEETING
MATAI ROOM
Tuesday 20 October 10am-12 noon


LAB TESTS
Labtests Time Change
Labtests will be here at 2.30pm every Monday, Wednesday and Friday.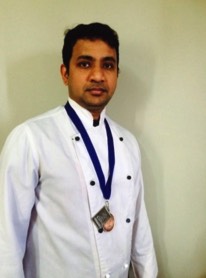 Silver Award for Naveen




At the recent Senior Lifestyle Cuisine competition Naveen won the Silver award.
A fine effort!



Cafe & Restaurant


Sunday 11 September 12.15pm
Roast lamb with roast potato and steam vegetables $13.00


Wednesday 14 September 6.15pm
Stir fried tiger prawns in sweet and sour sauce with wok fried vegetables, jasmine rice.
Plated dessert $16.50

Friday 16 September 6.15pm
Beef eye fillet with baked potato and steam vegetables
OR
Hapuka fillet with baked potato and steam vegetables
Plated dessert $17.50

Restaurant Notice



Please note that for the Wednesday and Friday night dinners the cut off time for bookings
will be 12pm on Wednesday for Wednesday night dinner (6.15pm)
and 12pm on Friday for Friday night dinner (6.15pm).

Many thanks, Naveen


Cafe and Restaurant Prices

Soup of the day: $6.50
Special of the day café lunch: $11
Fish of the day café lunch: $12
Sunday Roast of the day: $13.50
Frozen meals: $8.50

Milk
1 ltr: $2.60
2ltr: $4.60
Calci trim 1ltr: $2.80


Weekly Dinner Menu 12th - 18th October

Pick-up $12, dessert $2.50; delivery $2. Residents may collect these takeaway meals at 5pm from the Cafe.
Wednesday, Friday and Sunday dinners served seated in the Restaurant as usual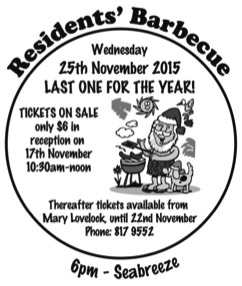 MEAL DELIVERY SERVICE

Could you please arrange with Staff or Caregiver for the plates to be returned to the Restaurant kitchen. Thank you.

Information regarding the Café

Dinner is available every Wednesday and Friday in the restaurant at 6.15pm
(please order at reception)
Apart from once a month when there is the residents BBQ
We also have a Monthly Function once a month (will be advertised in Pinesong Press)

A variety of frozen dinners are available for collection at $8 (pls see café for availability)

Residents may also order a dinner from our weekly menu shown above.
These are either to be collected from the café around 5pm or we can deliver for a $2 charge

Sunday lunch only has to be booked if you have a large number of guests

Any queries please contact reception




Hi,

As the creator and manager of this website I have endeavored to portray the everyday life and activities of our village from the
residents' perspective.

Your comments and contributions are welcome and to this end I invite you to use the
'Contact Us' page
.

Deryck Hunt